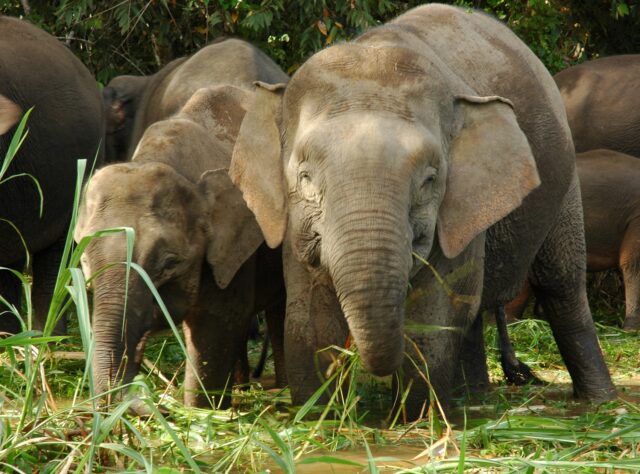 With only 250 Bornean Elephants thought to be living in the Kinabatangan rainforest, this Endangered population is in dire need of help to safeguard genetic diversity and long-term survival. We spoke to elephant expert Dr. Nurzhafarina Othman to discuss how donations to our Saving Borneo's Orangutan Corridors appeal can offer a safer future to these gentle giants – helping our partner HUTAN save land so that elephants are not forced into villages and farms.
Whether they are bathing in the Kinabatangan River, migrating through forest or foraging for food, Borneo's largest mammals are an irreplaceable resident of these rainforests – and a source of unforgettable encounters for those who study them for a living.
For Dr. Nurzhafarina Othman, known as Farina by her colleagues, crossing paths with Bornean Elephants is special even after 15 years of dedicated research. Her first sighting was in 2006, back when she was a student busy deciphering the conservation genetics of the subspecies. Wandering by a lake in the Kinabatangan, Farina was collecting dung samples when she suddenly found herself surrounded by a group of frightened elephant females.
"Oil palm plantations sometimes use loud noise cannons to drive elephants away and we heard one going off at a nearby plantation. The elephants were making so much noise, they were so scared they did not care about us being there at all," says Farina, who works as Elephant Conservation and Research Coordinator for World Land Trust (WLT) partner HUTAN. "That is the day I decided to focus on my conservation efforts. It became clear that I have to do something – I have to give elephants a voice."
Farina then spent the following decade and a half researching Bornean Elephants alongside HUTAN and setting up her own organisation, Sabah Biodiversity Conservation Association. From morphology to behaviour, movement strategies and human-elephant conflicts, her passion and knowledge of elephant conservation shines through when she speaks of these magnificent creatures – gentle giants for which, as she knows all too well, the protection of habitat could not be more crucial in Malaysian Borneo at this point in time.
Saving an elephant haven where every acre matters
The critical role the rainforest plays for Bornean Elephants stems from the fact that the habitat is not just a home or a refuge for the subspecies; it is also their school for life.
As Farina explains, rainforest ecosystems act as a pivotal learning resource for future generations of these roamers. Without this natural habitat, females cannot pass down to their calves the knowledge, handed down generation after generation, of how to thrive in the rainforest.
"Every piece of protected natural habitat is so important for Bornean Elephants – to them it means safety, but also a place where social interaction and passing of knowledge takes place. Keeping this ecology intact is fundamental," Farina says. And though every elephant community is worth saving, the pressure is especially high in the Kinabatangan Floodplain as these populations – 250 elephants or so – boast among the highest levels of genetic diversity anywhere in Borneo.
This is an elephant population where the survival of every member is absolutely critical and yet their future looks uncertain. The intense fragmentation of the Kinabatangan landscape has disrupted elephants' traditional migratory routes, forcing herds to cross villages and oil palm plantations. The resulting conflict with humans is claiming more elephant lives every year.
To ease conflicts and educate local communities, Farina has been tirelessly working together with the rest of HUTAN's conflict-resolution team. "When you see elephants you have this feeling that if you respect them, they will respect you as well," she explains. "They are gentle and I always say to people 'please respect the gentle giant'. They can read your fear when you are scared, so when you are calm, they are calm. That's what I love about them."
Protecting rainforest corridors for elephants to safely roam
And yet as necessary as it is, conflict resolution cannot alone guarantee a safe future for the Kinabatangan's elephants.
Creating and expanding wildlife corridors is absolutely essential for the 250-strong elephant community to thrive – which is why WLT decided this year to launch an appeal to fund HUTAN's strategic purchases of rainforest. The incredible response so far – our initial £150,000 target was raised within two weeks – has already made it possible to save two plots of rainforest by the river, providing safe passageway to the waters the elephants use to swim across.
With this milestone already accomplished, we now have an opportunity to go even further for the Kinabatangan's elephants. By doubling our target to £300,000, we can fund HUTAN's purchase of yet more plots of rainforest across the river from the first two – even more of a difference for the resident Bornean Elephants, and your donations can make it possible.
The future of Bornean Elephants is inextricably linked to that of their rainforest home – and you can save both.
HUTAN have spent decades building, plot by plot, a network of protected corridors in the Kinabatangan Floodplain. By adding your voice to our partner HUTAN and dedicated researchers like Farina, WLT supporters like you can help speed up conservation action for a landscape at breaking point.