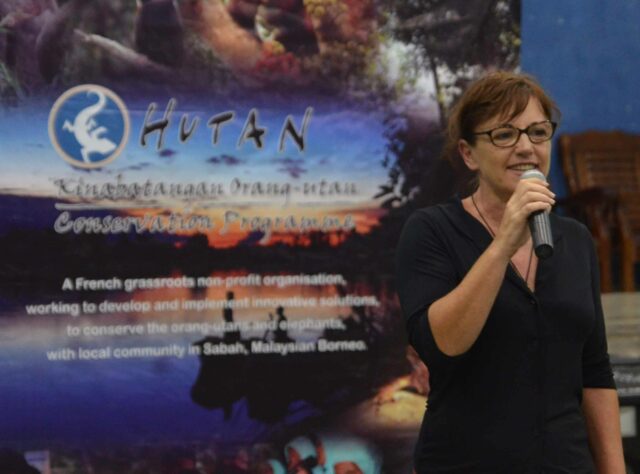 As we approach the end of 2020, we caught up with our partners around the world to find out how they've navigated this year. In the second instalment of our three-part series (you can read part one here), you'll discover spectacular conservation wins as well as challenges they've had to overcome.
Víctor Saravia, Executive Director
2020 challenges
"At AESMO, we never imagined the enormous challenge that 2020 would pose for our organisation: a pandemic that almost paralysed work at the field and office levels and, to top it all, two tropical storms in less than a month: Eta and Iota which devastated the country, including our geographic area of influence."
2020 highlights
"Despite the enormous problems that we had to face, this year AESMO, with the support of WLT and the Conecta + project (IUCN), managed to strengthen … the governance of micro-basins from Río Hondo and Cerro Negro, the Pacayita Volcano Biological Reserve and Cacique Lempira Señor de las Montañas Man and Biosphere Reserve (UNESCO) … These co-managing sub-basin councils are the first of their kind to be organised at the level of both biosphere reserves."
HUTAN, Malaysian Borneo
Isabelle Lackman, Director
2020 challenges
"Our biggest challenge in 2020 was of course to run a field research and conservation programme with repeated COVID-19 lockdowns … Overall, all our field activities have been somehow disrupted, but we are proud to have been able to retain all our project staff so far and we are more than ready to go back to full-scale operations as soon as it will be possible."
2020 highlights
"The most remarkable success this year was the signing in August of an agreement between a medium-sized plantation and the Sabah State government to let elephants, orang-utans and other wildlife roam freely across the plantation's mature palm areas to help alleviate elephant intrusions and conflicts in nearby villages … We are also very proud to have set up a communication system allowing our unit leaders and staff to constantly stay in touch remotely from home to discuss and plan future work."
Atie Tak Tehrani, Conservation Research and Monitoring Coordinator
2020 challenges
Iran is a difficult place to practice nature conservation, and the COVID-19 pandemic has only made things more challenging for the ICS staff. Nevertheless, their important work continued in 2020. The Asiatic Cheetah is a national symbol of Iran, but with fewer than 40 cheetahs thought to survive here, the work of the ICS is absolutely critical to the predator's survival. Due to an international bank embargo, WLT do not support ICS financially.
2020 highlights
"Despite the peculiarity of the current situation, we at ICS have made remarkable achievements in 2020. Our team, although faced with certain risks and restrictions due to the pandemic, has spent over 90 person-days inside cheetah habitats, continuing our efforts to save the Asiatic Cheetah and its critical habitats in Iran … One of the achievements in 2020 was expanding our Asiatic Cheetah Population Monitoring Program coverage across the known habitat."
Nigel Asquith, Scientific Advisor
2020 challenges
"We try to be part of the community wherever we work, and so our greatest challenge this year was balancing community healthcare needs for COVID-19 medicines, personal protective equipment etc. with our conservation agenda. We delivered medicine and equipment to many municipalities across the country."
2020 highlights
"Our firefighting colleagues told us that trying to stop fires when they are large is too late, so we piloted a new model which builds the capacity of locals and equips 6-person brigades … to fight fires in their own forests as soon as they start, rather than having to wait for outside 'experts' to help … We have equipped and trained scores of brigades across Bolivia, using the tagline 'the best forest firefighter lives close to the forest'. Since the training and equipping, the firefighting teams have helped extinguish literally hundreds of fires."
Lydia Lozano, Executive Director, Mexico
2020 challenges
"Connecting with the local communities we work with has been a major challenge this year. Due to COVID-19, our team cannot physically interact with communities that we typically work closely with … The threats to protected areas in the region are growing as people are forced to pursue unsustainable activities that cause damage to the environment just to put food on their tables. Current restrictions prevent authorities from monitoring protected areas to stop and prevent these activities."
2020 highlights
"This year we helped create the first state reserve in Sinaloa! Spanning 44,000 hectares (108,000 acres), Sierra de Tacuichamona State Reserve conserves the last remaining tropical dry forest in the region. The area provides a safe haven for unique and threatened species … and is a result of five years of collaboration between Nature and Culture International, local communities, the municipalities of Culiacán, Elota, and Cosalá, and the Sinaloa State Government."

WLT don't manage reserves directly. We believe that working with local organisations is the best way to ensure effective conservation management, providing a better future for threatened habitats and endangered wildlife.
Our partners work on the front lines of conservation – they're the rangers patrolling forests, the scientists conducting research, the outreach officers engaging with local communities. Without them, nature would lose some of its most valuable defenders.
Providing funding for our partners' conservation efforts is the most critical part of WLT's work. It's also the best thing you can do if you care about the natural world. With a donation to our Action Fund, you can ensure resources reach natural reserves when they need it the most.
Support the men and women on the front lines of conservation – donate to our Action Fund today!