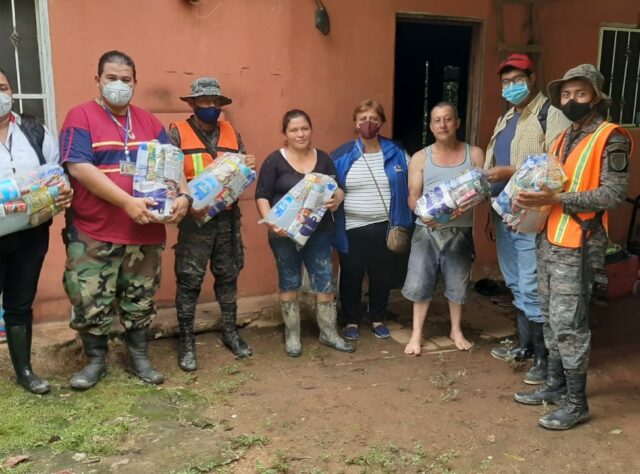 "We have reached the future that we feared so much: Hurricanes and storms in winter, drought and fires in summer. We are going to have to learn to live in the context of climate change; and understand that now our work is more important and more demanding than ever!"
These are the words of Germanico Barrios of FUNDAECO, our partner in Guatemala, following the landfall two weeks back of a tropical storm (Eta) in Central America and hours ahead of the predicted arrival to the region of yet another hurricane (Iota).
A category 4 tropical storm, Hurricane Eta has already unleashed disastrous flooding, landslides, torrential rain and winds of up to 140mph upon the region, battering essential crops and fuelling the spread of endemic diseases. At the time of writing, more than 150 people in Central America are feared dead and many thousands have been forced to abandon their homes.
On any normal day, the staff of FUNDAECO in Guatemala and AESMO in Honduras would be managing their network of reserves, assisting farmers with sustainable agricultural practices, and conducting community work across their respective countries. Now the destructive impact of Hurricane Eta has presented our partners with a new challenge: providing humanitarian aid in the wake of natural disaster.
AESMO staff and their fellow Hondurans face a grim task ahead. During the height of the storm, the conservation body remained in touch with its local partners to assess the damage to protected areas but also communities. Roads, houses and bridges have been damaged or completely destroyed; floods and landslides have left rural communities cut off; and the loss of life has still yet to be tallied.
The efforts by World Land Trust (WLT) partners to help with post-hurricane recovery extend to Guatemala. In recent days, FUNDAECO personnel have volunteered in rescue brigades, bringing emergency food, water and sanitary aid to the city of Huehuetenango and FUNDAECO partner communities.
These locations have been severely affected by Hurricane Eta, with families displaced and villages losing most, if not all of their crops. Marco Vinicio Cerezo Blandón, FUNDAECO Director General, has warned of a "food insecurity crisis" in Guatemala in the coming months.
Protection of carbon-storing forests offers hope in fight against climate change
The science is clear: human activity is making extreme weather events more frequent and more violent.
The world has long known the dangers of climate change, yet decisive action has not been taken on the required scale. As Germanico's poignant words remind us, "the future that we feared so much" is already here. The 2020 Atlantic hurricane season has produced more storms large enough to warrant a name than any other on record. They're staying stronger for longer, too – a consequence of rising ocean temperatures.
This aerial footage shared by Honduran WLT partner AESMO lays bare the scale of the destruction unleashed by Hurricane Eta as it swept through Central America. Video credit: AESMO
Remarkably, FUNDAECO's reserves have had no negative lasting impacts from the storm. In Honduras, Víctor Saravia of AESMO has noted the "extraordinary resilience capacity" of protected areas where forests have remained standing. Though the damage has been widespread elsewhere in Honduras, these heavily forested areas have remained safe from floods and landslides, while the rivers run crystal clear, free from the soil that can cloud waterways following intense rains.
The one glimmer of hope that can be gleaned from the tragic recent events in Central America – aside from the amazing work done by the men and women of AESMO and FUNDAECO – is the demonstrable positive impact of well-conserved forests. Protecting these habitats is an exercise in risk prevention, a crucial buffer against soil erosion and the ecological damage this can cause.
Alongside reducing our carbon emissions and offsetting those that we cannot avoid through programmes like WLT's Carbon Balanced, we must embrace strategies that mitigate the effects of extreme weather events. Well-conserved forests don't just keep rivers clear – by preventing floods and landslides, they also help to save lives, reduce damage to crops and housing, and curtail the disruption of social infrastructure that natural disasters inevitably produce.
2020's storms, wildfires and the COVID-19 pandemic have placed an enormous strain on our partners around the globe, but they don't have to fight alone – if you help them. Every donation to our Action Fund, no matter how big or small, will go directly to the reserves most at risk and help safeguard threatened wildlife in these tricky times for people and planet.
WLT partners have already faced storm Eta and are now bracing for Hurricane Iota. Donate to help them, do your part against climate change!



Help support World Land Trust by donating or sharing with your friends. www.paypal.com