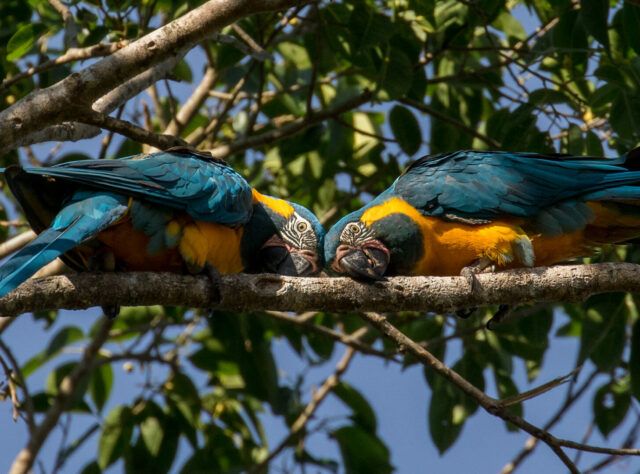 Barba Azul is the world's only site to host large groups of the Critically Endangered Blue-throated Macaw. Image credit: Lennart Verheuve/Asociación Armonía.
World Land Trust's partner Asociación Armonia had to protect its Blue-throated Macaw (Ara glaucogularis) haven from human-made fires in 2016 and has since developed an approach that others can learn from, featuring firebreak creativity, clear roles, 4×4 quadbikes and sound science.
Where will the next fire strike?
In this challenging 2020, the threat of blazes looms larger than ever over World Land Trust (WLT) partners.
From Siberia's 38C temperature record to the findings of fires intensifying year-on-year in the Amazon, the signs point at this season proving a trial by fire for global forests – a time when decisive action may seal the fate of critical habitats.
Rangers looking to stay ahead of the flames can already count on the funds being raised via the WLT's Wildfire Appeal, launched in early July. And as donations start flowing, so does the evidence of exactly how much difference they can make: stories are emerging every week of WLT partners able to tame wildfires in Belize (CSFI), Guatemala (FUNDAECO) and others by using the right mix of equipment and training.
As ever, the past holds useful lessons. Our partner Asociación Armonía – the manager of Blue-throated Macaw reserves in Bolivia – recently shared what it had learned after containing a wave of human-made fires in 2016, and fire-proofing a second reserve it created in 2018.
Lesson one: Firebreaks, firebreaks, firebreaks
In 2016, a raft of man-made fires sprang up all around Asociación Armonía's Barba Azul Nature Reserve, a tract of Beni savanna grasslands in northern Bolivia. The site, the only in the world to host large groups of Critically Endangered Blue-throated Macaw, was thankfully ready to quash the flames – Armonía had worked to create long lines of firebreaks to the north (15 km) and south (10 km) of the reserve. Together with the eastern strip, the site's firebreak network spans 96 km, helping keep fires away from this vital reserve.
Lesson two: Get creative with preventive infrastructure
As it worked to fire-proof its Barba Azul site – as well as the Laney Rickman Reserve it set up in 2018 – Armonía used a variety of firebreak approaches. The mix included roads; water ditches that double up as wildlife drinking ponds; periodically upgraded barbwire fencing; and backburn-type barriers created through controlled fires.
Lesson three: Four wheels to tame the fire
Asociación Armonía was able to step on the gas of fire prevention by getting its hands on a 4×4 quadbike. The vehicle has made it possible to carry out routine fire inspections, haul food and fuel around efficiently when blazes hit and quickly take rangers to spots where fire was about to make an entrance – to be then duly snuffed out.
Lesson four: Designate key personnel
Post-fire reports from WLT partners tend to all feature the same winning strategy: the use of training and well-oiled communication channels so that everyone's roles and responsibilities are clear when fires come calling. In Asociación Armonía's case, the squad includes: – Keeper of the Wild César Flores and his son César Flores junior: The duo oversee the bulk of monitoring duties, with routine patrol trips on quadbike and horseback to ensure the overall reserve and key elements – fencing, contractors and others – are working as intended.
– Tjalle Boorsma: Assisted by Luis Miguel Barbosa, the Dutch biologist acts as the leader for the overall conservation project – the Blue-throated Macaw Program – at the two sites in Bolivia.
– The Asociación Armonía team also features Carlos Roca (Barba Azul park guard), Yuri Vaca (field station manager), Laura Velarde (tourism coordinator), Edson López (coordinator of the Barba Azul East cattle management programme) and others.
Lesson five: Don't forget the science
In its mission to protect the Critically Endangered Blue-throated Macaw from fires and other threats, Asociación Armonía can count on the knowledge of Jo Kingsbury – an Ohio State University PhD student researching how bird habitats are impacted by blazes, floods and cattle grazing. Kingsbury was key in training staff around controlled burns and helped roll out a two-kilometre backburn, a fire-mitigating structure the team will now be able to replicate in the future.
Donate now to protect the small and critically endangered population of Blue-throated Macaw in Bolivia from wildfires. Your donations to the Wildfire Appeal could make it possible for Association Armonía and others to stay ahead of the flames in a crucial, challenging year. Make a difference today!
Fires are inevitable; but their impacts are not. Help us to stay ahead of the flames.
A donation to the WLT Wildfire Appeal will enable our partners to provide training for rangers and essential equipment to provide a better outcome for nature reserves around the world.
Support us on our mission to fight forest fires around the world by donating to our Wildfire Appeal today.