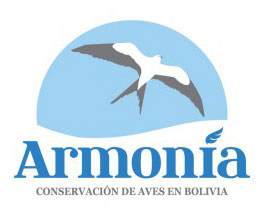 Asociación Armonía
Organisation's aim: To conserve nature, especially endangered bird species and threatened habitats, in partnership with communities and governments.
Partner History
Asociación Armonia has been a BirdLife partner since it was founded in 1993 and is dedicated to the conservation and study of birds.
Partnership with WLT
Asociación Armonía and World Land Trust (WLT) first made contact through WLT-US. WLT formed a partnership with Armonía in 2008, helping to fund the creation of the Barba Azul Reserve in Bolivia's Beni savanna.
The Barba Azul Reserve became the world's first protected area for the Critically Endangered Blue-throated Macaw and WLT is now funding habitat restoration at the reserve. In addition to this, WLT is supporting Asociación Armonía's new work developing sustainable methods of ranching, which includes a live fencing project and methods of grass management that avoid large-sale burning.
Other projects and activities
Running conservation programmes to protect species such as Blue-throated Macaw and Red-fronted Macaw
Conserving habitat in the polylepis forest
Organising volunteer programmes focused on research, project management and ornithology
Running the bird centre headquarters, which has one of the most extensive collections of research and books on Bolivian ornithology