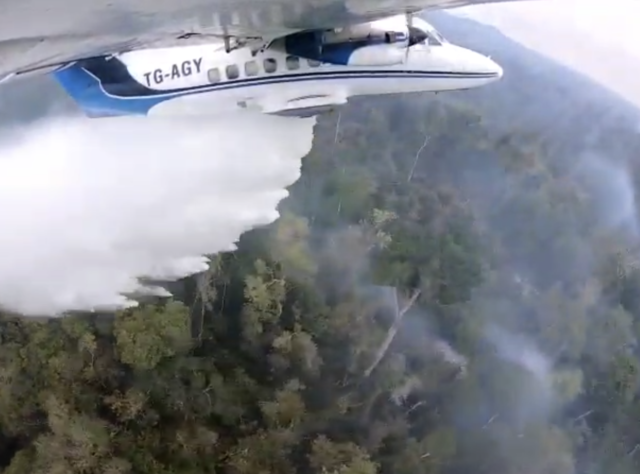 A plane drops water over the trees in Guatemala, taking measures to stop the smouldering flames in the heart of the forest. Image credit: FUNDAECO.
WLT has received reports from partners in Guatemala, Mexico and Belize, where the forest fire season has begun.
During last Summer's blaze in the Amazon, we answered many of your questions about why forest fires occur. Wildfire is not a new phenomenon, but have been rapidly increasing in frequency and intensity as the climate crisis accelerates. As reported by the Tyndall Centre for Climate Change Research, "Rising global temperatures, more frequent heatwaves and associated droughts in some regions increase the likelihood of wildfires by stimulating hot and dry conditions, promoting fire weather, which can be used as an overall measure of the impact of climate change on the risk of fires occurring." Add in the complication of intentional land clearance, and the risk of forest fire during in 2020 is likely to exceed the terrible losses of last year.
While people focus on the coronavirus pandemic, the natural world has remained exposed. Although there have been conservation positives due to lower pollution levels , there has also been a rise in people exploiting the situation while global attention is elsewhere. As Mongabay reports, deforestation, including illegal logging, is at an all-time high with no signs that deforestation is slowing in Brazil as numbers skyrocketed to 196,696 acres cleared in the first quarter of 2020. This leaves large swathes of land exposed, with many of the felled trees burned to clear the ground for agriculture.
However, wildfire is not unique to the Amazon. Fires in Uttarakhand, northern India that began early this week due to rising temperatures have already destroyed 50 hectares of forest. Likewise, 550 hectares of woodland has been damaged at Wareham Forest in Dorset, believed to have started when a disposable barbeque was abandoned. These instances show the risk to vulnerable habitats, whether naturally occurring or from an accident. Forest fire does not care about international boundaries – anywhere and everywhere is susceptible to the aggravations of underlying climate changes such as lower rain levels and drought, however small the first spark of flame may be.
WLT partners GESG (Mexico), FUNDAECO (Guatemala) and CSFI (Belize) have all sent reports of successfully extinguished fires. As land grabbing remains a major issue, WLT's flagship land purchase for our partners remains integral to protect land from the many environmental threats they face. Yet, land clearance frequently intentionally utilises fire, which does not care about land boundaries, so staff at our in-country partners, including WLT funded Keepers of the Wild, alongside local volunteers, are integral to safeguarding land from the threat of fire. Their presence allows site observations which identify blazes before they get out of hand, such as in Mexico where the team prevented an outbreak of fire following a lightning strike sparked the roots of a cedar tree.
It is impossible to prevent wildfire entirely, but, with time and resources, it is possible to quench its effects.

If you would like to support our partners to ensure they have the knowledge and equipment to protect the natural world, please donate to Action Fund.