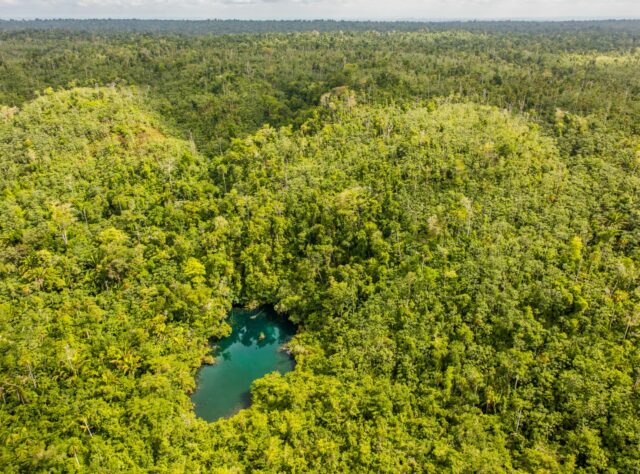 In 2022 the Elliot Dallen Trust (EDT) made a donation of £25,000 to World Land Trust (WLT)'s Buy an Acre programme, funding the purchase of 250 acres in the Belize Maya Forest. Thanks to the generosity of the EDT and other Buy an Acre supporters, WLT's contribution to this landmark project is now complete.
Together you've protected a total of 1,267 acres (512 ha) of land, securing a safer future for the forest's remarkable biodiversity, including Baird's Tapir and Geoffroy's Spider Monkey (both Endangered) and more than 400 species of bird. This WLT-funded area is part of the 236,000-acre (105,218 ha) Belize Maya Forest project, established with the help of other NGOs and the government of Belize (click here to view the project brief). It brings permanent protection to the largest intact forest area remaining in Belize, while also safeguarding a critical gap within a vast network of conservation areas referred to as the Selva Maya.
By becoming a part of the Belize Maya Forest project, the EDT is furthering a cause that was always close to Elliot's heart: protecting the environment. The WLT team feel humbled to have played a part in carrying on Elliot's legacy, and we would like to extend our gratitude to his Trust for their support. For an introduction to Elliot, his connection with the natural world, and the considerable impact he made on so many people, please read on.
Elliot's life
Elliot lived a very full life before he tragically died, aged 31 years old, of a very rare cancer called adrenocortical carcinoma (ACC). Elliot was born and grew up in Cardiff. His father worked for a conservation charity in Wales and his mother worked as a conservation officer, developing educational resources and activities for local schools. With both parents working in conservation, it was perhaps not surprising that Elliot and his older sister grew up with an interest in nature and conserving the environment.
After Elliot achieved his A Levels, he studied at Exeter University where he was awarded a first-class BA degree in Economics. Before moving to London to start his career, Elliot was very keen to travel and see more of the world. He set off with a small group of university friends, travelling first to South America. They had arranged to join a volunteer conservation project in the Amazon Forest in Ecuador. They lived and worked with a remote local indigenous community who had set up their own project with the aim of creating a sustainable centre for tourism, volunteer and research opportunities.
Like most conservation volunteer work, Elliot and his friends were involved in a lot of hard physical labour, working alongside the local men. The hot, wet conditions in the forest made the work especially challenging. Part of the experience included eating the same food as the locals and the staple diet seemed mainly to consist of bananas and potatoes. Unfortunately for Elliot, he had never been keen on eating either of these two items, and surviving on this diet probably became more of an ordeal than the hard manual labour involved in building the rudimentary tourist centre!
Elliot reflected in his travel journal that he learned a lot about what mattered to the locals and the type of life they led. With only one of Elliot's friends being able to speak some Spanish, language proved a bit of a communication barrier for most of Elliot's group. However, they all found ways to enjoy exchanging ideas and knowledge with the villagers. They also provided some suggestions for improving the projects and the general development of the indigenous community. Elliot went on to travel to several other countries in South America and also in Southeast Asia, before returning to Britain to train to be a chartered accountant. After he qualified, he went on to further develop his career in finance.
Elliot's legacy
Elliot had many interests besides travelling and these included: live music festivals, sports, reading, and spending time with his many friends. In May 2018, at age 29, Elliot appeared to be a fit young man, enjoying his life and work in London. But, after having experienced some non-specific symptoms over a number of weeks, he was shockingly diagnosed with terminal ACC. ACC is a very rare, aggressive cancer, and unfortunately it is often diagnosed at a late stage, when the disease has already spread.
After receiving his diagnosis, Elliot wanted to connect with other people of a similar age who had the same kind of cancer as him, but due to it being so rare he struggled to find many people. He decided to start writing his own online blog, The Cortisol Diaries, which was partly done to help other people who found themselves in a similar position to himself. It also proved an effective way to keep all his friends updated on his treatment and how he was coping with things.
Elliot had always been an avid reader, but he didn't have much of a need to write before starting his online blog. He began to find it therapeutic to write about the struggles with his treatment and how he was getting his head around his prognosis. He also found that many people loved his writing style. In addition to his online blog, Elliot wrote two articles for the Guardian newspaper. Both articles were published during 2020, and the response from readers across the world was incredible.
Despite several courses of chemotherapy and major surgery, frustratingly, Elliot's cancer continued to return and grow. Even so, Elliot managed to live a very full and inspirational life before he died in September 2020. Poignantly, he died on the day his second Guardian article was published. The power of his writing resonated with many readers, moving them to donate over £46,000 in Elliot's name to his chosen charity. Incredibly, his second article also made it into 'The 200 Moments That Made the Guardian', during the Guardian's 200th birthday celebration in May 2021. Elliot would have loved to have known that!
Elliot was a fantastic son, brother, partner, colleague and friend, and he was very dearly loved. He didn't have any children but he wanted to leave a lasting, positive legacy to do good in the world. The EDT was set up by his family five months after Elliot died. It is a registered charity that supports the causes that were closest to Elliot's heart.
If you would like to find out more about the EDT, or to read Elliot's articles, then please visit the website at www.elliotdallentrust.org.