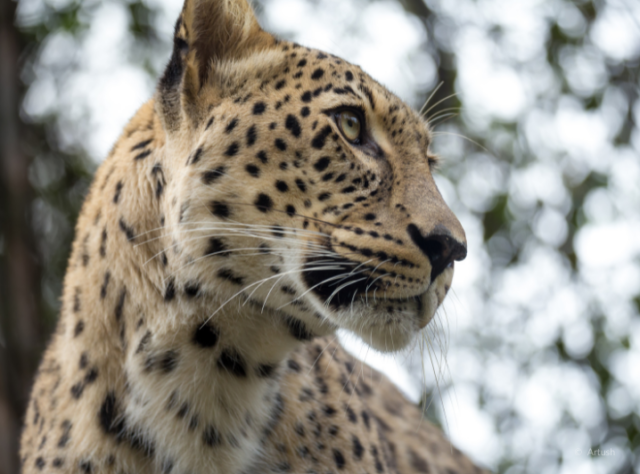 Time and time again, World Land Trust (WLT) supporters help our partners deliver incredible conservation success stories and today we're delighted to announce an exciting discovery in one of the world's lesser-known biodiversity spots: the Caucasus.
Our partner Foundation for the Preservation of Wildlife and Cultural Assets (FPWC) recently confirmed a sighting of a new male Caucasian Leopard in their Caucasus Wildlife Refuge. This is the third leopard to be filmed at the refuge in recent months, after Neo (male) and Nova (female) were recorded by FPWC's cameras in early 2021 and Nova reappeared later in the year.
The latest sighting means three different Caucasian Leopards are using the same area of the refuge "almost simultaneously", FPWC said, describing this as an "unprecedented" event. During the same day, the unnamed new male and Neo were spotted only three kilometres apart, while Nova was believed to be roaming an area just six kilometres away from the two males.
The male newcomer is the sixth Caucasian Leopard recorded by FPWC's cameras since filming began in 2013. Six may sound like a small number – until considered against the fact that the most recent assessment puts Armenia's total population of the species at under 15. The repeated sightings are testament to the refuge's value as a leopard haven; they also illustrate the impact of Action Fund supporters, whose donations have funded the protection of these habitats for years.
FPWC, who have launched a competition to name the male leopard, said that the lessons learned by rangers around leopard tracking and the best camera trap locations had made this new sighting possible. The individual's distinct tail markings allowed our partner to confirm this was a new visitor – take a look for yourself in the video below!
"The population of leopards around the world has significantly decreased due to several human factors, in particular, due to cross-border tensions, new borders, and barriers in our region," explained FPWC Director Ruben Khachatryan. "Sightings like these illustrate the urgent need for focused studies on the leopard trails and corridors, so that we can gauge the most relevant population estimation as well as the threats that leopards can face within these corridors."
Caucasian Leopard is the largest subspecies of leopard in the world and the only leopard native to Western Asia. Habitat loss and hunting have seen numbers of this subspecies drop to fewer than 1,000 individuals in the wild. In Armenia, the latest sighting is fuelling excitement about the prospect of cubs – a glimmer of hope that populations will start bouncing back in the country.
Action Fund supporters have been funding FPWC's conservation action for over a decade, helping to protect 44 mammal species, 150 bird species and 7,500+ plant species in one of the top 35 most biologically rich regions on Earth. Through one-off Action Fund donations or regular commitment as WLT Friends, supporters of our programme allow FPWC to lease habitats from local communities, employ local rangers and deliver environmental educational campaigns within the refuge.
By joining forces with FPWC and other project partners like WWF and Viva-MTS, Action Fund supporters are extending a lifeline to critical Caucasian Leopard populations in Armenia. After years of funding habitat protection, these elusive roamers are returning.
This is a conservation success story you could play a part in. By donating to our Action Fund or committing to regular support as a WLT Friend, you could make urgent conservation projects like this a reality – habitat protected, at scale and speed, for the species that need it the most.