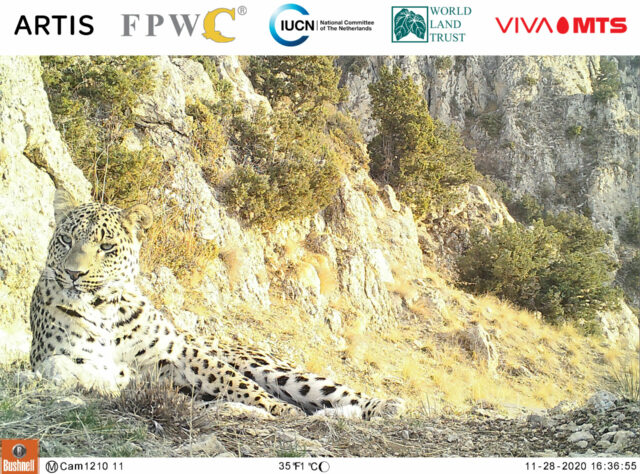 A new Caucasian Leopard has been identified for the first time in camera trap footage from Armenia's Caucasus Wildlife Refuge (CWR). The latest arrival becomes just the fifth individual leopard to be recorded here since 2013, when our in-country partner, the Foundation for the Preservation of Wildlife and Cultural Assets (FPWC), began tracking the big cats.
Significant enough in its own right, there is a chance this latest discovery could gain even greater importance, as FPWC have told us the new leopard may be a female. More footage is needed before their experts can be completely certain, but the prospect of a future breeding population in this vast protected area has caused much excitement in recent weeks.
The evidence at present is compelling. In the space of a month, this new leopard was spotted in the same area of the CWR as a known male leopard, Neo. According to FPWC, it is unlikely two males would be in such close proximity to each other.
"If true, this would mean there's a real hope for leopards in Armenia," says Ruben Khachatryan, Founder and Director of FPWC. "The existence of a healthy reproductive population of leopards [would be] the cornerstone of the subspecies' survival."
Watch our new video about FPWC's double sighting of Caucasian Leopard in Armenia
Neo, like the potential female, is a young leopard – raising hopes that cubs may be on the horizon. In recent years, Neo has also been photographed multiple times by WWF Armenia in the Khosrov Forest State Reserve, adjacent to the CWR. If the new leopard is indeed a female and chooses to follow Neo into Khosrov, this would be yet another remarkable development – the last time a female was recorded in Khosrov, Armenia was still under Soviet rule!
Whether the new arrival turns out to be female or not, the fact that two different leopards are using the CWR at roughly the same time is unprecedented. The double sighting is testament to the difference FPWC is making through conservation action in Armenia, a work made possible by the backing of World Land Trust (WLT) supporters.
FPWC are supported by WLT to lease CWR land from local communities. By providing a source of income, FPWC maintain a good relationship with the people of the Caucasus and ensure the safe management of their protected area. Meanwhile, our Keepers of the Wild programme funds rangers who conduct patrols, wildlife monitoring, and anti-poaching operations within the CWR.
Once widespread throughout Armenia, the Caucasian Leopard was persecuted under the Soviet government and only received legal protection in 1987. Since then, the population has continued to decrease despite the hunting ban, "a result of habitat fragmentation, corridor connectivity problems, and the decline of prey base due to poaching," explains Ruben.
Recent tragic events have made the sanctuary that the CWR offers to leopards and other wildlife more important than ever. The 2020 Nagorno-Karabakh War – which ended with a ceasefire in November – was fought across areas known to harbour rare and endangered species, Panthera pardus saxicolor among them.
Ruben says it was "devastating" to witness the effects of bombings in important ecosystems, but thankfully, the CWR has been left unscathed. Its 65,000 acres (26,300 ha) remain a crucial haven for Caucasian Leopard and their abundant prey base, which includes Bezoar Goat and Armenian Mouflon (both classified as Near Threatened by the IUCN).
In a region beset by conflict, FPWC continue to conduct valuable conservation work, safeguarding some of the rarest and most threatened species in the Caucasus.
It is thanks to them – and generous WLT supporters like you – that Armenia has produced this latest big cat conservation success story despite the challenging times.
So, what next for the leopards of CWR? With a donation to our Action Fund, you have the power to save some of the world's rarest predators, protecting and preserving their home for future generations.
Pledge to make a difference for Armenia's wildlife and become an Action Fund supporter today!