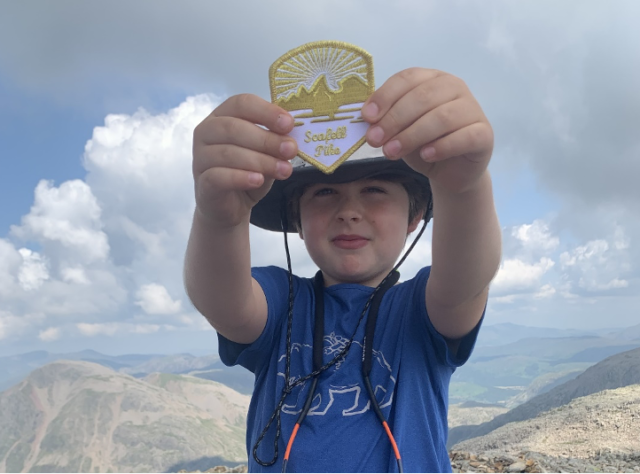 As our 'Saving Borneo's Orangutan Corridors' appeal reached new fundraising heights this summer and more than doubled its target, so did Tobias, a World Land Trust (WLT) supporter who took on more than 10 Lake District peaks to raise funds for the campaign. By making a stand for the life of Borneo, this 'rainforest saviour' made far more of an impact than he was expecting through us – and this is the story of how (and why) he did it.
When Tobias decided this year to help us save orangutan habitat in Borneo, he was acting to protect rainforests he'd had the chance to discover two years ago.
Tobias's trip to Borneo in 2019 yielded unforgettable moments, such as the orangutan who walked along the handrail right past him at the Sepilok Orangutan Rehabilitation Centre or the hilltop view of a "dense, untouched" rainforest at the Danum Valley Conservation Area. And yet the visit also opened a window into the threats facing this landscape. "When I visited, I saw fields of oil palm plantations that would once have been the rainforest home of orangutans and other amazing animals," Tobias tells us today.
Having witnessed the scale of the challenge first-hand, Tobias did not hesitate when the chance came in 2021 to help protect this landscape. When on World Rainforest Day (22 June 2021) we launched our appeal to help our partner HUTAN extend a network of protected corridors, Tobias decided to join the efforts. With Borneo as the inspiration, he chose the island's tallest mountain – 4,095m Mount Kinabalu – and resolved to raise funds by climbing the same height through a week of back-to-back hikes along peaks of the UK's Lake District.
Joined by his toy orangutan – it was the perfect excuse to tell other hikers about why he was raising money, Tobias tells us the – Lake District journey took him to climbing over 10 peaks in the space of a week in late July, from Scafell Pike (England's highest peak) to Skiddaw (England's sixth highest), Latrigg, Blencathra, Harter Fell, Artlecrag Pike, Haystacks, Fleetwith Pike and others. "On Scafell Pike, my dad lifted me on to his shoulders so that I was, for about 10 seconds, higher than anyone else on land in England," Tobias says.
With the help of a bonus peak (Pen y Fan, in Wales), the final climbing count reached 4,899m – 804m above Tobias's target! And as Tobias trekked further than he had expected, so did the funds he raised for our appeal: at £1,100, the final total was an astonishing 220% of the £500 target the intrepid climber had set at the start. And he wasn't alone. Thanks to him and the countless others who responded to the call for help by WLT Patron Steve Backshall, our £150,000 appeal ended up raising £420,000 – and now our partner HUTAN can save up to five plots of rainforest, up from the two they had targeted.
The experience has left Tobias inspired about what people can achieve when they act to save nature. "Everyone can do simple things to help the environment, like planting flowers to attract pollinators in our gardens or making sure hedgehogs can move freely," he says. "I decided to help protect the planet because it is being destroyed by people and it cannot save itself, and I learned that it's easier to try fundraising than I thought. People were so interested and generous, and I ended up raising more than twice my target!"
This year, we thought we'd raise enough funds to save two plots of rainforest, and now our partner HUTAN will be able to protect up to five. Tobias thought he'd raise £500 towards our 'Saving Borneo's Orangutan Corridors' campaign, and he ended up raising £1,100.
This story confirms it once more: when we make a stand for a living planet, we make far more impact than we think and like Tobias, you too could help save the home of orangutan in Borneo. Now that protected corridors are going to be expanded, you could help restore them by creating a fundraiser like Tobias did, and funding native trees that local women will nurture and plant to regrow the rainforest.
From our partner HUTAN and us, thank you to Tobias and every other supporter of our Borneo appeal. We saved a rainforest, and you made it all possible.