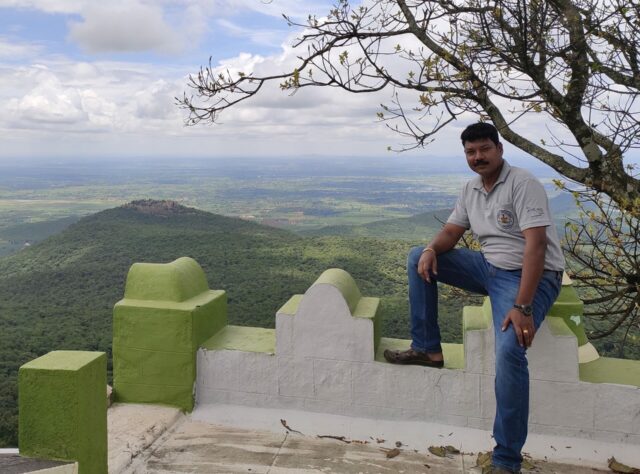 The COVID-19 crisis has had a huge impact on us all, and the conservationists that World Land Trust (WLT) supports across the world are no exception. Today, we wanted to pay tribute to Ramkumar Kalyansundaram of our partner Wildlife Trust of India (WTI) after his tragic passing from the virus – an indefatigable fighter for elephants, remembered by his colleagues at a time when the loss of conservation champions is being mourned all across India.
Asked to describe Ramkumar's contribution to conservation, Vivek Menon remembers once being quizzed over how WTI went about designing and mapping elephant corridors.
"We were at a WLT symposium and someone wanted to know how we map out the ground a corridor will cover," the WTI Founder, Trustee and Executive Director recalls today. "Some people might imagine that at WTI we make that decision without going to the field, looking at spatial data on a mapping platform. But our corridors are based on someone following the backside of an elephant, learning what is a herd's main route and what is a detour – and that is what Ramkumar did."
Ramkumar, Vivek explains, arrived to WTI's New Delhi headquarters in 2007 as a "southerner out of place" in Northern India. "He was born in the Tamil Nadu village of Sirkazhi and from there, he went to the AVC College in Mayiladuthurai, an institution that for some reason has produced some of the best biologists in India. These are humble and extremely hard-working people we're talking about, and Ramkumar embodied these traits – he was the sort of person who would think nothing of walking 30-40 km in elephant territory."
Another shared characteristic of this college's graduates was a passion for elephant conservation and Ramkumar was "uncompromising" on this front, Vivek says. While at WTI, his vast knowledge proved instrumental not only for the science of elephant corridors – he is described as the backbone of the 'Right of Passage: Elephant Corridors of India' book, today the go-to manual on the subject – but also for their very establishment. Tirunelli-Kudrakote, Mudahalli; these corridors created with help from WLT supporters owe much of their success to Ramkumar's work behind the scenes.
"After playing a critical part in the surveying for those corridors, Ramkumar had more recently focused on trying to replicate that success closer to where he lived in Southern India, where conflict with humans is unfortunately still claiming elephant lives," Vivek says. "In these last few years he'd been negotiating with Indian states and following elephants on the ground. I once joined him as we walked alongside rail tracks that herds were forced to travel alongside. Ramkumar stuck to what he believed; he would fight and fight for elephants."
Upasana's memories of music-, food-loving Ram
Ramkumar crossed paths with many others at WTI and for Upasana Ganguly, the connection started in 2014.
"I'd just joined WTI fresh out of college and though I didn't initially work with him, we started chatting at lunch time at the New Delhi headquarters – he would always order the same paratha meal," says Upasana, who heads up WTI's 'Right of Passage: Elephant Corridors' Project. After two years, Ramkumar relocated to the southern state of Karnataka to lay the groundwork for the Mudahalli corridor – and Upasana would visit him every year to work on the project together.
"It wasn't just his knowledge about the landscape and elephant conservation issues. Ram, as we would call him, was also a fun person to be with in the field and that's how I will always remember him," Upasana says. "He used to take care of us when we visited the Mudahalli project, make sure we had everything we needed. He was a great cook and very fond of music – we would drive around the landscape and he'd play us his songs in his native Tamil language."
"Initially, when I joined WTI in 2014 Ram was the senior I looked up to, a slightly intimidating person with an immense field knowledge about elephants. But later I would come to see a different side of him," Upasana adds. "As I spent some time with him in the field, I had a chance to meet some of his friends, who were very loyal and close to him; the sort of people that speak of a person's quality."
Call for help as India records hundreds of fallen conservation heroes
As tragic a piece of news as Ramkumar's passing is, he is far from alone in India – a country that has reported over 350,000 cumulative COVID-19 deaths since the pandemic began.
From initial estimates of 30-plus conservationists dying from the virus nationwide, WTI now believes the figure could exceed 300 when losses within forestry departments are accounted for. To assist the victims' families, WTI has set up a Conservation Hero Covid Fatality Fund – and donations from WLT supporters could make a major difference. "Many of the deceased caught the virus while on duty, and their next of kin often have no safety net," Vivek says, "Some of the fatalities, for instance, are community members without whom conservation work would not be possible."
At WTI, thoughts remain with Ramkumar's own family. The tireless champion of elephant protection did not just leave behind a conservation legacy of corridor breakthroughs, research reports and papers, but also a void, impossible to fill, for his wife and two young daughters. Financial assistance is the most pressing need but in the long run, WTI's priority is to press on with the work that shaped Ramkumar's life. "Today we think of the Mudahalli project corridor, his last assignment," Upasana says. "Finishing it will be what he would have wanted, our own tribute to Ramkumar."
---
WLT would like to share our condolences with Ramkumar's family and WTI colleagues – India, and conservationists worldwide, have lost this year a tireless champion of elephants.
There is so much you can do to ensure Ramkumar's legacy lives on. You can donate to WTI's Conservation Hero Covid Fatality Fund to help the families of those struck by the pandemic – and you can discover and support, through WLT, the crucial work that Ramkumar made possible.
Follow this link to find out about the elephant corridors WTI is creating in India with WLT's support!