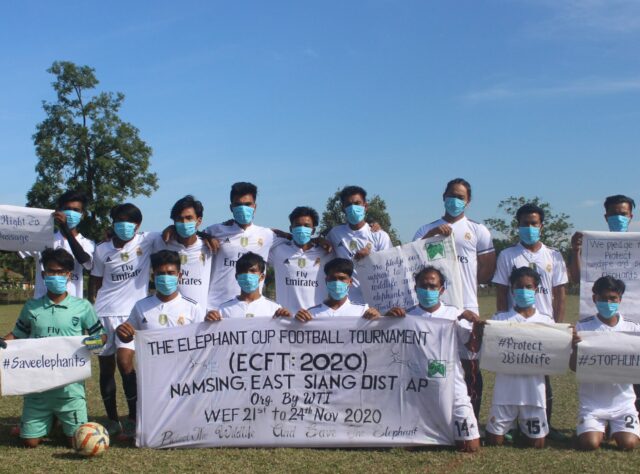 In an excellent display of community engagement, our partner Wildlife Trust of India (WTI), recently hosted an 'Elephant Cup' – a four-day football festival to inspire and educate local communities on the importance of elephant conservation.
WTI's 'Elephant Cup' was dedicated to India's national heritage animal, the magnificent Asian Elephant, with the aim to enlist local support for the securing of the D'ering-Dibru Saikhowa elephant corridor as a Community Conserved Area.
Children proudly held up placards to show their passion for conservation and football fans followed the action as six local teams competed in several exhilarating matches in Arunachal Pradesh, Northeast India.
"This is the first time that such a tournament has been organised in our village. It is a great platform to spread the message of elephant conservation to a wider audience, especially the village youth, who are the torch bearers of wildlife conservation," said Mr Perme, the Gaon Burah (village headman).
The football tournament kicked off in Namsing Village on November 25 and was organised by WTI in collaboration with the Arunachal forest department. It was held in the place of the annual 'Solung Festival', a traditional harvest celebration to honour the cultural history of the Adi community.
Football to enlist local communities into wildlife conservation
The football teams all pledged to help protect the Asian Elephant and showcased how important this is to them.
"Football is a strong medium to establish contact with and mobilise local youth and children of the project beneficiary villages," says Sunil Kyarong, WTI co-director and 'Elephant Cup' manager.
"This is a very interesting way to make them understand the importance of everyone coming together to protect our wildlife. The annual football tournament to honour the Elephant, our National Heritage Animal, will win the support of the community for a long-term conservation of the species in this landscape," Sunil adds.
The football festival was also a great way to promote eco-friendly behaviour more broadly. To encourage locals to reduce their plastic usage, WTI ensured that the festivities would be plastic-free.
They collected water from the village well – rather than distributing plastic water bottles – and used natural cloth and paper to make all banners and placards. They also managed to secure an agreement from attendees to stop their traditional practice of bird hunting, convincing them instead to use sport as an outlet of healthy competition and community activity.
Protecting India's gentle giants through elephant corridors
A highly intelligent and social species, Asian Elephants typically wander over hundreds of kilometres, usually led by the eldest female. With support from WLT, WTI's D'ering-Dibru Saikhowa elephant corridor aims to safeguard 1,235.5 acres (500 hectares) – more room for these gentle giants to roam and thrive.
Asian Elephants are classified as Endangered on IUCN's Red List. Fewer than 50,000 individuals are thought to be left in the wild, making 'elephant corridor' projects like WTI's all the more vital for these roamers to have a safe and healthy future.
Wildlife corridors are becoming increasingly crucial in India – the country's population continues to grow and wildlife habitats continue to shrink, sparking more and more animal-human conflicts in the country.
WTI works hard to help defuse these conflicts and became a WLT partner in 2003, after sending us a proposal to help fund their Wild Lands Elephant Corridors Programme. Since then, we have been working together to protect further wildlife corridors in India to safeguard migratory routes for elephants and other endangered species.
WTI's work to ease human-elephant conflicts and protect shrinking habitats is crucial for the endangered wildlife that needs room to roam. Thanks to our Action Fund, we are able to support community engagement projects such as this football festival and help WTI ensure communities and wildlife can peacefully coexist.
Donate today – help WTI inspire local people to protect India's precious species!