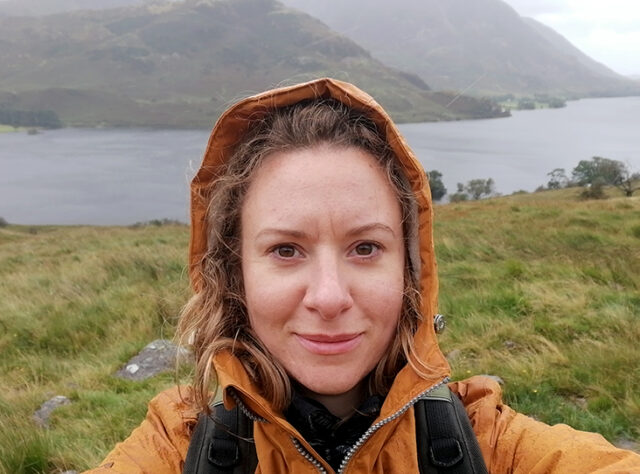 Over the past few months, WLT's #OurReasonsForNature series has cast a light on the wildlife that brought our people to conservation. Charlotte Beckham, WLT's Conservation Programmes Manager, takes the floor in this instalment to explain, in her own words, how childhood animated series and field work in Namibia brought her to WLT.
I don't think I remember a time when I wasn't fascinated by the natural word around me.
Growing up in a pretty rural location in the UK, I was introduced to many species at a young age and remember always being interested in trying to discover and find out more about what I saw around me, whether that was identifying birds in my back garden or following and watching the behaviour of local roe deer in the surrounding fields.
My family encouraged my growing enthusiasm for nature and I was brought up on trips to local wildlife parks, reserves and zoos, which raised my awareness about species beyond the UK and the threats to their natural homes around the world.
This, in the early 90s, was also the time when The Animals of Farthing Wood aired in the UK. A heartbreaking animated series, this was the story of woodland creatures forced from their habitat by an expanding urban population and searching for the safety of a protected nature reserve – truly upsetting for a young naturalist. For me this was it: I was hooked on wildlife conservation!
Discovering the human side of conservation in Namibia
A particular species that has long caught my interest in conservation is the Chacma Baboon.
This is, I know, not everyone's favourite choice. They're viewed as a pest by many, but to me, time spent with these cheeky primates was an unforgettable experience – one that earned them a special place in my heart.
After completing my degree in 2007, I was fortunate enough to head to Namibia to volunteer with the Naankuse Foundation for a month. The project – only a year old by the time I arrived – was an immersive and very hands-on experience, with enclosures needing to be built and constant care required for the growing number of rescued and orphaned animals that were brought to the Foundation.
A regular arrival were orphaned Chacma Baboons, often reaching the shelter with injuries and in need of constant loving care after losing their mothers to human-wildlife conflict. The youngest, including a three-month-old that came into my care, were completely reliant on volunteers.
There is something particularly special about bonding with another species. To learn to interpret the behaviour of – and even communicate on a basic level with – another primate like the Chacma Baboon is a true privilege.
But my time spent with the baboons didn't just heighten my interest in the species. Seeing first-hand the result of wildlife conflict and spending time with a fledgling grassroots NGO ignited my passion to address conservation issues. In particular, it sparked an interest in the human side of conservation; the projects that work collaboratively with neighbouring communities.
Seeing what a few passionate individuals and a young NGO could achieve and sharing their ambition to both ensure wildlife can stay wild and work in partnership with local communities, I left with renewed enthusiasm to work somewhere that would protect wild spaces and invest in passionate, on-the-ground conservationists. That brought me to World Land Trust, where for the past few years I have been fortunate to be able to do just that.
Nature is the reason for Charlotte and all others who work at WLT and for the next few months, we will be sharing with you what brought us to conservation – what keeps us going as we save land to save species. You can read all #OurReasonsForNature entries so far here.
Our supporters make our conservation wins possible and we'd love to hear from you – about your own reasons for nature, the wildlife that inspired you to care for the natural world. Share your stories and pictures with us on social media under the #OurReasonsForNature hashtag!