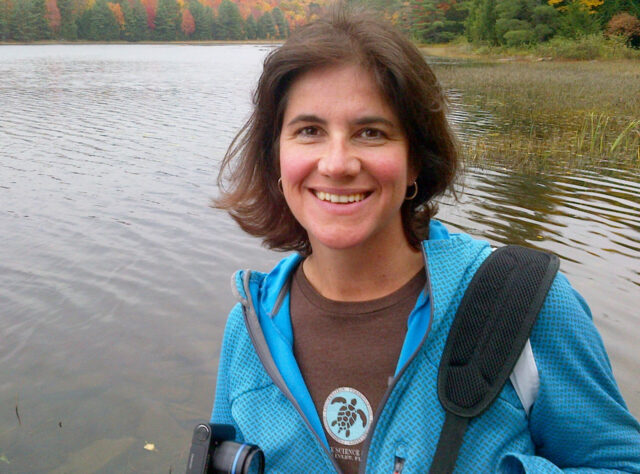 From Canada to Costa Rica, Tracey Butler's globe-trotting years fuelled a passion for wild cats. For the first 2021 instalment of World Land Trust's (WLT) #OurReasonsForNature series, our Corporate Communications Manager tells all about her hopes for a world where Canadian Lynx and Jaguar can thrive.
Growing up in Toronto, Canada, nature programmes filled Tracey's childhood and stoked her fascination for the natural world. She distinctly remembers watching a documentary about the Canadian Lynx, and she was captivated from the very start.
"I was enthralled with their large paws, perfectly adapted for the deep snow of rugged northerly landscapes, their beautiful markings and coat, and the tufts of black hair off the top of their ears," explains Tracey, a poetic description of her favourite species that shows just how deep her appreciation for Canadian Lynx runs.
Native to North America, Canadian Lynx are superb night hunters and prey on Snowshoe Hare. Known for their tufty ears and large eyes, they were the starting point of Tracey's lifelong fascination for wild cats – a passion that she carried with her as she visited wild places across the globe.
An exhilarating trip to Costa Rica ignites Tracey's passion for wild places
Chief among those wild places was Costa Rica, a global biodiversity hotspot Tracey had a chance to discover in 1999.
That year, preparations for an upcoming trip with her partner took on extra excitement as the pair received approval to visit Corcovado National Park, a nature reserve bursting with biodiversity and most importantly – six of Central America's cat species, including the elusive Jaguar.
Tracey looks back at the expedition with fond memories. "Much of the hiking that first day was along a thin strip of beach between the Pacific surf and the lush, dense forest edge which loomed tall and impressively overhead," she remembers. "We walked around countless headlands for hours, finally arriving at a cut in the jungle revealing a small airstrip and the Serena ranger station in the distance, just as the tropical darkness fell swiftly over us like a heavy blanket."
After meeting with researchers at Serena Ranger Station who had been studying Jaguar for months, Tracey explored the tropical forest with eager eyes and with great anticipation of spotting iconic species – and Corcovado National Park did not disappoint.
Experiencing wildlife in their natural habitat proved exhilarating. "During our time hiking in Corcovado, we heard Howler Monkeys, saw Scarlet Macaws and Toucans, experienced incredible flora, spotted two types of monkeys and a variety of amphibians. A large snake crossed our path so quickly that I wasn't able to identify it later," Tracey explains.
Wild cat sightings were not to be during the trip to Corcovado but to Tracey, the chance to visit their home and witness first-hand how it was being protected was enough. It was in fact, she tells us, a "privilege".
Although Tracey was not aware of it at the time, the Costa Rica trip also established a link with the work of WLT. When Tracey joined us in 2016, she soon discovered that by visiting Corcovado National Park in 1999, she had unknowingly set foot on a tropical paradise WLT had helped protect five years prior. As she found out, in July 1994 conservationist Bill Oddie had launched Rainforest Action Costa Rica, WLT's second ever project, to raise funds for a land purchase that was to be incorporated into Corcovado National Park.
Tracey hopes to have the chance to spot a wild cat in its natural habitat one day. For now, however, WLT's Corporate Communications Manager is content with just knowing that there are rangers and researchers out there working tirelessly to protect them – including the WLT partners who safeguard Jaguar in South America, vulnerable Leopard in Africa and endangered Bengal Tiger in India.
Protection and preservation of wild habitats is the inspiration for Tracey and all others who work at WLT and for the next few months, we will be sharing with you what brought us to conservation – what keeps us going as we save land to save species. You can read all #OurReasonsForNature entries so far here.
Our supporters make our conservation wins possible and we'd love to hear from you – about your own reasons for nature, the wildlife that inspired you to care for the natural world. Share your stories and pictures with us on social media under the #OurReasonsForNature hashtag!