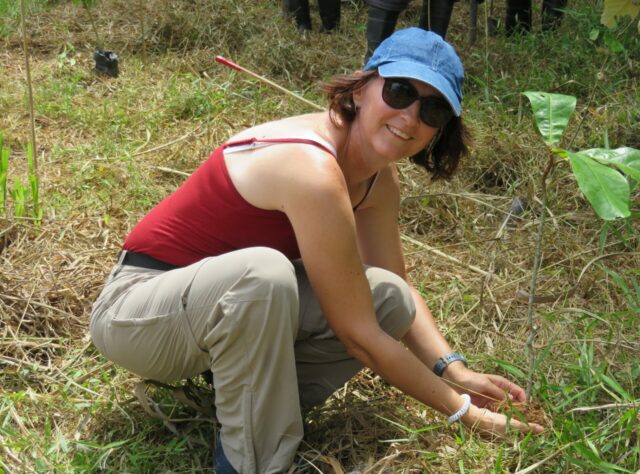 Ever since she joined World Land Trust (WLT), Finance Assistant Mel Blagden had dreamed about the rainforests and orangutans of Borneo. Last year, she got to see them with her own eyes. For the latest instalment of WLT's #OurReasonsForNature series, Mel shares her memories of a fascinating journey to the world's third-largest island.
From a young age, the outdoors was a constant backdrop for Mel.
Having spent a childhood frolicking over the fields of Suffolk, it would have been easy for her to take nature for granted, but watching documentaries narrated by WLT patron Sir David Attenborough opened her eyes to a bigger world out there – even if her mum wanted to change the channel when the lions started chasing the zebras!
Shortly after joining the WLT Accounts team in 2013, Mel sat in on a presentation given by Project Manager Mary McEvoy following her trip to Borneo. That evening, Mel returned home to her husband and told him, "I want to go there one day, to see the orangutans".
Finally, in 2019, Mel's dream came true. The Blagden family flew out to Borneo to witness not only orangutans, but also the continuing destruction of their natural habitat by the palm oil industry. The trip drove home to her just how special an island this is, and why we must do all we can to protect its natural wonders.
Mel began her journey at the Sepilok Orangutan Rehabilitation Centre on Borneo's northeastern coast, where injured and orphaned orangutans are brought to recuperate and acclimate themselves for an eventual return to the wild. The next stop was a homestay in Sukau run by a manager of HUTAN, WLT's partner organisation in Malaysian Borneo.
"After we unpacked we ventured out on our first walk, and we hadn't gone far when we heard rustling in the trees above us," Mel explains. "The sound gradually got louder and louder, and twigs fell down from the trees. We looked up to see an orange furball not far from us – it was our first orangutan sighting!"
Sighting of palm oil plantation drives home need to care for nature
After marveling at the wildlife on the river and taking part in local games and handicrafts, the Blagdens moved on to the Tabin Wildlife Reserve, which at 300,000 acres is Malaysia's largest wildlife reserve. Mel also saw a family of gibbons swinging through the grounds of their accommodation, and the primates gave her quite a show: "It was lovely to watch the adults making bridges with their bodies to help the youngsters get across the trees."
Although walking at Tabin was "amazing", in Mel's words, and they were "constantly seeing wildlife", her family's first sighting of a palm oil plantation really brought things into perspective. "When you are actually there," writes Mel, "you see for yourself the true destruction of the rainforest, the extent of which you can't imagine."
Thankfully, work is being done to restore Borneo's forests and protect the island's remarkable biodiversity. Mel's family ended their journey with a visit to a HUTAN reforestation project funded by our Plant a Tree programme; they each got to plant a tree themselves too!
The project is staffed mainly by women from local communities, who take care of saplings from the moment they enter the ground to the point where they can survive on their own – a process stretching into several years. The threats facing Borneo remain very real, but thanks to organisations like HUTAN, the orangutan – the "old man of the forest" – will continue swinging through the trees for many years to come for Mel and others to see.
Nature is the reason for Mel and all others who work at WLT and for the next few months, we will be sharing with you what brought us to conservation – what keeps us going as we save land to save species. You can read all #OurReasonsForNature entries so far here.
Our supporters make our conservation wins possible and we'd love to hear from you – about your own reasons for nature, the wildlife that inspired you to care for the natural world. Share your stories and pictures with us on social media under the #OurReasonsForNature hashtag!