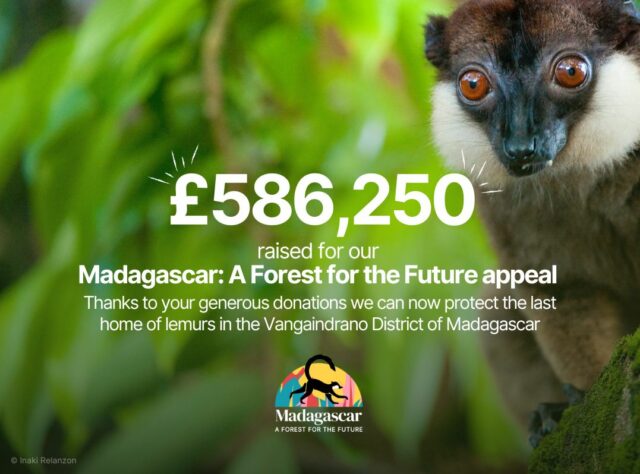 Thanks to your support and generous donations, we're delighted to announce that our Madagascar: A Forest for the Future appeal has reached its £586,250 target, meaning Missouri Botanical Gardens Madagascar Programme (MBG-Madagascar) can now expand the precious Ankarabolava-Agnakatrika forest and preserve the area before it's too late.
In a time when deforestation is an ongoing threat and up to 90% of Madagascar's natural habitats have already been lost, your support will allow us to safeguard the last remaining forest in the Vangaindrano district. Your donations will expand this crucial protected area by 200ha, plant 500,000 native trees, provide job opportunities for local communities, and actively protect the home of Madagascar's threatened lemurs.
What your donations will do
MBG-Madagascar has been working closely with the local Antesaka people to preserve the Ankarabolava-Agnakatrika forest since 2009.
In 2015, it was established as a legally recognised protected area, and today stands at 1,562 ha in size. MBG-Madagascar has worked tirelessly to help the forest flourish alongside the Antesaka communities who depend upon it for their wellbeing and livelihoods. However, threats ranging from cyclones and wildfires to timber extraction and slash-and-burn methods of farming still cast its future in doubt.
But, with the help of WLT supporters like you, MBG-Madagascar's important work will continue. Here is what your donations to A Forest for the Future will help to make a reality over the coming years:
Securing a 200 ha buffer zone in seven strategic locations around the forest to increase its resilience to the effects of climate change.
Planting 500,000 native trees between 2023 and 2028 to restore the degraded forest. This will cover seed collection, nurturing and planting the saplings, and the ongoing protection of the trees as they grow.
Sustainable employment for around 1,000 local people, including the training and support of 30 new plant nursery staff, who can later use their skills to run their own nurseries as a source of income.
Funding for 12 new local rangers to patrol and safeguard the forest for a minimum of five years.
Working with the Antesaka people to protect the land and preserve the Malagasy knowledge and cultural heritage that is so closely tied to the forest – such as the use of medicinal plants and materials to build homes.
A chance for threatened species to thrive
Madagascar is one of the most biodiverse places on earth and home to animals found nowhere else on the planet. The Ankarabolava-Agnakatrika forest alone is home to over 50 threatened species of tropical plants, many stunning birds, and of course, Madagascar's famous lemurs.
In fact, at least six documented lemur species live there. This includes the Critically Endangered White-collared Lemur which is found in just three protected areas on the whole island. The White-collared Lemur is just one step away from being declared Extinct in the wild and the loss of this forest habitat would be catastrophic to these lemurs, proving just how important your donations are going to be in ensuring their survival.
Alongside these famous primates, threatened bird species such as Henst's Goshawk and the Madagascar Sparrowhawk soar through the treetops. These magnificent birds rely on the forest and live with the constant threat of their habitat being destroyed. Your generosity will now hand them the chance to thrive in the years ahead – an accomplishment that cannot be underestimated.
A forest of future discoveries
According to MBG-Madagascar's Technical Advisor, Chris Birkinshaw, "there really is nowhere like Madagascar in terms of species discovery." So, we can't fail to mention the impact your donations will have on the possibility of future discoveries in the Ankarabolava-Agnakatrika Protected Area.
Each hectare that you have helped MBG-Madagascar save through this appeal could be home to a species which has not yet been discovered!
There are currently 11,500 plant species in Madagascar that are known to science, but it's estimated that an astonishing 3,000 are still waiting to be found. Some have even already been discovered in this project area. For example, the Hibiscus vohipahensis tree was first discovered in Ankarabolava-Agnakatrika and has not yet been seen anywhere else on Earth, meaning its survival rests entirely on the future of this forest. Something which you have helped to secure with your generous support.
Scientists from our partner have also spotted unidentified dwarf lemurs and mouse lemurs in Ankarabolava-Agnakatrika. The team at MBG-Madagascar believe that at least one of these lemurs might be a brand-new species. With the land protection that your donations will now fund, scientists and field staff will be able to continue their research and work to fully identify these lemurs in the future!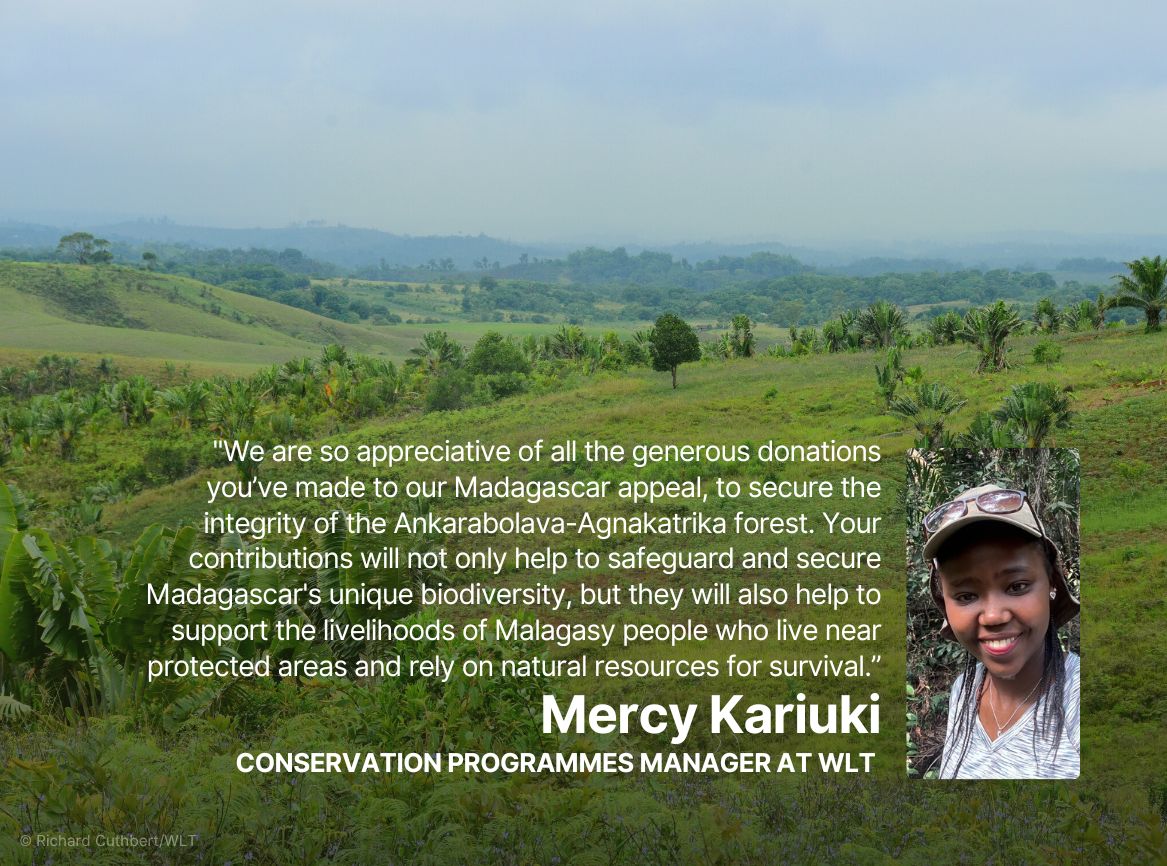 From all of us at WLT and our partner MBG-Madagascar, we want to say a huge Thank You!
We are extremely appreciative of every single donation you have made to our Forest for the Future appeal. Madagascar is an extraordinary island and your generosity will make a tangible difference to the people, plants and animals that live there.
Together we can now actively protect the last remnants of forest in the Vangaindrano District and support the next generation of life in the treetops.