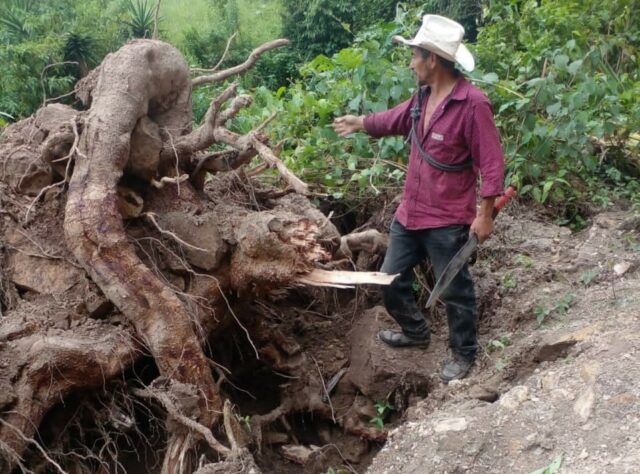 By Catherine Barnard, World Land Trust CEO
2022 has seen disastrous weather events in all continents that have been driven and/or worsened by climate change. Tragically it is the people who have played the smallest role in this ongoing crisis who are most affected by the damage it brings. Sadly, this has proved to be the case in recent months, with many of our partners – as well as the communities, habitats and wildlife they support – impacted by natural disasters. In sharing this news, we hope to bring attention to the personal tragedies of what is a truly global crisis, while also highlighting how natural ecosystems and our partners' conservation work can offer a solution.
In World Land Trust (WLT) communications, we quite rightly focus on the positive change that our partners are bringing to the natural world, fuelled of course by WLT supporters. But we also bring attention to the crises both global and local that are facing our planet – from the existential threat of climate change to individual species and habitats that could disappear were it not for your donations. Positivity is a powerful tool; but we cannot shy away from the realities that come with working in conservation.
Some of the same climatic and geographical conditions that have spawned such rich biodiversity in places like Central America and Southeast Asia also make these places vulnerable to natural disasters. In recent months, a serious landslide struck the Ecuadorian town of El Placer, where many of Fundación EcoMinga's rangers and their families live; Typhoon Noru made landfall in Vietnam, home to our partner Viet Nature; Hurricane Julia struck Honduras, home to our partner AESMO; and in East Africa, Big Life Foundation are working amidst an ongoing drought likely to kill one person every 36 seconds that is also devastating the region's wildlife.
A town "living in danger"
The landslide in Ecuador occurred on the night of 11 August 2022. After days of heavy rain, a large section of the mountainside above El Placer collapsed, blocking the main road and damaging vehicles and power lines. A family of three – all relatives of EcoMinga staff – tragically lost their lives in the disaster, leaving a child orphaned. Several staff missed being caught in the landslide zone by just one minute. The following day, EcoMinga opened up their offices in the nearby city of Baños, taking in El Placer residents who wished to evacuate.
Landslides have always been "very frequent" in high-elevation areas of Ecuador like the upper Río Pastaza watershed, where El Placer and many of EcoMinga's reserves are located. However, there is growing evidence that climate change may be leading to more landslides around the world. A recent paper found that rising temperatures in the US are driving an increase in heavy rainfall, the most common cause of landslides. The same is predicted for the High Mountain Asia region.
Speaking in the aftermath of the landslide at El Placer, a local resident said: "The water comes running very fast from the hills here. We need to get used to living in danger." The town lies just 10 miles from Río Zúñac, one of the two EcoMinga reserves that we are hoping to expand through our current Life on the Edge appeal. Funds from the appeal will be used to protect forests currently under threat from the oil, timber and agriculture industries. Keeping standing forests intact is one of the best mitigation measures against landslides, as the trees' deep root systems help to slow water runoff and mitigate soil erosion that could trigger the next disaster.
A fallen ranger
Typhoon Noru made landfall in Vietnam on 28 September 2022, bringing wind speeds of over 90mph and forcing the evacuation of over 800,000 people. In Quang Binh Province, heavy rains triggered landslides that badly impacted the Song Huong Watershed Protection Forest that Viet Nature are restoring with WLT support.
Unfortunately, much worse news was to come from the Khe Nuoc Trong Nature Reserve. On October 12, strong water currents resulted in the death of a 36-year-old ranger, a member of the reserve's staff who had been working alongside Viet Nature since 2012. Assigned just last year to work closely with the Viet Nature project team in Khe Nuoc Trong, the ranger leaves behind a wife and two young daughters.
Speaking after the tragedy, Tuan Anh Pham, President of Viet Nature, said: "The life of communities and forest rangers is still so difficult. Our battle to save and restore the forest is tough, but I believe that our work does play a role in preventing flashfloods and landslides. I hope after events like this, people will behave more responsibly to nature, too."
Typhoon Noru was one of the strongest tropical storms to hit Vietnam in the past 20 years. Although climate change has actually made such storms less frequent, warming seas are increasing the intensity and destructiveness of the storms that do occur. Let us hope that the upcoming COP27 summit will see global leaders renew their commitment to, among other things, combatting deforestation. Their pledge – made just last year – to reach zero deforestation in 145 countries by 2030 "will be missed without urgent action", say researchers.
Flooding "never seen before"
Honduras endured its own devastating tropical storm when Hurricane Julia made landfall on 9 October 2022. Our partner AESMO is based around 70 miles inland in the country's westernmost department, Ocotepeque, and yet the impact felt here was still significant. AESMO Executive Director Victor Saravia said he and his team have witnessed "historic and overwhelming levels of precipitation" that have affected around 5,000 people, destroying roads, bridges, farms and homes. "This is something we have never seen before or could even imagine: massive flooding that is more common to occur on the Caribbean coast, but not in this area."
Many farmers in AESMO's project area have lost entire crops of bean and corn, "the basic diet of our people", says Victor. "Leaders of the community are getting together to see how we can rebuild," says AESMO ranger Bairon Vargas, "but we currently don't have access to potable water since the landslides impacted the pipe network." Since the hurricane hit, rangers like Bairon have been working tirelessly to help those impacted. Victor estimates that there were still more than 50 communities isolated as of October 19 due to access rounds being underwater.
Victor and his team have witnessed first-hand the destruction that such severe storms can bring to countries like Honduras, one of the poorest in the Western Hemisphere. "I've never seen anything like this, not even with Hurricane Mitch [a 1998 storm that is the second-deadliest Atlantic hurricane on record]. This demonstrates Honduras's extreme vulnerability to climate change, which is something to be concerned about. We need to work harder to strengthen our population's resilience to the challenges of climate change. Land purchasing is vital for the conservation of biodiversity, water, and soil; it's just fundamental."
An historic drought
In Kenya, WLT partner Big Life Foundation are working around the clock to support the Greater Amboseli ecosystem, where the worst drought in over 10 years has seen some areas receive only 15% of expected rainfall. Big Life CEO Benson Leyian says rangers have counted "eight times as many animals dead or too weak to stand, compared to a normal September". Leyian points to the retreat of Mount Kilimanjaro's glacier as stark evidence that "climate change is real".
More than 50 elephants have been found dead from natural causes, a figure which in a normal year would stand at around six. With the local wildlife forced to travel further for both food and water, some have also strayed beyond the protection of Big Life's rangers, a situation which saw poaching for bushmeat double in July and August compared to 2021.
A drought of this scale will always bring "huge human-wildlife conflict", says Richard Bonham, Big Life's Executive Chairman in Kenya. "Wildlife comes to water points, comes into homesteads, searching for water or fodder. So the rapid-response units we've mobilised have had a huge impact coming to the assistance of the community, fixing broken water pipes." Our partner has also been busy establishing three feeding stations and delivering water via a bowser (a trailer fitted with a water tank).
"Human-induced climate warming in the western Pacific" has been found to be a major contributing factor to this current drought in East Africa. The rains have now failed for an unprecedented fifth consecutive season – something which hasn't happened in 40 years of satellite records. We must now use disasters like this as a catalyst for change, and draw hope from the inspirational efforts of Big Life who have already handed a vital lifeline to species like zebra, elephant, giraffe, buffalo, eland, oryx, reedbuck, waterbuck, hartebeest and wildebeest.
A "watershed moment"
Prior to last year's COP26, I wrote that our society requires truly systematic transformation if we are to respond to the climate crisis at the scale that we need to. There were some positive signs, with commitments to act on key areas like private finances and national emissions, but many such commitments were not ambitious enough – the call to "phase down" coal use, for example – and, as mentioned above, the landmark deforestation pledge already looks likely to fail. Even as the summit ended, COP26 President Alok Sharma conceded that the "1.5°C goal remains in reach, but its pulse is weak". Just last week, the UN has offered a more sober assessment, stating that "the world is still falling short of the Paris climate goals, with no credible pathway to 1.5°C in place. Only an urgent system-wide transformation can avoid an accelerating climate disaster."
The COP27 President, Sameh Shoukry, has called the latest summit "the world's watershed moment on climate action". It very much needs to be; after decades of following the statements from global leaders I have seen little that convinces me that they are treating the existential climate crisis with anything like the importance it demands.
However, I remain optimistic. I find great hope for the future in our partners, and the courage they show every day in the field; I find it also in WLT supporters, and indeed in supporters of other organisations; I find it in friends, family, colleagues, and – in general – wider society as a whole. We now understand the threats facing our shared planet better than ever before, and there has never been a greater desire from global citizens to drive the solutions that will usher in a safer future for us all. It is now up to global leaders to ensure this movement for change is honoured in every deal, pledge and agreement made at COP27.
Dr Catherine Barnard
World Land Trust CEO