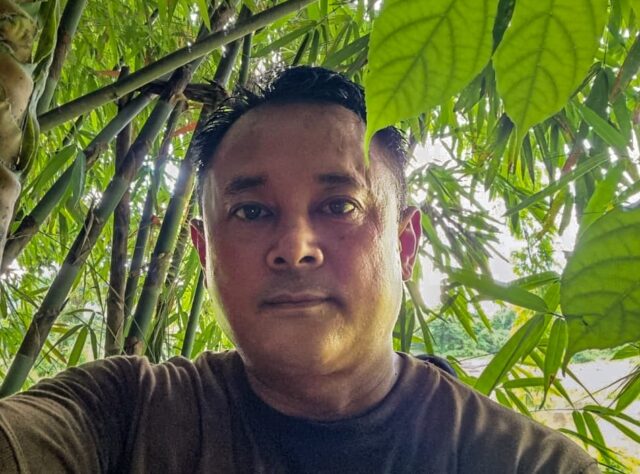 Time to save another incredible place together! Since 2003, WLT has supported our partner Wildlife Trust of India (WTI) to protect 4,000 ha of elephant corridors in the Garo Hills of Meghalaya State and over the next five years, WTI can safeguard another 4,000 ha; 2,000 ha of that total will be funded by the appeal we've just launched (Project Mongma Rama), with the remainder funded by a corporate supporter of WTI. Rangku Sangma, a key part of this project as the Chief Forest Officer of the Garo Hills Autonomous District Council, grew up in these lush foothills. Today, he tells you about what your appeal donations could do for elephants.
I was lucky to be born and brought up in the Garo Hills, the home of my people for millennia. The name we give ourselves (A'chik Mande) means "steep hill" and for generations we've lived deep in these forested foothills. Our gods, our beliefs, our traditions – everything is linked to the forest, and there is so much natural beauty. Today, I am lucky to work protecting this landscape I grew up in; the rivers and waterfalls where the community would fish and children would chase butterflies.
Together with WLT supporters we've already safeguarded 4,000 hectares, working with communities to protect three elephant corridors. But there is much to do still. This is an area of India where land can only be owned by communities, and for long we A'chik Mande had managed to live off it sustainably, in a cycle that allowed nature to replenish. But now things are changing. Recent developments and the risk that mining projects could arrive one day means we have to be proactive, and protect more of this important land.
With help from WLT's appeal and other sources, over the next five years we can now safeguard another 4,000 hectares. If we succeed, we will be protecting another corridor, connecting a chain of habitats between Nokrek National Park and Emangre Reserve Forest. This will offer safety and connectivity to hundreds of species, starting with the Asian Elephants that we see so often across the foothill chain here in Garo.
We A'chik Mande people have always respected the elephants that are part of this landscape and working at Garo Hills the past few decades, there are so many encounters to choose from. The herd who once spotted us in our jeep and waited to see if we were going to drive on; they ended up moving past us, with one parting trumpeting call as if to say 'we're done, you can go'. Or the elephants we once saw leaving a pool to bring in shrubs and leaves that the fish love to eat – it's hard to know why they did it, but these are such intelligent animals.
And the protection of a fourth corridor will help many other species, like the Western Hoolock Gibbons we find mostly near villages; I can sometimes hear their calls from my own room. I'm also hopeful about big cats. We haven't seen Tigers in this area for a while but during a recent visit to the eastern section of Garo Hills, we heard accounts of a sighting by a community member. If camera traps are set up in this section, a single picture of a Tiger walking by would be evidence we can take to the government to underscore the importance of protecting this landscape.
Habitat protection for all these species won't work in the long run unless we think about livelihoods, and that's why this project puts community first. Villages continue to own the land and they decide which sections are set aside for conservation, receiving support for new livelihoods in return. And that is the future I can see for Garo Hills, with your help: one where we A'chik Mande people can protect our forest motherland and live sustainably for the sake of future generations, who will do the same for those after them.
This is our vision for this landscape and with support from your donations, it can become a reality!
Rangku Sangma,
Chief Forest Officer at the Garo Hills Autonomous District Council
No one can protect the Garo Hills like the communities who have called them home for millennia.
Since arriving from Tibet around 400 BC, the A'chik Mande people have been living in and managing these forests of northeast India sustainably, and with help from WLT supporters like you, we can give them the tools to continue doing so in a changing world.
Over the past two decades, 4,000 ha have already been protected by 20 A'chik Mande villages who own and benefit from reserves. In the coming years, your donations to our Project Mongma Rama appeal will help our partner WTI to create many more of these community-owned protected areas, safeguarding thousands of acres for elephants.