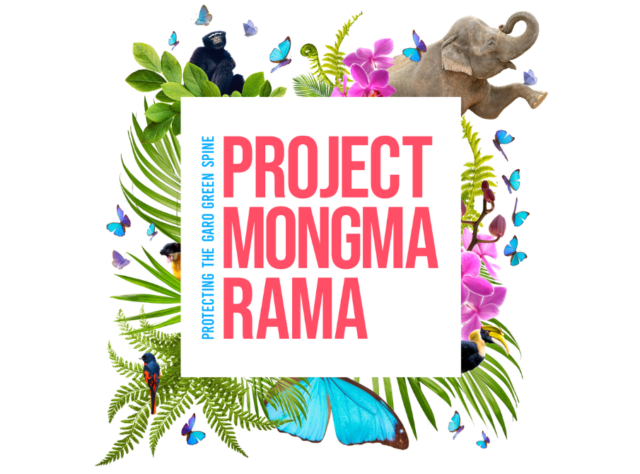 At India's Garo Hills, WLT supporters have already shown the power of conservation. Since 2003, donations to us have helped to protect thousands of hectares of elephant corridors, and now there is a chance to safeguard thousands more. This is the story of an extraordinary landscape, its unique life and people – and how you could write the next chapter of a conservation success by donating to our new £350,000 appeal, Project Mongma Rama.
A visitor to Meghalaya would quickly grasp why this Indian state's name translates as मेघालय or 'abode of the clouds' in Sanskrit. The world's rainiest region is home to dense forest canopy over foothills that rise from the Bangladesh delta plains to the south, giving way to Himalayan peaks to the north; a paradise where Asian Elephant herds wade swollen streams, Clouded Leopards stalk prey from up tall subtropical trees, and the duet calls of Western Hoolock Gibbon pairs echo across the lush valleys.
This landscape's magnificence masks its vulnerability. Meghalaya falls within one of the most threatened biodiversity hotspots on Earth (the Indo-Burma) and new infrastructure could expose the landscape to new dangers. The opening of roads risks bringing projects to mine the area's rich mineral deposits, and with it the ancestral landscape and way of life of the Garo people – the communities who call themselves A'chik Mande and who migrated to the area from Tibet around 400 BC – could change beyond return.
In 2003, WLT and our partner Wildlife Trust of India (WTI) formed an alliance to safeguard this landscape. The resulting Garo Green Spine project has since operated on a simple premise – the Garo people form reserves to conserve their own land and benefit as a result – but its impact has been profound: 4,000 ha (9,884 acres) have been protected across three crucial elephant corridors, while 20 villages have joined an initiative that has given them support to healthcare and sustainable development, computer centres, teachers, bridges and more.
WLT supporters have made this work possible since 2003 and you could play a decisive part now. Your donations to our new appeal this year will fund the following outcomes from 2021 to 2026: the protection of 2,000 ha through community-run reserves and key biodiversity areas; the restoration of 170 ha through the planting of 125,000 native trees; and the enlisting of at least three watchers from the local community. From 2021 to 2030, your donations will also allow WTI to bring a further 15,000 ha under biodiversity-friendly community plans.
PROJECT MONGMA RAMA: THE IMPACT YOUR DONATIONS WILL MAKE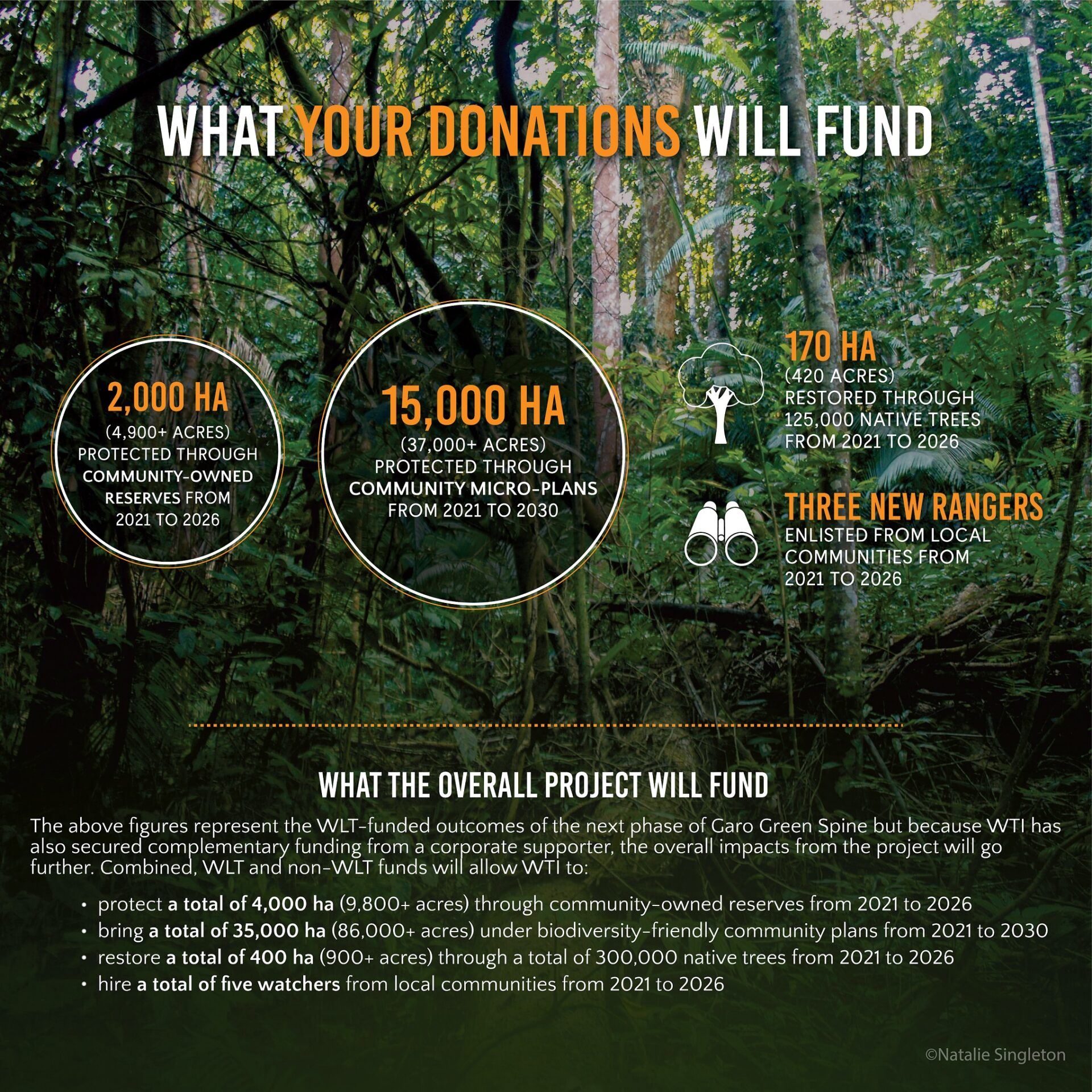 Click the image above to view it in a larger size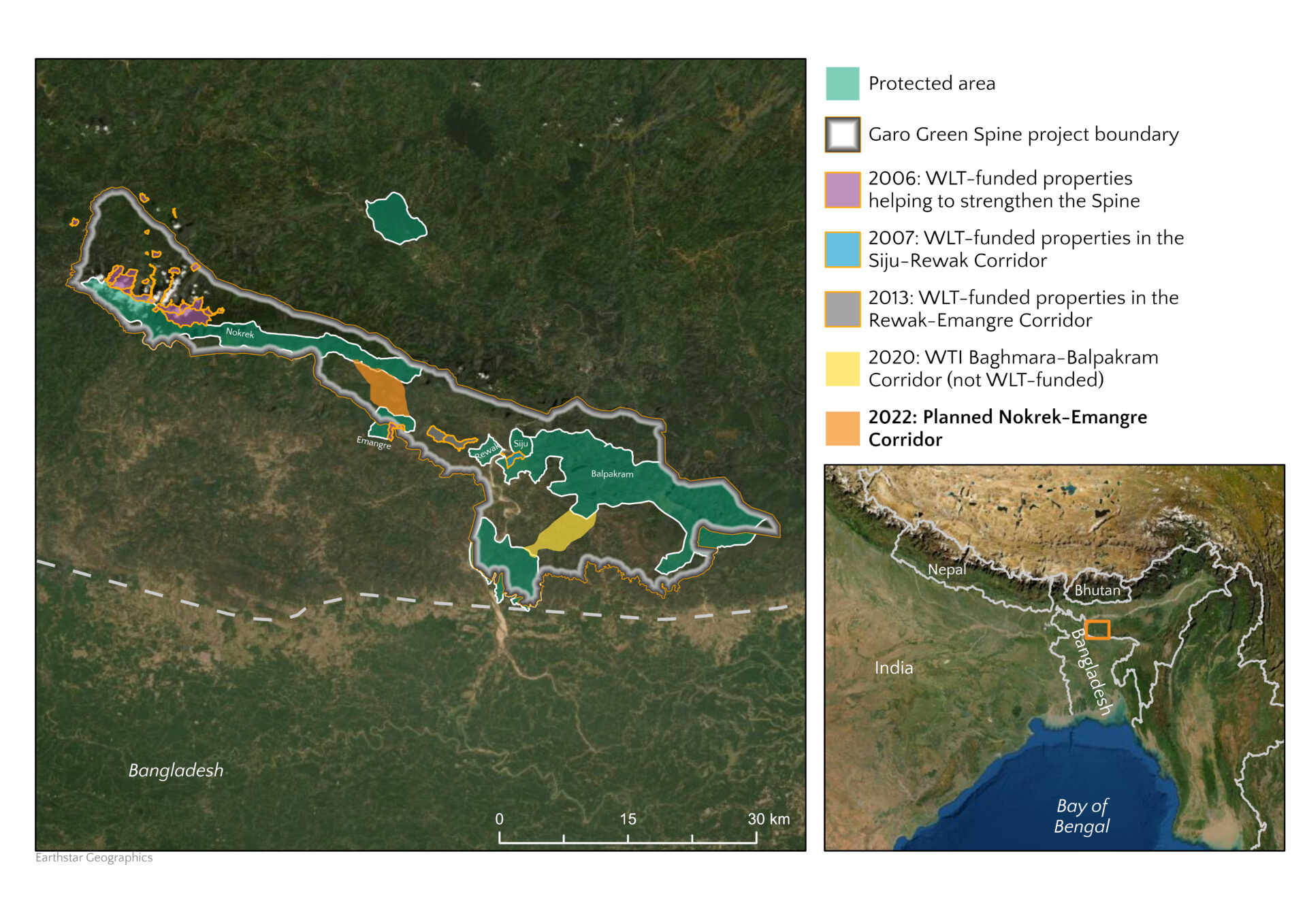 Click the image above to view it in a larger size
And that's not all. Because WTI has secured complementary funding from a corporate supporter of theirs, the overall impacts from the project will go further. Combined, WLT and non-WLT funds will allow WTI to protect a total of 4,000 ha through community-run reserves; restore a total of 400 ha through a total of 300,000 native trees; hire a total of five watchers from local communities; and bring a total of 35,000 ha under biodiversity-friendly community plans.
"Donations from WLT supporters will make a real impact," says Upasana Ganguly, who heads WTI's 'Right of Passage: Elephant Corridors' Project. "These new acres are the only corridor left that links the entire Garo spine. With your help, we could connect the whole landscape for elephants and other species to travel safely."
The next chapter after two decades of impact
Those part of the Garo Green Spine project have had ample chance to see exactly how vital an elephant home this is. "Garo's position along the India-Bangladesh border makes it crucial for the herds travelling between both countries, so protecting forest here will have a big impact," says Sunil Kyarong, WTI's Garo project lead since 2003. "This is part of an area that supports around 1,000 elephants so we see them almost every day. Each sighting is full of excitement, and wonder."
And yet unlike elsewhere in India, high elephant numbers do not translate into high human-wildlife conflict; the forest left in Garo is enough for herds and villages to each have the space they need, Upasana says. And it's not just elephants: the Garo Hills host 206 bird species, 62 reptile species, and 124 fish species. They're the home of 85 mammal species including Western Hoolock Gibbons, India's only ape and an Endangered species that is uniquely vulnerable to losing the safety of trees.
The beauty of a long-running project like the Garo Green Spine is we don't have to imagine what the new conservation targets will do for these charismatic species. You don't have to imagine the power of your donations because proof already exists of how two decades of conservation have transformed this abode of the clouds in India: thousands of hectares saved, community lives improved.
Garo represents the world we once had and could still have: a world where wildlife and people can both thrive because there's enough nature for everyone. This story of conservation goes on and with help from WLT supporters like you, we can write its greatest chapter yet.
JOIN US TO PROTECT A CRUCIAL ELEPHANT CORRIDOR
If you support our Project Mongma Rama appeal, you won't have to imagine the difference you will be making. This project by our partner WTI has already protected three corridors, and today you can help save a fourth – thousands of acres safeguarded for elephants, leopards, gibbons and more through reserves that local people will own and benefit from.