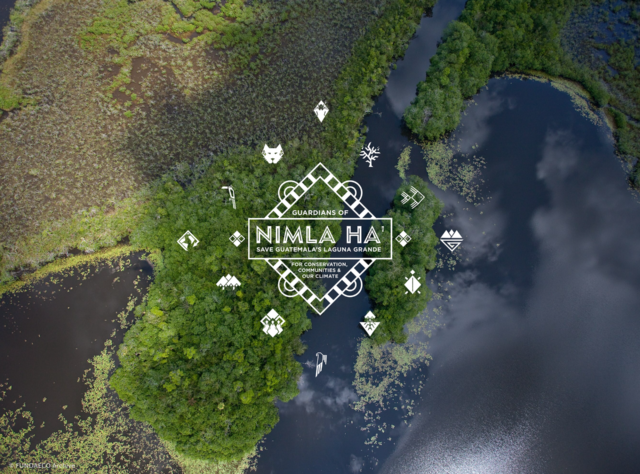 As world leaders gather to discuss the future of our planet at the 26th UN Climate Change Conference of the Parties (COP26), you can make a difference through World Land Trust (WLT) – this very minute.
In the month of COP26, you can help us protect the tropical forests, lagoons, wetlands, and mangroves of Laguna Grande. Your smallest gesture – a donation of £5 to our Guardians of Nimla Ha' appeal – will save 35 square metres of this hurricane barrier for climate-vulnerable Guatemalans, helping to keep carbon dioxide locked up in the habitats that absorb this harmful greenhouse gas in the ground.
This is the incredible place we can save together in Guatemala at COP26:
– Rainforests that store carbon and reduce the risk of flooding
– Mangroves that store blue carbon and mitigate hurricane damage
– Wetlands that act as flood barrier and natural water filter
– Rivers that offer drinking water and shield against rising seas
– Seagrass meadows that feed manatees and store blue carbon
This is the impact your donations will make for climate and conservation:
Your donation of £5 will save 35m2 of Laguna Grande habitat – the same size as a small studio flat
Your donation of £10 will save 70m2 of Laguna Grande habitat – the same size as about 18 king-sized beds
Your donation of £20 will save 140m2 of Laguna Grande habitat – the same size as about 10 parking spaces
Your donation of £50 will save 350m2 of Laguna Grande habitat – the same size of a tennis court
Climate change will be defeated through the power of collective action and in the year of COP26, you can do your bit by saving a habitat that is helping to slow the pace of global warming and safeguard Caribbean Guatemala from climate change-driven disasters.
With your help, our partner FUNDAECO can save thousands of acres and triple the size of their Laguna Grande Reserve. Join us!
At WLT we fund the protection of habitats crucial to defeating climate change and mass extinction, and there is so much you can do to help.
As world leaders talk during COP26, through WLT you can act for Laguna Grande – and save the sort of landscape a warming planet cannot afford to lose. With the starting donations of £5 saving 35 square metres of habitat, everyone can join in the protection of this tropical paradise.
Give your #5ForTheClimate today and help us save Guatemala's rainforests from logging!