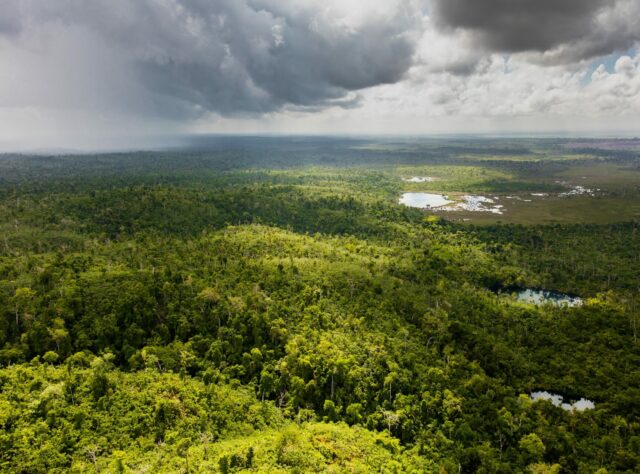 For proof of how consequential this week's Belize Maya Forest announcement is to us at World Land Trust (WLT), three words will suffice – those of the name this organisation bore when it was created.
For a charity founded in 1989 as the UK representatives of "Programme for Belize", the news last week of the protection of 236,000 acres (95,500 ha) of rainforest in the Caribbean nation holds profound meaning. In any other context, the global alliance we have joined to save this vast stretch of the Selva Maya would be momentous enough on its own. And yet it takes on extra significance when considering that the newly protected forest sits right alongside the land WLT was born to safeguard: the Rio Bravo Conservation Management Area.
It pays to look back to how it all started – with the meeting between conservationists Dr Gerard (Jerry) Bertrand and John Burton in late 1988. Jerry, at the time Executive President of Massachusetts Audubon Society, enlisted John into a land-saving project in Rio Bravo and soon they were joined by others: husband-and-wife naturalists Gerald and Lee Durrell co-launched Programme for Belize (UK) in May 1989, with Jerry Bertrand and Belize's then-Environment Minister Dean Lindo in attendance.
The rest, as documented by Programme for Belize's first ever print newsletters, is history. By autumn 1989, over 1,000 people had already donated £80,000 (more than double in today's money) of the campaign's £150,000 target. Helping reach the goalpost were colourful posters by Bob Linney, newspaper features by Sir David Attenborough – today a WLT Patron – and reports from the field by John Burton. "Belize really is a naturalist's paradise … We saw crocodiles in the rivers and pools, spectacled owls, ocellated turkeys, grey foxes," John would write after a visit in July 1989.
"On course for success!" promised the headline of WLT's first newsletter of September 1989, and so it would prove for the campaign. The initiative was able to raise funds to acquire 110,000 acres from Belizean landowner Barry Bowen, with the protection and management of Rio Bravo falling into newly formed, locally run conservation body Programme for Belize (PfB), who retained the name going forward.
Under their care, Rio Bravo has grown and seen new protected areas crop up all around it, culminating most spectacularly with the newly announced 236,000-acre Belize Maya Forest. A major global conservation success in its own right, the latest expansion is also a vindication of the Buy an Acre approach first pioneered by WLT in 1989: saving land to save the planet and ensuring that those who know the land best – local people – do the owning and protecting, so that conservation works for all and wins the day.
The bond that kickstarted decades of conservation action
If WLT today works to restore our bond with wild places, the campaign that pushed us into existence was fuelled by a sense of connection with the natural world – or the loss thereof.
As WLT's founder John Burton would later say of PfB's beginnings, the drive to save Belize's rainforests initially stemmed from citizens thousands of miles away. In the US, birdwatchers started noticing massive declines of summer migrants – warblers in particular – and realised that Central America was where these birds spent much their life; Central America was, it turned out, the place to preserve for the sake of a vast migratory cycle leading all the way to New England's backyard gardens.
As evidenced by WLT's first ever newsletter, that realisation – that what nature loses in Belize will be felt in Boston too – ran through the Rio Bravo campaign. "Tree felling is thought to contribute as much as 40% to the effect of global warming. By supporting the Programme for Belize, you're doing the earth several favours," reads the case made on the cover of the September 1989 newsletter issue.
Over 30 years on – with humankind now being told one decade is all that is left to prevent destructive global warming – the Belize Maya Forest project incorporates Rio Bravo's philosophy of climate urgency and injects an extra something into it: enough scale to make a difference against today's global greenhouse gas emission levels, far more worrying than they already were in 1989.
If the stakes are higher in 2021, the countless organisations behind the Belize Maya Forest project have linked arms to meet them. This new alliance has seen WLT rejoin our Rio Bravo partners Programme for Belize and Mass Audubon; it has seen us join forces with a new partner we gained since 1989 (Corozal Sustainable Future Initiative), fellow conservation bodies The Nature Conservancy and Rainforest Trust, as well as Belize's government and many others you can read about in the press release.
Through strength in numbers, the Belize Maya Forest project will deliver a staggering lifeline to people and planet. Alone, the reserve will safeguard Jaguar, Ocelot, 400 bird species (100 of them migratory), 200 tree species and others from the slash-and-burn deforestation that plagues this area. It will also deliver climate solutions at an estimated, aggregate value of 13 million metric carbon tonnes. And that's not all: when combined with the adjoining Rio Bravo, Maya Forest will represent 9% of Belize's landmass now under protection.
And yet breathtaking as they are, these tangible conservation benefits do not fully account for Maya Forest's significance for WLT. The protection of any threatened ecosystem worldwide would be heartening news to us but it was Belize's rainforests, after all, that inspired WLT's vision of a healthy, living planet; a vision that this new global alliance comes to renew at a critical time for nature.
Side by side in Belize, the now-neighbouring natural sanctuaries of Rio Bravo and Maya Forest offer something of incalculable value in 2021's world of interlinked health, biodiversity and climate crises: a blueprint of where the way out lies. This is how we save the planet: by coming together in great numbers to protect land at scale; by putting local people at the helm, and understanding that what we give to Belize today will come back to heal people and planet in Boston, Bristol and beyond.
To WLT supporters – thanks for making this vision possible since 1989! We look forward to continuing to work for a living planet in Belize and Beyond, with your support.