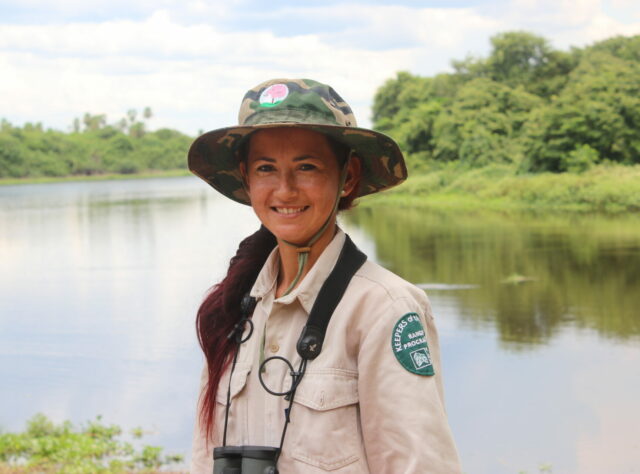 Day and night they work tirelessly to protect nature; patrolling habitats, overseeing reserve management plans and involving local communities. For International Women's Day, we are opening the floor to three pioneers working for our partner Guyra Paraguay. What follows is, in their own words, what brought them to the front lines in Paraguay and why saving the natural world will require putting women's wisdom and courage front and centre of all conservation efforts.
---
Lourdes Matoso, Keeper of the Wild and ranger at the Paraguayan Pantanal Reserve
My parents are fishermen so nature was always on the doorstep, but growing up, I didn't imagine I would end up in conservation.
That changed thanks to Alexis Arias, ranger at Guyra Paraguay's Chaco-El Pantanal Reserve. I didn't know much about the place but he got me interested. I am a single mum and my two daughters are the pride of my life, and I asked my parents whether they could take care of them while I went to work as a ranger at El Pantanal.
The moment I set foot in the reserve and saw how wonderful it was I knew this was it – the workplace I wanted to be a part of. To me, it's not just a protected area; it's my second home. You cannot value what you don't know and now that I have discovered El Pantanal, I feel like taking care of it is the most important thing I can do.
Every day in the Paraguayan Pantanal I tour the reserve, set up and check camera traps, and monitor the reserve trails, making sure they're well cared-for. I also photograph wildlife for Guyra's registries and welcome tourists that might be visiting. Out in the field I love spotting my favourite bird, the Orange-backed Troupial (or Matico), and I've had incredible encounters with wildlife. I remember seeing an Ocelot with two kittens that stayed on the path, looking at us. And there was an encounter with Puma that was next level, feeling the adrenaline as we watched how it stayed still and observed us, before it walked away.
My work as a ranger aside, I've teamed up with other people to work on a project that will try and boost employment opportunities for the communities of Bahía Negra city, where jobs are especially scarce for women. To the women considering a career in conservation I'd say – we have an essential role to play. Our work might not always be valued but it matters, and we must feel proud of fighting for a just cause – the protection of the natural world. I know that women can feel powerless at times and yet with Guyra I have seen the difference we can make – work hard, and anything is possible.
---
Fabiana Benítez, project officer of Guyra's site conservation programme
Joining Guyra in 2016 was part of a passion for the natural world I've had for as long as I can remember.
I grew up near the city but my family's countryside roots meant I spent my childhood swimming in village springs with my cousins. By the time I reached university to study Forest Engineering the options to work in the environmental sector were limited, but thankfully I was accepted as volunteer at Guyra, and eventually joined them full-time.
Today, my work at Guyra revolves around overseeing reserve projects, coordinating management plans, lining up funding proposals and so forth. The work feels so important: when I visit places like the Chaco, I know I'm only seeing part of the natural wonders my parents would have seen in their time. And I want to make sure that we don't lose anything else, that the things I have enjoyed – like spotting 18 different mammal species on a single field trip – do not end up as just a story I tell my children and grandchildren about.
The beauty and magic of Paraguay's nature have been clear since my very first visit with Guyra; to see such large species and in such numbers, like the Giant Otter or the Yacare Caiman, cast a spell on me. Nowadays, field visits remain such a tonic – I used to visit more often and today, any trip helps recharge the batteries; it reminds me of what we're all fighting for at Guyra.
On International Women's Day, it's impossible not to think back to my female colleagues. Paraguay did have women working in conservation before but to see them heading up reserve management or running protected areas, like we do at Guyra, feels pioneering. Women bring an extra something in terms of commitment and I think the drive from new generations will carry us forward – to a day when a woman's presence on the front lines of conservation feels fully normal to everyone.
Hesitation is sometimes instilled in women by older generations, by those who didn't have the conditions and the space we have nowadays. But today, women considering a career in conservation should not listen to those who say "yes, but…". Fear of what might happen is a distraction when actually, to go step by step – to get started at all – will take you there.
---
Johana Rodas, ranger and manager of Guyra's Cañada El Carmen Reserve
I've always loved wildlife and this is something I owe to my father. When I was a child, he worked at a wildlife refuge and he would bring back stories, videos and pictures about animal rescues on Yacyretá, an island in southern Paraguay.
To me, to work for Guyra nowadays is not a job; it's a passion. The conservation world is a wonderful place to be: the further one enters into it, the more one loves it.
Of all things I do, my personal favourite is processing camera trap footage and spotting wildlife in their natural habitat, undisturbed, when I patrol paths in the Cañada el Carmen Reserve. I get goosebumps every time it dawns on me that I'm helping safeguard species; there is no better satisfaction. Examining camera trap footage means I often see iconic species with little ones on their way or already by their side – sometimes that can be enough to make me well up.
My years helping protect land have allowed me to see the crucial role played by women, the way we promote a better understanding in society around challenges such as global warming.
Based on my experience, we women thoroughly understand the causes and consequences of climate change in the protected areas under our care – and our challenge now is to take community involvement to the next level, to ensure everyone takes part in the discussion and the articulation of strategies and policies against climate change and its impacts. This will help bring visibility to what women do: our role and our contribution as key stakeholders in conservation efforts.
---
For World Land Trust (WLT), every day is a good day to celebrate women in conservation.
Through our global network of partners, we are proud to support countless rangers and conservationists like Guyra's Lourdes, Fabiana and Johana – pioneers who work hard to protect the natural life under their care and ensure that women's voices are heard loud and clear in the sector. At a time of planetary challenges, their wisdom and courage are an inspiration to us all.
A woman's path to conservation is not always easy and on International Women's Day, you can help support tenacious Keepers of the Wild across the world, from Guyra's Lourdes to Angie Rodríguez of AESMO and many others.