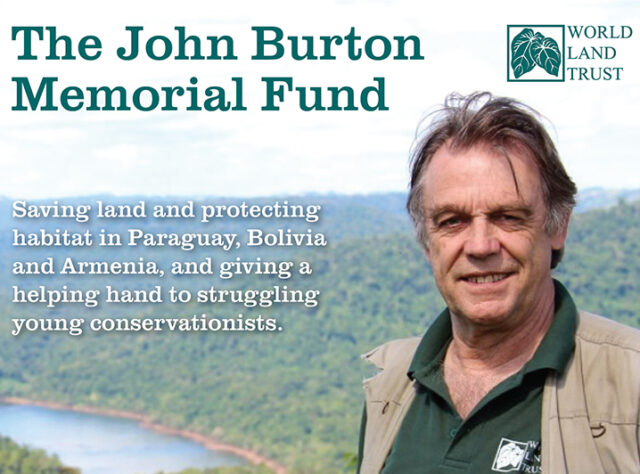 John Burton passed away on World Biodiversity Day 2022, his conservation legacy continues with WLT and the John Burton Memorial Fund.
This article was written to coincide with a private memorial celebration which was held at the Linnean Society of London, attended by 80 close friends and family, as well as representatives from several overseas conservation organisations.

Special guest, Sir David Attenborough, spoke of one of his earliest encounters with John, dating back to the filming and release of Life on Earth in 1979. He recalled the best remembered sequence with a group of Mountain Gorillas in Dian Fossey's sanctuary in Rwanda. He has described this as 'one of the most exciting encounters of my life.' But there was tragedy too when Digit, Dian's favourite gorilla was murdered by poachers. She pleaded with Sir David to bring the world's attention to the plight of this group of gorillas to try and stop the slaughter, and on his return to the UK he chose John Burton as the best person for this task.
John, then working for Fauna & Flora Preservation Society (now Fauna & Flora International), galvanized the press, conservationists and other NGOs forming a consortium which was to become the Mountain Gorilla Project. The fate of mountain gorillas was changed as local people saw their true value. The Volcanoes National Park is now one of the most popular mountain gorilla trekking destinations in Africa with funds raised helping support gorilla projection and local infrastructure.
Welcoming overseas partners
Partners attending John's memorial included Vivek Menon (Wildlife Trust of India), Edilberto Romero (Programme for Belize) Obdulio Menghi and Nicolas Oswald (Fundacion Biodiversidad Argentina), Ruben Khachatrayan (FPWC, Armenia) and Pepe Cartes (Guyra Paraguay) as well as colleagues from IUCN Netherlands. The following day a meeting was convened for all partners for them to report on how they planned to commemorate John on their reserves and to discuss the projects being supported through the Memorial Fund.
Projects in memory of John – update
In Armenia Ruben Khachatrayan spoke of the importance to saving an important enclave within the Khosrov State Nature Reserve, an area with twin lakes. Crucially important habitat for many mammals like Caucasian Leopards, Syrian Brown Bear, Lynx as well as birds and plants on the IUCN Red List, the land is currently used for agriculture and pasture however there are major concerns as to its future. In order to prevent overgrazing and illegal hunting, the funds will enable the purchase of this land to ensure its survival into the future. Other funds earmarked for Armenia will be used to support long-term leases of wildlife-rich areas in the Caucasus Wildlife Reserve.
Khosrov State Nature Reserve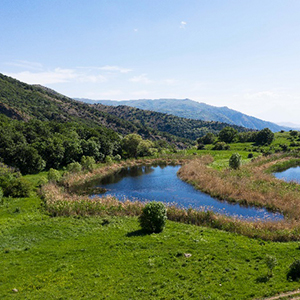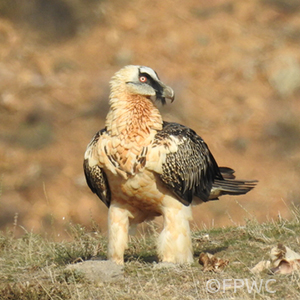 The twin lakes in the Khosrov State Nature Reserve (above left) – Funds will enable the purchase of this important enclave to ensure the habitat is safeguarded for the many species which depend on it.

One of those species is the Lammergeier or Bearded Vulture (Gypaetus barbatus). The Lammergeier is Endangered across its range due to persecution, habitat degradation and ingesting of poisonous substances.

In Armenia, Lammergeiers can exist safely in the Twin Lakes enclave of the Khosrov State Nature Reserve.
Carmen and Campo Iris
Guyra Paraguay have informed us that they have established endowment funds (US$500.000) to cover basic management requirements in these two reserves which are threatened by encroachment and change of land use.
The management plan includes a target of incorporating Cañada El Carmen-El Corbalan into IUCN's Green List of Protected Areas to promote it as a Peace Park and sustainable tourism site. The tourism element will see the design and implementation of a mid to long-term sustainable finance plan based on wildlife and historical tourism and sustainable use of non-timber forest products in the Dry Chaco. To take the management plan forward an investment of £100,000 is urgently needed to provide support for rangers, adequate infrastructure to promote wildlife tourism and monitoring and patrolling of both sites.
More news
As funds are raised and sent to the overseas projects we will report on progress, and we are hoping to hold an event in June 2023 where our partners will be present to report on the development of all these projects.
Read more:
John Burton Memorial Fund Appeal Page