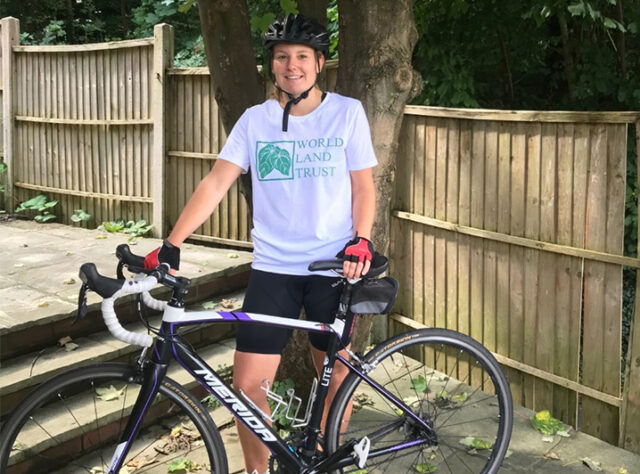 From opposite ends of the country, a small team of World Land Trust (WLT) staff donned their helmets and braced themselves for a 46-mile cycle ride – an odyssey amidst severe weather warnings to raise funds for WLT partners facing fires in a tough year.
WLT Communications Officer, Alice Wojcik, shares her experience of Prudential My Ride London 2020 Virtual cycle event:
Early on Saturday 15 August 2020 morning I had my bike ready to go, my route all planned out – until I looked out the window and witnessed a downpour of torrential rain. I was very close to postponing the ride but thankfully the wet weather subsided; I hit the road with enthusiasm and a small pack of sweets to keep me going.
During lockdown I had started to go on long-distance cycle rides with my mum (a keen cyclist and a part-time spinning instructor), coming to enjoy the empty roads and the achievement of cycling 15 miles, followed by 20 and 30.
I knew 46 miles was going to be a challenge for me. I was confident I could do it but it was still nerve-wracking as the race approached. However, the backing from friends, family and WLT supporters kept my legs turning, as did the knowledge that I was doing it for an incredible cause.
Since launching our Wildfire Appeal, this season has become hotter and drier in many of our partners' reserves – leading to devastating wildfires, like a blaze that torched 4,000-plus hectares this month of a reserve home to jaguar, otter and macaw in Paraguay. I wanted to do something to help and when this event came up, I knew it was my chance.
Starting from my home in Bristol, I cycled over the Avon River to the coast. It was certainly too cold for a dip in the sea, so I carried on through stunning Somerset countryside, up and down the hills and through the farms and past the country pubs.
As the route circled back to the finish line at Bristol, going underneath Clifton Suspension Bridge was a fantastic landmark as I knew I was almost home. After 721 metres of elevation gain, the last hill was one too many – but I pushed on and made it home for a huge lunch and a much-needed shower!
WLTRideLondon Team's Jonathan, Hannah, Dan join the ride
Also keeping me going last Saturday was the knowledge that I wasn't riding alone. As I toured the Somerset hills, WLT CEO and fellow WLTRideLondon Team member Jonathan Barnard was doing the same to the east, as he undertook the 46-mile Prudential My Ride London challenge around Cambridge with his teenage son.
"Last Saturday I cycled 50 miles on my rusty old mountain bike for our Wildfire Appeal as I know how important these funds are for local rangers to fight fires and save nature in a year of catastrophic fires," Jonathan recounts today. "It may be flat here, but it's a lot further than I have cycled for very many years and neither I nor my bike are very fit after months of lockdown. In the end I enjoyed it so much I went the extra four miles to make it a round 50."
Jonathan's route took him through Cambridgeshire countryside and the town of St. Ives before passing through historic Cambridge and a brightly coloured DNA-themed cycle track near Addenbrookes hospital, followed by a return home through the best that Cambridgeshire can offer in terms of hills.
Some of you have already followed the link below to donate to WLTRideLondon Team (and for that we give you our heartfelt thank you) and others could too. And who knows? Maybe the cycling lovers in your midst would like to raise funds for WLT partners by setting your very own My Prudential RideLondon challenge – follow this link to find out how to register (challenges must be completed before Sunday 23 August.)
Together, we'll feel the wind on our face after a long year and become the champions global forests need in 2020!