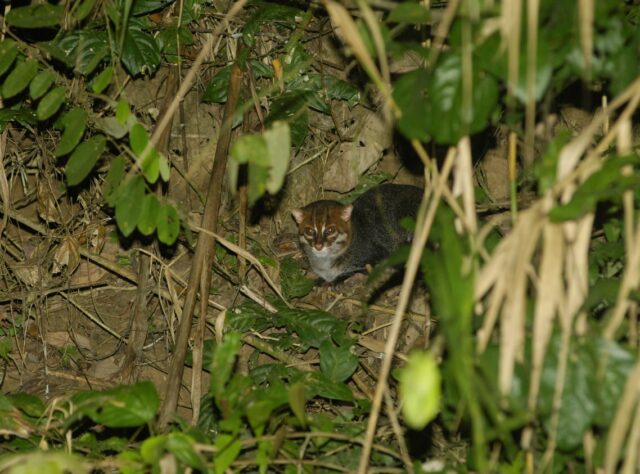 By Simon Barnes
It was our last night in the jungle and time for a beer. A group of us, including Bill Oddie and the great children's author Nicola Davies, made a night-time boat-trip along the Kinabatangan River in Borneo as far as a handy tourist lodge.
Walking back along the riverbank afterwards, all of us very cheerful at the end of a marvellous trip with Hutan, partners of the World Land Trust, we shone a bright torch across the river – and found gold. At least, it looked gold in the light: a small cat but not a cat as we know it. It glowed briefly and then vanished.
It was, we learned, a flat-headed cat: surely the title of a song from the 1920s. Improvising along those lines, we took the boat back to our billets: all of us rather haunted by the bizarre creature we had seen, or half seen.
Even in near silhouette and at long-range, the strange profile was clear enough: an impossibly flattened forehead that seemed to make its eyes bulge outwards. This is a cat that loves the wet: in captivity they will sit for hours in a bowl of water. They swim readily, and their food is fish and frogs, which they catch with a fully submerged head.
They have large eyes, suitable for night-fishing, and extraordinary long teeth that point backwards, making it hard for a captured fish to escape. They are, it seems better adapted for fishing than the related fishing cat.
I can find no explanation for the flat head, so I will take the liberty of speculating. The unique configuration of the face puts mouth and eyes very close together: perhaps this proximity makes for very accurate nocturnal work with those sharp teeth: canine twice as long as those of domestic cat.
One thing I can tell you for certain is that the cat is classified as Endangered. There are around 2,500 adults left alive. They like the swampy bits of rainforest in Borneo, Sumatra and the Thai-Malay Peninsula. Wetlands and rainforests are always the world's two favourite habitats for destruction: the flat-headed cat will be with us for as long as we still have the places where they can live and fish.
Which is, of course, the World Land Trust's job. So altogether now: jungle prowler, night-time howler – the flat – headed — cat… help me out, Bill — after all, one of your songs reached number four in the charts…
World Land Trust (WLT) partner Hutan has spent years working hard to protect the forest home of flat-headed cats in Malaysian Borneo. 
Support our Plant a Tree programme and help reverse the destruction of the pristine rainforests where the flat-headed cat lives – donate today and plant seeds of hope for this species and many more!
For just £5, you can fund a tree's nurturing, planting and protection.