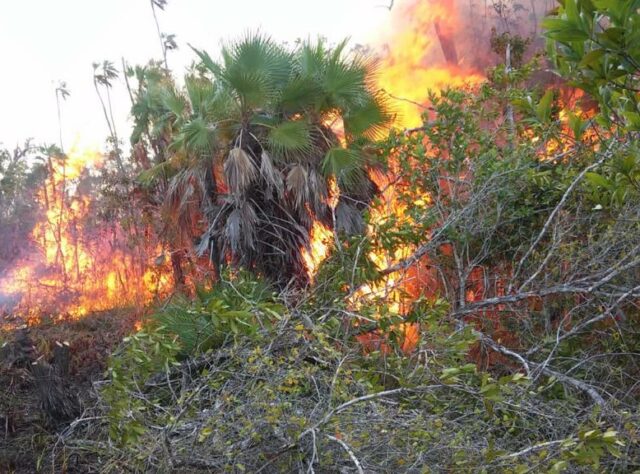 Rangers in northern Belize managed to successfully stop wildfires that threatened vital conservation sites from spreading further afield, earlier this year. Image credit: CSFI.
The dry season in Belize led to fires breaking out in April and it took around five weeks to extinguish the flames. The rangers bravely worked day and night with extra help from the local communities. This teamwork meant that the fires were managed and eventually stopped.
Sadly, 1,526.92 acres of forest from around the North-eastern Biological Corridor  was badly damaged. This corridor connects Shipstern Nature Reserve with Freshwater Creek Forest Reserve and Honey Camp National Park. It is an important pathway for many endangered species and World Land Trust (WLT) partner works with local NGO, Corozal Sustainable Future Initiative (CSFI), to protect it.
This wildfire has not only highlighted the growing need for additional firefighting equipment and staff training, but it also ignites a passion for recovery and restoration within WLT and our partners. CSFI rangers have already begun planting more trees to reinstate the North-eastern Biological Corridor back to its former glory.
While fires have already broken out in some countries, wildfire season has only just begun for others and WLT recognises the importance of planning, prevention and protection for many of our partners during this time. National Geographic reports that this summer is predicted to be the hottest on record which will make wildfires more severe. WLT is calling on our supporters to help us get ahead of the flames.
A donation to the WLT Wildfire Appeal will enable our partners to provide training for rangers and essential equipment to provide a better outcome for nature reserves around the world.
Support us on our mission to fight forest fires around the world by donating to our Wildfire Appeal today.