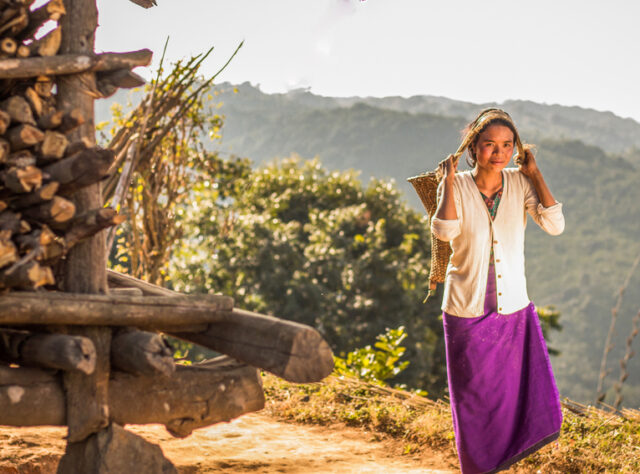 By Dr Catherine Barnard, World Land Trust CEO
As we welcome World Earth Day 2023, we are called to take note of a bold message: 'Invest In Our Planet'. As CEO of World Land Trust (WLT) this presents another moment of reflection to think about how WLT invests in people and places at the forefront of ecological crises around the world. Each day, WLT is committed to supporting our partners to protect land which I believe is fundamental to building an equitable future. Thanks to the generosity of our supporters, we will continue to make this future a tangible reality.
A healthy, equitable future for the human species is dependent on the health and integrity of ecosystems and habitats. For WLT, investing in our future therefore requires the building of careful and committed relationships with our partners at the vanguard of conservation and our community of supporters, without whom WLT would simply not exist. We want to express our gratitude this Earth Day to the steadfast individuals who spend time fundraising and choosing to donate to WLT – even during these challenging times – and to our corporate allies. Together, their investment in WLT has already allowed us to achieve so much and has made decisive impacts in many ways. As we look to turn around the fate of at-risk habitats, it is these supportive relationships and the knowledge, expertise, and passion held by WLT Patrons, Ambassadors, Trustees, and staff that are the invaluable building blocks of the future we seek to build together.
As we approach this year's Earth Day, I am reminded of the role of accountability in the fight against the climate and ecological crises. I believe that only through evidence-based and thoughtful decision-making can we make the right investments in our future. WLT is supported by a wide array of inspiring businesses which implement transparent and robust environmental commitments, each taking responsibility for their role in building an equitable future. Younger people repeatedly show a strong awareness and desire towards ethical and environmental issues, with 45% of Generation Z having stopped buying from brands with poor ethical and sustainability practices. I am therefore proud that WLT is partnered with companies that enable ethical consumption practices and are leading the way in their respective industries.
Thanks to our community of supporters, WLT is now partnered with 49 international conservation organisations for whom every day is Earth Day in the struggle against the extinction crises. Many of the places our partners work in are richly biodiverse and host species that do not occur anywhere else. These places are where the biodiversity and climate crises are playing out most intensively and immediately. Preventing their degradation is immensely important for averting further extinctions and habitat loss. WLT's simple investment strategy – bringing land into conservation in partnership with local conservation organisations and groups – has directly contributed to the protection of over 2.6 million acres of land. These achievements are a testament to the power of people's urge to 'do something' in a time of planetary emergency.
At the centre of this Earth Day is a call to 'build an equitable future'. This demands an investment not just in places but also in people. WLT has always believed that local partners and communities are best placed to understand, implement, and take full ownership of conservation activities. All 57 of the rangers we support continue to be a force of hope as they stand on the frontlines of the ecological and climate crises, fighting for the nature they love. Our partners are also deeply invested in the people who live in and around their project sites. Examples of this abound across our partners project sites, including the Tanzanian Community Forests where a 49,000-acre corridor is made possible due to the stewarding of land by 10 village land forest reserves. Meanwhile, in India's Garo Hills, an elephant corridor is facilitated through the self-government and community empowerment of local people whose indigenous rights are a central to this project's success.
Humans are a part of nature. Our collective commitment to nature is therefore also an investment in ourselves. As Sir David Attenborough reminds us in this timeless WLT video, our individual actions will always have their place in the battle to secure an equitable future for our planet. WLT will continue to enable people to take positive action every day, to collectively build a future that enables us and the millions of other species we share this planet with to thrive.
WLT will be sharing more around how you can help invest in our future this Earth Day, so keep your eyes peeled for more news on our website and social media channels.