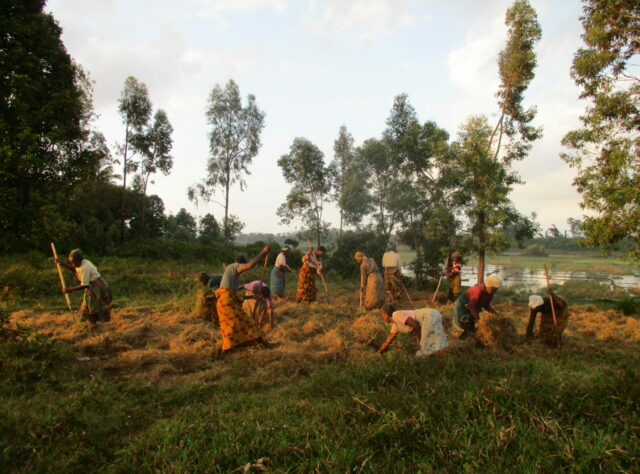 The Ankarabolava-Agnakatrika forests in south-eastern Madagascar are the irreplaceable habitat for an array of species, including lemurs, hawks, and a myriad of trees and orchids threatened with extinction. Averting the loss of these forests is vital for the survival of many species, but also for the livelihoods and wellbeing of the local Malagasy people. Supporting our 'Madagascar: A Forest for the Future' campaign will support the local people in their struggle to protect and restore the last forests in the island's Vangaindrano District.
Community-centred conservation
Our 'Madagascar: A Forest for the Future' appeal supports the long-standing strategy of Missouri Botanical Garden's Madagascar Programme (MBG-Madagascar) to preserve the Ankarabolava-Agnakatrika forests alongside local people. The 200 hectares of land to be restored with funds raised will be managed according to rules (locally referred to as dina), developed by and implemented through organised assemblies of local people. These management practices include areas of sustainable harvesting in the forest, a crucial part of this fundraising appeal given the diverse values that this ecosystem holds for the community.
Biodiverse architecture
Ankarabolava-Agnakatrika harbours trees and other plants which provide local people of the Antesaka ethnic group with the distinctive materials to build their homes and other buildings in their communities. In this particular region of south-eastern Madagascar, a single traditionally built house can be comprised of an incredible 10 different plant species. Each of these species has a specific role in the house's architecture and is the product of traditions and knowledge passed through generations.
The forest as a hospital
The diverse flora in the forests of Ankarabolava-Agnakatrika are a source of vital medicines and are why this ecosystem has been described as a 'hospital' for the local people. For example, the widely cultivated Madagascan periwinkle (Catharanthus roseus) produces compounds used to treat diseases such as leukaemia. Across Madagascar, at least 221 endemic plant species in the island have been documented as useful for a range of health conditions, whilst hundreds of other medicinal species still await documentation. Supporting MBG-Madagascar to keep the forest alive and healthy also means the ancestral knowledge of the forest's medicinal offerings can continue to thrive too.
Weaving plants and culture
Mahampy (Lepironia acuminata) is similar to a sedge and grows in marshes located across Madagascar, including those found in Ankarabolava-Agnakatrika. The plant is harvested predominantly by women and is used to create traditional mats, baskets, and hats. Hundreds of these are sold in local markets and are a common feature of many households in the area and across Madagascar.
The importance of these practices and the precious Mahampy plant cannot be understated. It enables women to get additional income to buy staple supplies for the home and family. These weaving traditions are also central to local identities. The weaving circles themselves can involve entire lineages of families, including grandmas, mothers, and children as young as five learning and practicing the craft, and the knowledge of where and when to collect this plant and how to prepare and use it is passed down through generations.
Diverse diets
The forests have an essential role in the food systems and diets of local people. Wild plants are harboured here, whilst the rivers and streams that flow from the forests provide precious water for crop irrigation. The people living around Ankarabolava-Agnakatrika work mostly as subsistence farmers – growing food to feed their families. During periods of hardship which occur in the lead up to new harvests each year, people often rely on so-called 'famine' foods like yams. Food shortages can also occur when crops fail after cyclones hit the island, something that is increasing with the climate crisis. Madagascar has an impressive 35 native species of yams, and a diversity of other wild plants with edible tubers. Some of these plants, found in the Ankarabolava-Agnakatrika forests and surrounding landscapes, provide local people with essential nourishment during times of food shortages.
A Malagasy research period
Until recently, botanical research in Madagascar was carried out almost exclusively by French scientists and explorers. Few Malagasy people were involved in studying their natural heritage. Today, as Jeannie Raharimampionona, Conservation Unit Manager at MBG-Madagascar explains, Madagascar is witnessing a 'Malagasy period' of research, whereby more Malagasy people are studying botany at university to better understand and conserve the biodiversity of their island. Except for their Technical Advisor, MBG-Madagascar is completely led by Malagasy scientists and staff. Their work includes essential research and conservation activities like planning and carrying out fieldwork, making specimen collections, and sharing knowledge with Malagasy decision-makers, the global scientific community and the rest of society.
Research is not MBG Madagascar Programme's only objective: 'discovering and naming plants is halfway to getting to where we want to be', says Jeannie. Ultimately, if 'we're losing our flora, we're losing our heritage.'