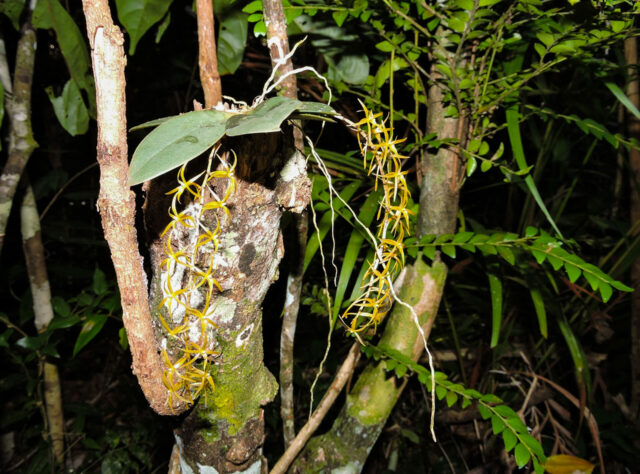 Our latest appeal, Madagascar: A Forest for the Future, will support the Missouri Botanical Garden's Madagascar Programme (MBG-Madagascar) to secure a key hotspot for threatened plants and irreplaceable floral diversity not found anywhere else in the world.
Madagascar is home to an estimated 14,000 vascular plant species, which are the bedrock upon which all other life in Madagascar rests. Some are not only unique to the island, but to a 1,500-hectare patch of dense evergreen forest known as Ankarabolava-Agnakatrika. Due to the incredible 88 million years that Madagascar has been geologically isolated, this forest bustles with rare vegetation and spectacular and unique botanical life.
Much of Madagascar's biodiversity inhabits humid forests but most of this vegetation has now been lost. Over recent decades, the existing forest has suffered from a 1% loss each year. By donating to WLT's A Forest for the Future appeal, you can support MBG-Madagascar to take action to restore the biodiverse landscape in and around Ankarabolava-Agnakatrika – the last remaining forest in the Vangaindrano District. You can join the struggle to secure a future for some of humanity's rarest plant heritage.
Let's take a dive into the vegetal world of this project site to see just a few of the species that make Madagascar one of the most botanically rich places on our planet.  
A hibiscus new to science
Madagascar has more plant species discovered on an annual basis than any other country. In the forest of Ankarabolava-Agnakatrika, MBG-Madagascar has found a number of locally endemic species that scientists have never seen, described, or recorded before. This Hibiscus vohipahensis is a case in point; relatively new to scientific records and currently known only from the Ankarabolava-Agnakatrika forests. It shows off a stunning flower display, with large, pure-white petals which stand out from the deep greens of the other foliage covering the landscape. It has an intriguing structure that suggests it has adapted to pollination by large moths. Its status is highly dependent on the health and integrity of the forest. The extension of the Ankarabolava-Agnakatrika protected area is therefore of tantamount importance for the survival of this newly described hibiscus species.
A tiny pink toucan, or a

plant?
This Sylvichadsia grandidieri brings flair to the kingdom of plants living in this forest. The unique flowers of this small tree emerge directly from the trunk and look remarkably like a flock of tiny pink toucans. A relative of the chickpea, this curious plant is so rare that it is found only in the Ankarabolava-Agnakatrika forest and one other protected area on the island and is designated as Endangered by the IUCN. While the term 'endangered species' often conjures images of animals, rather than plants, MBG-Madagascar is on a mission to make plants like this one just as important as the lemurs and fossa in the race to stop extinction in Madagascar. 
Unnamed but already on the brink



Just last year, MBG-Madagascar botanists made a herbarium specimen from a gargantuan tree found in the Ankarabolava-Agnakatrika forests that experts have now confirmed is new to science. This spectacular giant of a plant is yet to have a scientific name. Exciting as this encounter was, only six trees of this species remain which is a serious concern. Fortunately, thanks to the tireless efforts of MBG-Madagascar, seeds have already been collected and propagated and it won't be long before the young seedlings are planted out as part of the project's restoration work. This is good news for the local resident Critically Endangered White-collared Lemur as it feasts on the large fleshy fruits of this tree species. 
The star of the show
A whistle-stop tour of the flora of the Ankarabolava-Agnakatrika forests wouldn't be complete without including one of the 928 spectacular orchid species known from Madagascar. Aerangis seegeri is classed as Vulnerable and is an orchid species notable for its chain of exquisite, cascading, star-shaped flowers and their apricot- and bronze-coloured petals.
This showy little number climbs on the branches of moss-coated trees that hang low in the forest. It is an epiphyte, which means that it grows on other plant's surfaces but is not parasitic, so it doesn't cause any harm to its host tree. It derives its moisture from warm air blown in from the Indian Ocean, as well as water sources such as rain, which isn't in short supply given that the forest has an average of 219 wet days per year. 
A

p

alm

tree on the edge
Sadly, in Madagascar, one doesn't have to look far to find a threatened plant species. Here we have Dypsis elegans, aptly named for its elegant stature and leaves that are composed of scores of fine leaflets that, according to its observers, 'resemble a fern more than a palm'. Very few individual plants remain – the species is restricted to a very small area of swamp within the forest of Ankarabolava-Agnakatrika and one other nearby location. It is classified as Critically Endangered by the IUCN. 
Dypsis elegans is a close relative of several palms that many people like t adorn their homes and offices with. But, unlike domesticated palms, this particular Dypsis species is another staple food in the diet of the White-collared Lemur, which disperses the seeds of this palm. Just like the Dypsis elegans on which it feeds, this lemur is also Critically Endangered. The highly threatened status of both the palm and the lemur is a serious worry, and the tree is at extreme risk of disappearing entirely; joining the 83% of Madgascar's 200 native palms at risk of extinction.  
Extinction is not an option
There was a time when the Ankarabolava-Agnakatrika forest was part of a vast forest that carpeted the landscape of south-eastern Madagascar, far and wide. However, it is now all that remains of what was once a lavishly forested landscape. The loss of the original forest was due to a combination of different pressures including commercial logging, plantation agriculture, and shifting agriculture – known locally as tavy – which involves the burning of vegetation to make it suitable for the cultivation of subsistence crops. Scarcity of land suited to cultivation can cause tavy to intensify which is compounded by economic hardship, especially when rice harvests are low, and crops fail due to increased cyclone activity. 
Jeannie Raharimampionona, Conservation Unit Manager at MBG-Madagascar, explains how these forests were when she first visited them in 2008: "I can't even tell you how much of a shock it was. You couldn't put one foot before another without seeing a felled tree." 
These wondrous plant species which live only in the Ankarabolava-Agnakatrika forests are currently at risk of becoming 'endlings' – the name given to the last individual of a species or subspecies which will become extinct upon its death. All the threatened species living here are not only of scientific interest but also dazzling products of a unique creative process – from the tiniest mosses to the tallest and most majestical palm trees. It would mark a tragedy if any of them became endlings, not least because of their cultural significance.
"For Madagascar, the forest is everything in our everyday life," says Jeannie. "It's our hospital, our food, our wood for homes, our culture and heritage… it was a really sad situation to see it like that, and we said 'this is not acceptable. We cannot accept this situation'." 
The need to act now
Though the Ankarabolava-Agnakatrika forests have been officially recognised as a Protected Area since 2015, the conservation and restoration of this degraded forest is impeded by the lack of buffer zone around it. The highly degraded forest perimeter is susceptible to penetration by wildfires and cyclones – the latter having increased in frequency and intensity in recent years due to global climate change.  
Your support will provide essential funds needed to expand the forest's protection by 200 hectares, and to enable MBG-Madagascar to restore the forest in these areas, strengthening its resilience and further safeguarding the 295 species of plants recorded here to date. 
Time is of the essence with this project; many of the inhabitants of this area are yet to be documented by science. WLT's Forest for the Future appeal will help local Malagasy scientists and field staff at MBG-Madagascar to do vital research into what is at stake in this region, and identify best practices for native forest restoration in Ankarabolava-Agnakatrika and other degraded landscapes in Madagascar. This, Jeannie describes, is a poignant moment in Malagasy botanical research, as a "new generation of impassioned Malagasy botanists and conservationists, particularly women… are now able to steer research in the direction that is decided by local people and the plants of their island".