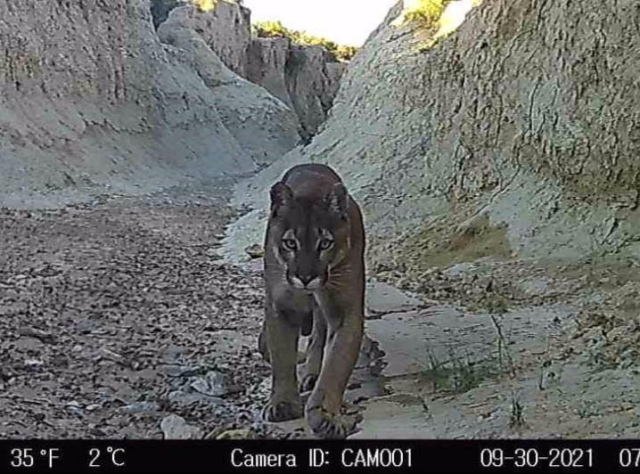 The most recent report from our partner Fundación Patagonia Natural (FPN) confirmed that Estancia la Esperanza – a 17,013-acre (6,884 ha) reserve on Argentina's Atlantic coast – is providing habitat for four adult Pumas and their cubs. In this article, Axel Kuchaska, FPN's Keeper of the Wild, and FPN volunteer Maëlle Uguen write about Proyecto Huellas ("Project Footprints"), the puma monitoring program that they manage together in La Esperanza.
The picture that you see above was taken in an area called Cañadón de los Fósiles ("Canyon of the Fossils"), a canyon several kilometres long and with high walls that lies towards the southern end of La Esperanza.
Recovered through a camera trap, the picture features an adult female we call Mapu. We don't know her exact age, but she must be five years old or more, as we know she has already had a cub (they went their separate ways at the start of 2021).
Mapu has been registered as using the La Esperanza reserve since 2019. We know she has been roaming along a massive range all throughout the protected area. The canyon in which the photo was taken is an area that was not affected by the last fire at La Esperanza (the big one in 2016).
We discovered the picture one month after we'd set up camera traps and left them running. When we saw it, we were filled with joy. For us, this picture represents the best photographic proof that we have secured since Proyecto Huellas took off: a sighting that took place during the day, with such clear quality.
For us, this joy is accompanied with the utter respect we feel for this animal, the top predator of the Patagonian steppe. A species that we know is present in the landscape and all around us with every step we take, when we go on patrols, when we set up camera traps, etc. A species that we know is keeping an eye on us as we come into its territory, allowing us to move around.
To us, this picture feels like a thank you from the landscape for the work we've been doing to keep it safe.
---
Pumas are captured on camera in Estancia la Esperanza throughout the year.
This as yet unidentified individual was filmed just two months ago. Credit: FPN 
From Proyecto Huellas and other programmes we know there are adult Puma, both male and female, using La Esperanza. This local population is now growing: Mapu's own cub, which separated from Mapu at the start of 2021, decided to stay at La Esperanza, using the reserve's southwest sector as its territory. In addition, we have also documented sightings of another resident adult female (Momo) with her cubs, with the possibility that they might stay on at La Esperanza once they leave her side.
From Mapu to Momo, the Puma cub litters we have witnessed at La Esperanza in the past few years confirm that this is a reproductive area for the species. The cubs born within the reserve may or may not stay in the landscape. But even if they leave, travelling a great distance to find their own territory, the role of La Esperanza will be no less important: it will be a breeding ground that helps to repopulate the species elsewhere.
In Patagonia, the Puma can face persecution from ranchers seeking to protect their livestock. Reserves like La Esperanza are vital for the continued survival of a species whose population is decreasing.
A donation to our Keepers of the Wild programme will help Axel to continue his work with Project Footprints. By tracking the Pumas of La Esperanza, he and his FPN colleagues can better understand the big cats and make the reserve as hospitable as possible for the species.
Axel's work on the front lines of conservation also takes in many other duties, like conducting patrols, fighting fires, maintaining roads and fences, and monitoring wildlife like whales, sea lions and Guanaco.
Help us stand with Axel – and our other rangers from our partners around the world – by donating to Keepers of the Wild today!