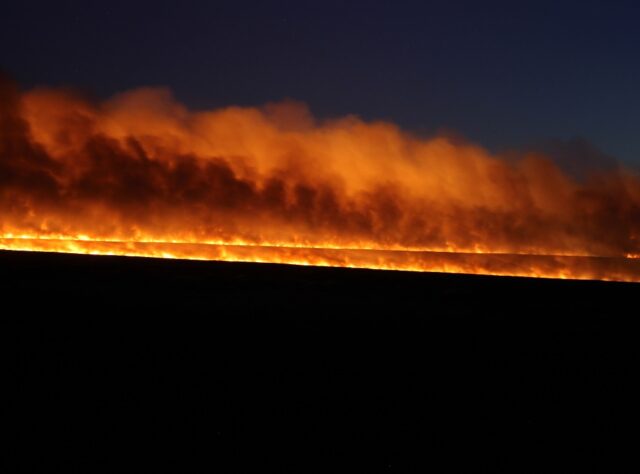 La Esperanza's fire of 2016 affected 4,000 of the site's 6,700 hectares of protected Patagonian steppe, home to Guanaco, Puma and many others. Credit: Fundación Patagonia Natural (FPN).
In late 2016, fire fronts of up to 12 kilometres came to raze the Patagonian home of Guanaco (Lama guanicoe). Three-and-a-half years later the population has yet to recover to pre-blaze levels, says World Land Trust partner Fundación Patagonia Natural.
As World Land Trust (WLT) partners worldwide brace for a momentous fire season, the spotlight is starting to fall on the biodiversity at stake – the many iconic species we are working to save from the flames with our Wildfire Appeal.
The long shadow a fire can cast years after its containment is clear in the story of the Patagonia's Guanaco. At La Esperanza (Spanish for 'hope'), a reserve in Argentina bought by WLT partner Fundación Patagonia Natural (FPN) in 2000, these llama-like camelids faced a colossal blaze in 2016.
In December that year, a fire broke out at a ranch near the reserve, a tract of Patagonian steppe along the coast of Argentina's Chubut Province. Spurred on by strong winds, fire fronts of up to 12 kilometres long took one day to reach La Esperanza and consumed 4,000 of the site's 6,700 protected hectares.
Fast forward to 2020, and normality has not yet returned for the resident Guanaco, according to FPN. "Our 2019 census found a total of 470 Guanaco onsite, whereas our population counts before the fire used to reach the 755 mark," says José María Musmeci, the vice president of FPN, during a call with WLT in early July.
'Long way to go' as life makes comeback in post-fire years
According to FPN's latest update, nature is making a tentative comeback to La Esperanza.
The green of steppe shrubs and grasses started to return in the immediate wake of the fire, followed by a flow of wildlife that sought the safety of the reserve again as it fled poachers elsewhere. But for the Guanaco and other large species, the way to go remains "long" more than three years down the line, FPN says.
"We believe that the main driver of the lower numbers of Lama guanicoe is the loss of vegetation diversity within the reserve," vice president José María explains. "The fires that came in to disrupt the environment over the past few years may have pushed the [Guanaco] population towards migration, in search of areas where ecosystems have not been transformed to such an extent."
For La Esperanza's Guanaco, the long-lasting fire impacts are compounded by poaching and shootings by farmers when the animals unknowingly step beyond the reserves' boundaries; the trapping of young Guanaco (the so-called 'chulengos') in barbed wire adds to the problems. These challenges make monitoring a "crucial" task for La Esperanza's rangers, José María adds.
Three-and-a-half years later, whilst the reserve recovers well in most aspects, the fire continues to threaten the fate of Guanaco and La Esperanza's other mammal residents, Puma (Puma concolor) and Geoffroy's Cat (Leopardus geoffroyi) included. Through our Wildfire Appeal, this year you have a chance to help prevent a repeat of the Patagonia events of 2016. By funding fire equipment and training, you can help us ensure La Esperanza lives up to its name – providing hope and a safe home for these vital species.
WLT is calling on our supporters to
HELP US GET AHEAD OF THE FLAMES.
A donation to the WLT Wildfire Appeal will enable our partners to provide training for rangers and essential equipment to provide a better outcome for nature reserves around the world.
Support us on our mission to fight forest fires around the world by donating to our Wildfire Appeal today.