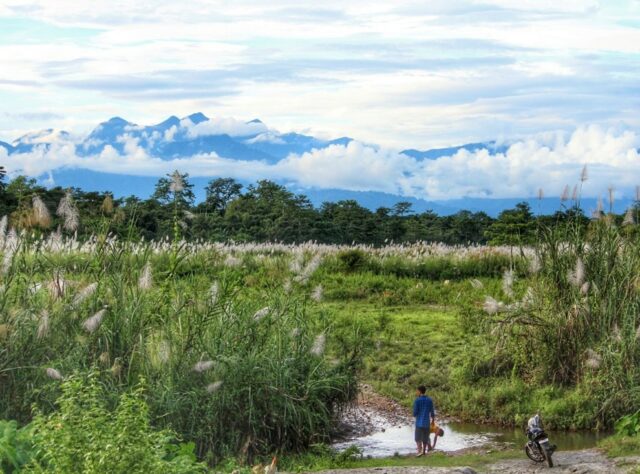 In August 2019, World Land Trust (WLT) and Wildlife Trust of India (WTI) began work on a project that would connect landscapes, protect elephants and empower communities in northeast India. We reported on the progress made in the D'ering-Dibru Saikhowa corridor back in September 2021. Now, a few months on, WLT are pleased to bring yet more good news from the states of Assam and Arunachal Pradesh that will improve the lives of the people and wildlife who live here.
In India, corridors like D'ering-Dibru Saikhowa serve an important purpose by connecting protected areas. This particular project will link the D'ering Wildlife Sanctuary in Arunachal Pradesh with Assam's Dibru-Saikhowa National Park. Providing safe passage for species like elephants and tigers helps to reduce human-wildlife conflict, a key concern in the world's second-most populous country.
Corridors provide greater protection to wildlife as well as people and their livelihoods, helping to keep elephants away from community crops. Though mutually beneficial, the creation of a corridor may require some land to be ceded, which is why WTI conducted 25 meetings with Forest Department representatives, village heads and around 300 local people between July and September 2021.
One of the main aims of this project is to set aside at least 1,235 acres (500 ha) of the D'ering-Dibru Saikhowa corridor as Community Conserved Areas (CCAs), one for each of the three nearby villages: Mer, Paglam and Namsing. The process is now well underway following WTI's meetings. As compensation for the land that will be set aside, our partner will be providing fishery ponds, piggery farms and cattle sheds to help boost the villagers' food output and income sources.
Although the CCAs have not yet been officially declared, conservation work has already begun in the proposed Paglam CCA. In July, Paglam residents helped to plant a total of 44,000 saplings comprising 32 different native plant species, in an effort to restore degraded habitat. A subsequent visit in September found that close to 90% of the saplings were still healthy and intact, a high initial survival rate that looks very promising for the ongoing growth of the Paglam Community Forest.
To complement this restoration work, WTI arranged for community representatives to visit Majuli Island, home to Jadav Payeng, the 'Forest Man of India'. Over three decades, Payeng turned over 1,300 acres (526 ha) of barren land into lush green forest, all by himself. The community representatives were able to draw inspiration from Payeng's incredible feat and receive practical advice, as the landscape of Majuli is quite similar to that of D'ering-Dibru Saikhowa.
WTI are always looking to engage communities with conservation, and last year's Solung Festival proved to be an excellent opportunity to do just that. Celebrated by the Indigenous Adi tribe, Solung is an agricultural festival held each year after the sowing of the seeds, to seek prosperity and a good harvest.
WTI organised the 2021 festival for the people of D'ering-Dibru Saikhowa and brought the message of conservation to around 300 attendees, including the villages of Bango and Gudum who joined with Mer, Paglam and Namsing to pledge their support for the protection of their shared landscape.
Mr. Tokbom Tayeng, the spouse of the village head of Paglam, led the programme with a traditional dance while promising his continued support for the cause of elephant conservation. "There can be no conservation without the right conversations," says WTI, "and these are made even better through active involvement of the community's culture and tradition."
Thanks to our partner WTI, local people in the D'ering-Dibru Saikhowa corridor are working towards a safer and more sustainable future for themselves and the threatened elephants they share their land with.
Words come before actions here – nothing is done without the consent or direct involvement of community members, who are now playing a crucial role in the conservation of the landscape.
You can play a part in this right now by making a donation to our Plant a Tree programme, which will support (among other projects) the restoration of D'ering-Dibru Saikhowa's forests, grasslands and floodplains. You could also contribute to the WLT Action Fund, which supports urgent conservation projects around the world wherever and whenever they're most needed.
Thank you for helping our partner WTI make India a better place for people and wildlife!