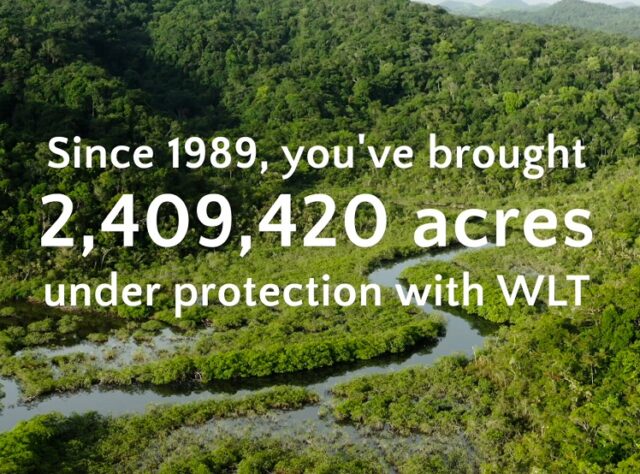 If at any point this year you acted to support conservation through World Land Trust (WLT), today we've got something special for you. Whether you supported our Buy an Acre programme or you donated instead to Plant a Tree, our Action Fund, Keepers of the Wild or Carbon Balanced, there is a new video for you to watch. Sit down, kick back, press play and get ready to discover the impact you made as a WLT supporter in 2021 – the year of COP26, the year when it mattered the most.
The 139,470 acres saved and 115,758 native trees funded across all WLT programmes since January 2021; the 45 rangers supported and 96,000 tCO2e of emissions offset since the year began; the 2,409,420 acres (or 975,057 ha, nearly the size of Jamaica) directly saved by donations to WLT since 1989; or the 25,000,000+ acres (or 10,117,141 ha, nearly the size of Iceland) that WLT-funded corridors and reserve buffers have made it possible to connect since that year – there is so much to tell you about what your donations have been achieving, and today we'll let our new videos do the talking.
Watch on to discover what WLT supporters accomplished through each of WLT's five ongoing programmes in 2021, and share these videos online to celebrate with us!
---
BUY AN ACRE: THE IMPACT OF WLT'S FLAGSHIP PROGRAMME

PLANT A TREE: THE FORESTS RESTORED BY DONATIONS THIS YEAR

ACTION FUND: URGENT CONSERVATION FOR ENDANGERED SPECIES

KEEPERS OF THE WILD: THE RANGERS GUARDING NATURE IN THE YEAR OF COP26

CARBON BALANCED: FIGHTING GLOBAL WARMING WHEN IT MATTERS THE MOST
---
THANK YOU FOR ANOTHER YEAR OF CONSERVATION WINS!
To every fundraiser, every individual and every organisation who supports WLT programmes – this is your achievement: acres saved and native trees funded in their hundreds of thousands, a safer tomorrow for endangered species all across the world, a planet where nature gets another chance.
WLT and its partners would like to thank our supporters once more. In the year of COP26, you've reminded us that collective action can make a difference against the climate and biodiversity crises!