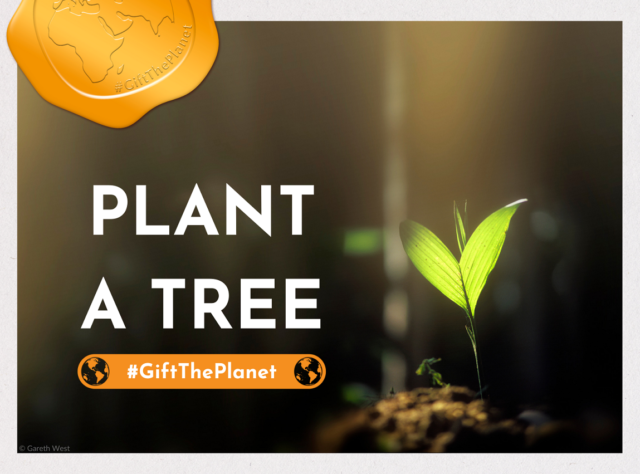 In the year of COP26, the calls to rewild the planet have echoed louder than ever and through World Land Trust (WLT), you can join this global movement. By gifting donations to our Plant a Tree programme, you can give your loved ones a planet where nature can grow back. At just £5 per tree, this is an affordable, ideal Secret Santa present – a reminder that no one is ever too small to do their bit against the climate and biodiversity crises.
While leaders at COP26 promise to end deforestation by 2030, our supporters have been helping to regrow the home of wildlife for the past decade, with an incredible 2,457,993 trees now planted around the world since our supporters started funding trees with us.
This is a movement for change that you can make your friends and family a part of, this very year. By gifting donations to our Plant a Tree programme, you will have your loved ones championing the planting of native trees to restore precious landscapes, from Borneo's orangutan rainforests to India's elephant corridors, Brazil's Atlantic Forest and Africa's iconic Mount Kenya.
Tree-planting through WLT might seem like a modest gift but the transformation it sets in motion is major and lasting. At £5 per tree, every gift donation you make will fund the care of one tree to the point where it can survive on its own, from budding seedling to bountiful forest.
Let us take you on a journey of the impact you can make by gifting tree-planting this Christmas!
---
THE IMPACT OF GIFTING TREE-PLANTING WITH WLT: STEP 1
For our tree-planting journey, today we'd like to take you to one of our four current Plant a Tree projects. Over in Malaysian Borneo's Genting Wildlife Corridor, and with help from donations to our programme, our partner HUTAN employs an expertly trained all-women reforestation team. The 10 Indigenous women, all recruited from the local village of Sukau, have spent years rewilding one of the world's most threatened rainforests. The tree-planting journey starts with visits to former oil palm plantations, during which the women will assess and identify ideal sites for reforestation.
---
STEP 2: GROW SAPLINGS IN TREE NURSERY
The selection of seedling species is based on three criteria: native species, suitability to soil conditions and plant species that have been identified by HUTAN's research as important food sources for Bornean Orangutans – a Critically Endangered species that, all across the Kinabatangan, relies on fragments of forest to survive.
---
STEP 3: TRANSPORT SAPLINGS TO REFORESTATION SITE
When the team has prepared the area for planting trees, and the saplings are ready to be planted, the next step is to make the journey to the site. This area in Borneo's Kinabatangan Floodplain has been under oil palm cultivation for the past 25 years, but by planting trees in their thousands every year, HUTAN's reforestation squad are giving this battered landscape a new chance, increasing the forest cover for orangutans, elephants, hornbills, pangolins and more.
---
STEP 4: PLANT THE TREES!
As you have learnt by now, there is so much more to this process than tree-planting itself – but this is a very important step. The native species are carefully planted in the area and will continue to be monitored until they are strong enough to survive on their own.
---
STEP 5: MONITOR, NURTURE AND MAINTAIN THE NEW TREE-PLANTING AREA
For the next three to five years, HUTAN's reforestation team will continue to keep a close watch on all saplings. Watering, weeding and tending will nurture the trees every step of the way and even if the first tree fails to take hold, our partner will plant a new one on your behalf and that of the person you gift this to.
---
STEP 6: A HEALTHY FOREST, A NEW CHANCE FOR PEOPLE AND PLANET
At the end of this journey is a healed landscape – where the sounds of the rainforest grow louder as species return and an ecosystem comes back to life. From battered land to an abundant forest, every Plant a Tree donation we receive is one step closer to a healed planet, helping to fight the climate crisis, giving a better future for wildlife and creating permanent jobs for local communities.
---
Tree by tree, the women in HUTAN's reforestation team are bringing Borneo's rainforests back to life and they're not alone. In India, Brazil and Kenya, WLT partners are joining in the rewilding efforts with support from our Plant a Tree projects.
This is a cause your friends and family can join, starting this very Christmas. At £5 per tree, the gifting of tree-planting is an affordable, powerful way to make your loved ones part of a movement to rewild the planet.
Follow this link to gift a Plant a Tree donation for just £5 this Christmas!