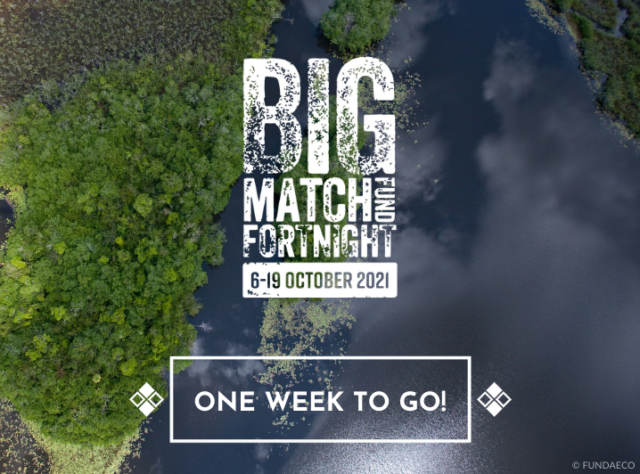 Launching in just one week from today, our Big Match Fortnight (BMF) 2021 will be doubling all donations to our Autumn Appeal from 6 to 19 October 2021. As we enter the final countdown, here is everything you need to know to join #TeamBMF: creating a fundraiser to launch when BMF goes live next Wednesday – and watch any donations you raise go twice as far for a full 14 days!
This year, we have set up our first ever JustGiving Hub to make it easier than ever for you to create a fundraiser, and link it up to others who will be raising funds like you. How can you join them? How do you go about launching your own fundraiser and what is the incredible landscape you will be helping us to save from logging? Read on to find all the answers.
What is Big Match Fortnight?
Starting on 6 October 2021, our Big Match Fortnight (BMF) will kickstart our Autumn Appeal and will double your donations between 6 and 19 October 2021. The matching of contributions will be funded by our match pot, pledged by generous individuals, corporate supporters, trusts and foundations.
This year's BMF is launching on 6 October 2021. How can I help?
Every year our supporters make it possible for WLT to reach our Autumn Appeal target and save an incredible place together. With this year's BMF now one week away, you could start thinking about creating a fundraiser that would launch on 6 October, with every donation you receive doubled after that point. All you need is an idea and a passion for conservation!
I want to help. What can I do to raise funds?
From running a marathon to hosting a quiz night, or setting up a 'Facebook Fundraiser' to doing a sponsored run, with a little bit of imagination the possibilities are endless and there is something to suit everybody. For examples of some fantastic WLT fundraisers, see here, here and here.
I already have an idea for how I could raise funds for BMF. What do I do now?
If you haven't yet set up a fundraising page, we would recommend using JustGiving and linking your page to our JustGiving appeal team (see here to access it and click the orange 'start fundraising' button to get started.) Once your page has been created, we will receive a notification and reach out to welcome you and help you with any questions you might have. Once your challenge begins, any donations made to your JustGiving page will automatically be sent to us and when it completes, we will be sending you a certificate to celebrate your support.
I have already created a JustGiving page. How do I connect with the WLT hub?
If you have already set up a JustGiving page for our Guardians of Nimla Ha' appeal, just drop us an email at [email protected] so we know to allocate donations to the appeal. If you haven't set up a page and want to join our #TeamBMF, follow this link to access it and click the orange 'start fundraising' button to get started.'
Which appeal will the donations I raise go towards? What place will I be helping to save?
Our £1,200,000 appeal – Guardians of Nimla Ha' – is named after the Mayan Q'eqchi' words for 'great waters', and that is precisely what we can save this year together. We will be revealing our appeal's location soon but we can already tell you this: if you create a BMF fundraiser this year, you too will become the guardian of the home of 700+ species. With help from the donations you raise, we will triple the size of an existing reserve all around a beautiful network of lagoons, wetlands, mangroves and seagrass meadows.
Why is this project not part of WLT's Buy an Acre programme?
This project does not fit into our Buy An Acre portfolio as price of land in this area exceeds our £100 per acre benchmark.
How do I make sure my donations will be doubled?
Only donations made during our Big Match Fortnight (6 to 19 October 2021, both days included) will be doubled. To ensure the matching takes place, make sure to launch your fundraiser closer to the launch date (6 October 2021) so that your friends and family can donate within the fortnight and see their contributions fully matched.
What if donations are made outside of these dates?
Please keep in mind that if someone donates to your fundraiser outside of our Big Match Fortnight (6 to 19 October 2021, both days included), the donation will go towards our £1,200,000 appeal but it will not be matched.
How will WLT ensure there is enough funding to match donations?
We have been running BMF since 2013 and we always ensure that we have lined up the appropriate amount of funds pledged for the matchpot.
How can I make sure my fundraiser is effective?
Word of mouth – telling your family, friends, work or school mates about this campaign – will go a long way, while social media is even more effective to spread the word and get your fundraiser noticed. WLT will help you by resharing your fundraiser (make sure to tag @worldlandtrust across Facebook, Instagram and all other platforms) and if you email us at [email protected], we can send you some social media ideas, images and instructions to help you maximise your impact.
Will I receive anything for fundraising?
To thank you for your dedication, you will receive a WLT certificate as a celebration of the major impact you will be making as a #TeamBMF fundraiser: the habitats you will have helped to save in an area where 80% of lowland forest has already been destroyed, the vast stores of carbon you will have helped to keep in the ground at a time of climate crisis. By creating a BMF fundraiser you will forever be a proud Guardian of Nimla Ha' – part of a movement that has helped to save a tropical haven by the Caribbean.
Do you have any further questions? Please email [email protected] and we'll be happy to help you every step of the way.
With just one week left until Big Match Fortnight kicks off, this is the perfect time to start your fundraiser and make double the difference for a critical wildlife habitat in need of our help.
Join our JustGiving Hub today and make sure your family and friends donate between 6 – 19 October to see their contributions matched!