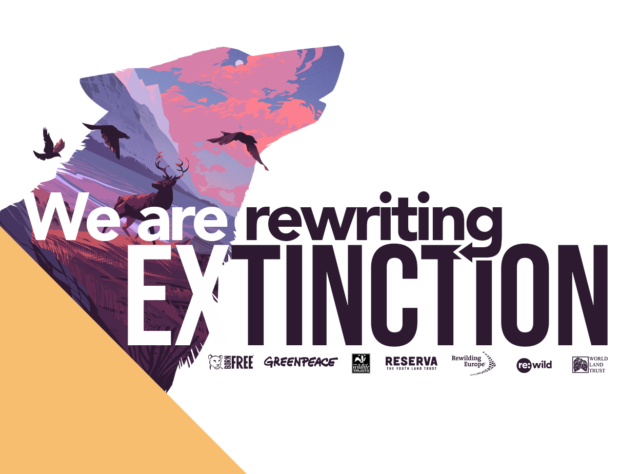 As the UN Decade on Restoration gets underway, World Land Trust (WLT) are delighted to announce our involvement in what promises to be an inspiring and wide-reaching environmental campaign: Rewriting Extinction. WLT are one of seven major charities taking part in this global storytelling movement that aims to educate, inspire and empower the public to help save threatened species around the world.
As many as 1 million plant and animal species are facing extinction at this very moment, more than ever before in human history. The need for a truly global and concerted effort to tackle this crisis has never been greater. The essence of Rewriting Extinction is summarised by the campaign's founder, Paul Goodenough:
"We are uniting the most important environmental voices on the planet: from indigenous people to activists, from storytellers to celebrities, and helping them collaborate to craft moving comic stories that give people hope and direction in the fight for our planet. Through these stories, we'll raise the money and awareness we need to save as many species from extinction as humanly possible."
The money raised for WLT will go towards the expansion of the Laguna Grande Reserve, protecting an additional 3,294 acres of forest and wetland in Caribbean Guatemala. Funds will be utilised on the ground by our in-country partner FUNDAECO, who work tirelessly to support sustainable livelihoods and improve healthcare access for local communities.
Rewriting Extinction has called upon 300 contributors from all sectors with the aim of mobilising as many passionate environmentalists as possible.
Among the big names supporting Rewriting Extinction are:
Cara Delevingne, model, actor and environmentalist
Dame Jane Goodall DBE, famed primatologist and UN Messenger of Peace
Sir Patrick Stewart, actor and producer
Luisa Neubauer, activist and co-founder of the Fridays for Future movement
Ricky Gervais, writer, director, actor and animal rights advocate
Steve Backshall, WLT Patron, TV presenter and adventurer
Chris Packham, WLT Patron, TV presenter and naturalist
---
Rewriting Extinction will also support a further six projects:
---
Achieving these meaningful and achievable goals will only be possible if we act together. You now have the chance to add your voice to hundreds of artists, writers, scientists, experts, activists, comedians and more who are now taking a stand for the planet we all share.
Over the next 12 months, Rewriting Extinction will be implementing their plan to raise money and awareness for WLT and our partner charities, supporting projects that will secure much-needed protection for thousands of species.
You can support Rewriting Extinction by clicking here or by purchasing The Most Important Comic Book, an upcoming printed anthology of environmentally minded comics, penned and illustrated by some of the finest hands in the business.
Make sure to follow Rewriting Extinction on their Facebook, Twitter, Instagram and website to keep abreast of the latest project updates. We hope you will join us in saving the planet!