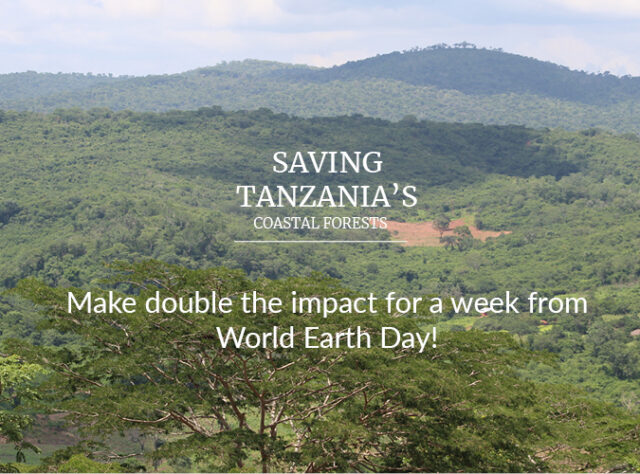 In just 48 hours, World Earth Day will be shining a spotlight on environmental issues big and small and for World Land Trust (WLT) it is a final call for your help to Save Tanzania's Coastal Forests.
In March, just as our first appeal of 2021 launched, we were told by the Big Give's organisers that we had been selected for matched funding – a last-minute boost for our campaign to help our partner Tanzania Forest Conservation Group (TFCG) protect some of the last 10% of a globally important biodiversity hotspot.
The Big Give's selection of our appeal means that starting at 12:00 PM GMT on 22 April (World Earth Day) and until 12:00 PM GMT on 29 April, they will double every donation you make via this link to the campaign – a chance to raise together £20,000 of our appeal's £360,000 target.
We have already come so far for the coastal forests of the Rondo Plateau, in the Lindi District of southeastern Tanzania. Since our appeal launched on 30 March, the WLT community has been a force for change as a flood of donations have propelled the campaign to an incredible 85% of the £360,000 needed. The week of matched funding could be what takes our campaign past the finish line and if it does, the conservation milestone would be of historic proportions.
If we reach our target, our partner TFCG will be in a position to create 10 reserves for elephants, lions, leopards, endangered primates, migratory birds and others. In an area where major cashew and sesame farms are destroying the forest, they will save 49,000+ acres (20,000 ha) of habitat through a plan that also works for local people. A breakthrough for conservation and communities – made possible by countless people like you, coming together.
One donation, twice the impact on World Earth Day 2021
If you were looking to make a stand for nature, no better time than now – no better time than World Earth Day.
The theme chosen this year by the international day's organisers (Restore Our Earth™) makes it clear: as the world returns to normal after a year of disruption, we can't go back to business as usual. Our planet and its threatened habitats can't afford a return to the status quo of environmental degradation, and Tanzania's coastal forests are no exception.
Let's consider the facts of this biodiversity hotspot. The land our partner TFCG can save is part of the last 10% of a colossal forest belt that once blanketed most of East Africa's Indian Ocean coast. This landscape is part of a crucial yet unprotected wildlife corridor – a way still open to endangered elephants where others are closing, forcing these gentle giants onto roads and farms.
So much lies at stake in southeastern Tanzania and it cannot afford the business as usual of deforestation but with your help, a different future is possible – one where starting on World Earth Day this week, you become part of a movement for Africa's wildlife and watch your donations make twice the impact. Join us to make a stand for Tanzania's coastal forests in two days' time!
Big Give will start matching contributions to our appeal on 12:00 PM GMT on Thursday 22 April 2021. From that point onwards, you will be able to donate by following this link.
To stay up-to-date with our 'Saving Tanzania's Coastal Forests' appeal, follow us on Facebook, Twitter, Instagram, LinkedIn and YouTube.