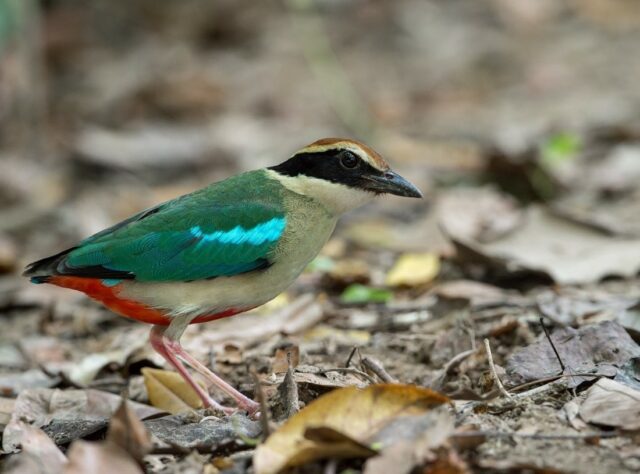 (Image: "Fairy Pitta.jpg" by Jason Thompson is licensed under CC BY 4.0)
This is the latest entry of the Barnes's Bestiary series, written by journalist, author, World Land Trust (WLT) ambassador and member of the WLT council Simon Barnes. See here to read all of Simon's other entries so far.
The jewel in the shadows, the angel of the leaf litter, the fairy of the forest floor – I have longed to see a pitta for years, and still never found one. I have risked death for such a bird, though not on purpose: accidentally walking into a herd of elephants in Zambia, convinced that such a bird was close.
This was the Angola Pitta. There are more than 40 species of pitta, chunky little birds that forage the leaf litter for worms and spiders – and they're all utterly improbable birds. They seem to have been coloured by a child with a first paint-set who had to try every colour in the box.
The Fairy Pitta is another bird I haven't seen; though I have walked through the leaf litter it loves when I visited a World Land Trust project in Vietnam. In Japan they called it the 'eight-colour bird'; in Taiwan it's the 'little forest angel'.
They are birds that would convert the hardest of hard-nosed politicians and business-people to the belief that wildlife matters. Pittas are migratory, which adds to their mystery, turning up unexpectedly to do their stuff beneath the trees. The Fairy Pitta breeds in Japan, South Korea, China and Taiwan, and winters mostly in Borneo. The remaining forests in Vietnam are essential stop-over points, where the bird can rest and refuel for the rest of its taxing journey.
These birds are surrounded by threats: deforestation, wildfire, hunting, trapping for the wild bird trade. But I have walked in Vietnamese forests that survived decades of war and destruction; I have visited plantations of young trees where forests once stood and will one day stand again. In such places – on a good day – you can find another rare thing: a fleeting scent of hope. Certainly I did. It would have been greedy to ask for a Fairy Pitta as well.
A memorable sight for those lucky enough to spy it on the forest floor, the Fairy Pitta is a rare bird and becoming rarer still, with populations classified by the International Union for Conservation of Nature as Vulnerable and Decreasing.
All over Asia, deforestation and trapping are closing in on the Fairy Pitta but through WLT, you can help save a crucial stop in its epic migratory route from northeast Asia to Borneo: the Vietnamese forests protected by our partner Viet Nature.
Donate to our Action Fund to protect the home of the Fairy Pitta – give a new chance today to Asia's eight-colour bird!