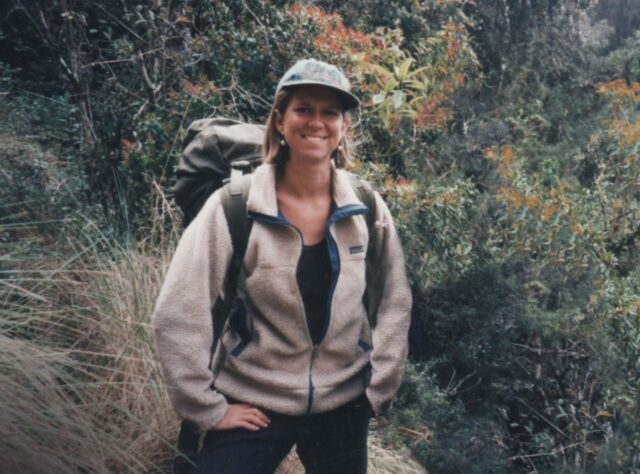 As part of a celebration of our Buy an Acre supporters this month, World Land Trust (WLT) would like to introduce you to some of the companies helping to change the planet for the better by backing our flagship programme. For our third instalment, meet Dr Susy Paisley – a biologist-turned-textiles-storyteller who found a unique way to support the conservation work of our partners.
Susy, the founder of nature-inspired textile design business Newton Paisley, has had a lifelong passion for nature and an extraordinary journey to supporting our Buy an Acre programme.
A conservation biologist by training, Susy lived for years in a remote stone hut in the Bolivian Andes while studying Spectacled Bears for her doctorate.
Increasingly, she found herself thinking about home comforts and, to be specific, curtains. Having always drawn the wild flora and fauna around her in the field, Susy began to wonder if the abstract and stylised flowers, birds and butterflies which are so commonplace in curtains and wallpaper back at home could give way to real species in need of conservation attention. She drew from her textile roots on both sides of her family – the American Newtons and the Scottish Paisleys – to found a business storytelling about conservation through fabric and wallpaper. Newton Paisley was born.
With the central intention of directly supporting conservation through her business, Susy tells us why WLT was an easy choice. "As a biologist I'd worked with local people, studying their relationship with bears and attempting to ameliorate conflict. With WLT, I respect how you truly partner with local communities and conservationists where you work. I admire how the focus is on working together with them to set aside land for nature."
Newton Paisley's nature-themed fabric and wallpaper is neatly stitched into supporting our Buy an Acre programme: with every metre of fabric and roll of wallpaper the business sells, 100m2 of land is protected.
Susy believes it's in the interest of every business to find ways to support nature. "Without nature we are all done for. We have to leave nature alone long enough that it can rescue us," she tells us. "Valuing and protecting nature is the most important thing we can do – I'm hopeful that many other businesses are coming around to this too."
This story is part of our series celebrating Buy an Acre corporate supporters. See here to read our profile of eco-nappy business Kit & Kin and here to read our interview with music composing firm Paul J Mottram.
This month we're celebrating a very special someone: the supporters of Buy an Acre, our flagship programme for conservation action around the world.
Argentina, Colombia, Ecuador, Kenya, Mexico, Zambia, and now Brazil – threatened habitats are being safeguarded across all these countries for generations to come thanks to individuals and businesses like Newton Paisley. Because they acted, our partners can save acres and buy something invaluable for endangered species: space and time to adapt to a heating planet.
This year WLT has launched an interactive map with all the reserves we've ever supported because we want you, our Buy an Acre supporters, to see the impact you've made. Check the hashtag #TheLandYouHaveSaved on Instagram, Twitter, Facebook and LinkedIn to discover the places you've made a difference for!