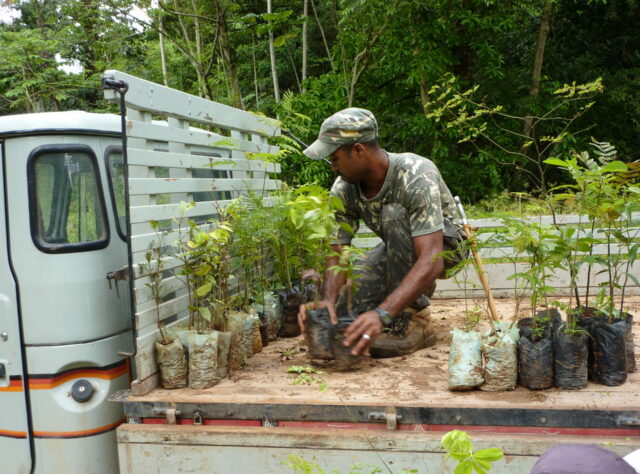 By Richard Cuthbert, Director of Conservation at World Land Trust
We know this much about the climate crisis: our time to solve it is running out, and our only chance lies with focusing on the strategies shown by science to make the necessary impact.
With this in mind, it was really encouraging to see another confirmation this week that World Land Trust (WLT)'s approach to conservation is the right one. The ten so-called 'golden rules' for reforestation released on Tuesday – a creation of scientists from Royal Botanic Gardens, Kew (RBG Kew) and Botanic Gardens Conservation International (BGCI) – match closely with how we have worked with our international partners since our foundation in 1989.
RBG Kew and BGCI call, for one, to put local people at the heart of tree-planting projects and this has long been a core WLT principle. For decades, local knowledge and expertise has driven the design and implementation of the restoration projects we support through our Plant a Tree programme – and the results speak for themselves.
Placed in the driving seat, our partners have made a staggering impact with help from WLT funds: over the past 15 years alone, they have planted 2.5 million trees in Africa, Asia and South America, in the process restoring more than 6,177 acres (or 2,500 ha) of degraded land back into forest.
In addition, the 'protect existing forests first' approach advocated for by RBC Kew's and BGCI's new review has been WLT's core principle since the start. Over the decades, we have always prioritised projects that safeguard the remaining areas of high quality and biologically diverse forests. It has been our belief – demonstrated over and over by the difference our partners make every year – that to save standing forests is to save all life in them, for the benefit of conservation, climate and communities.
However, even if protecting existing habitats has long been WLT's top conservation focus, we also recognise the need and value of restoring degraded areas of land back into forests. Tree-planted areas have a major part to play in the benefits they bring to biodiversity and climate; the carbon that they will capture and sustain. And there is connectivity to think of, too – as WLT has witnessed time and time again, these restored areas help link remaining tracts of forest together and deliver a connected landscape for wildlife to move through and thrive.
To make a success of tree-planting, though, we agree with Kew's experts that these programmes must prioritise the right areas and tree species. Since foundation, WLT's work alongside our international partners – themselves respected conservationists in their countries of operation – has seen us support the planting of a diverse range of local native tree species, ensuring the maximum biodiversity benefits and future resilience to a changing climate.
Tree planting and safeguarding existing forests – both will be crucial components of the efforts against climate change and in this, we now know we can count on the staunch support of citizens worldwide. As we learned this week, 64% of respondents to the UN People's Climate Vote – at 1.2 million people, the biggest global climate change poll in history – see global warming as an emergency. Asked to choose a priority solution, respondents placed the protection of land and forest at the very top.
This week alone, we have seen alignment between what WLT does and both scientist recommendations and mass-scale global polls. This is the best possible endorsement to the hard work of our partners. From Fundación Jocotoco's planting of 30,000-plus trees in Ecuador to Nature Kenya restoring crucial forest areas around Mt Kenya, WLT partners know their land best and will make sure tree planting makes the impact it needs to make.
This is the conservation action we will be proud to continue to support this year and beyond. Join us!
Richard Cuthbert,
Director of Conservation at World Land Trust
For just £5, you can fund a tree's nurturing, planting and protection.