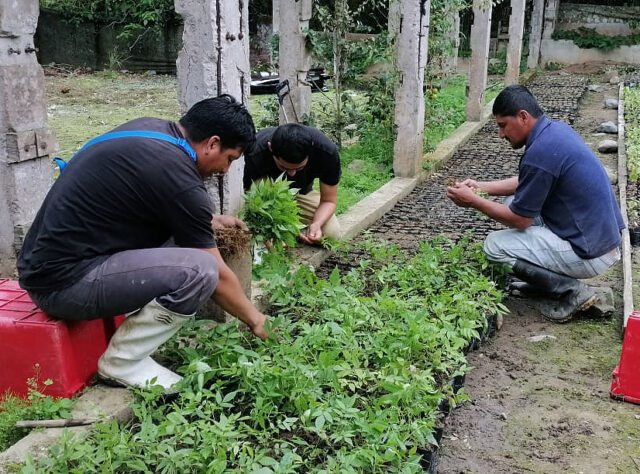 Rangers tending to saplings in Buenaventura Reserve, Ecuador. Image Credit: Fundación Jocotoco
WLT-led planting of 30,000 native trees in Ecuador's Buenaventura Reserve brings biodiversity and clean water boost to parakeet haven.
The World Land Trust (WLT)'s Plant a Tree programme has helped restore a crucial parakeet habitat in Ecuador, in the process delivering clean water to neighbouring communities.
The planting of 30,000 trees in recent months at the Buenaventura Reserve has brought a win to biodiversity and people near the site in south western Ecuador, one of the largest remaining tracts of foothill cloud forest on the west slope of the Andes.
WLT partner Fundación Jocotoco (FJ) has been carrying out reforestation activities to recover this protected area. The organisation has introduced sustainable basin management practices to unlock a permanent supply of clean water for the 2,800 people living in the Saracay community, downstream of the Naranjos River.
The efforts have been helped along by the WLT Plant a Tree programme, which funds reforestation processes and allows FJ and other partners to establish new forest habitats – planting and caring for young trees.
Deforestation for cattle grazing and global warming are the main threats facing the Buenaventura Reserve, a tropical paradise home to several threatened species. One of the world's rarest parrots, El Oro Parakeet (Pyrrhura orcesi), needs this ecosystem to thrive. Extreme habitat loss and fragmentation have seen this species, endemic to Ecuador, classified as Endangered by the IUCN Red List of Threatened Species – there are believed to be only 250-1,000 individuals left in the wild.
Cloud forests like Buenaventura are a particularly important ecosystem – a haven for a great deal of rare species despite making up just one per cent of the world's forests. Reduced cloud cover due to deforestation results in less rainfall at low elevation levels, pushing species into wetter areas further up the mountains.
The 30,000 trees added to Buenaventura with funds from WLT's Plant a Tree programme are all native varieties. From Pambil to Guavacan and Copal, these species are key to successful reforestation because they are adapted to – and as such able to support – the local climate, soil and the wildlife that depends on them.
If you would like to support further reforestation projects around the world, you can plant your own tree with us by donating here.
For just £5, you can fund a tree's nurturing, planting and protection.