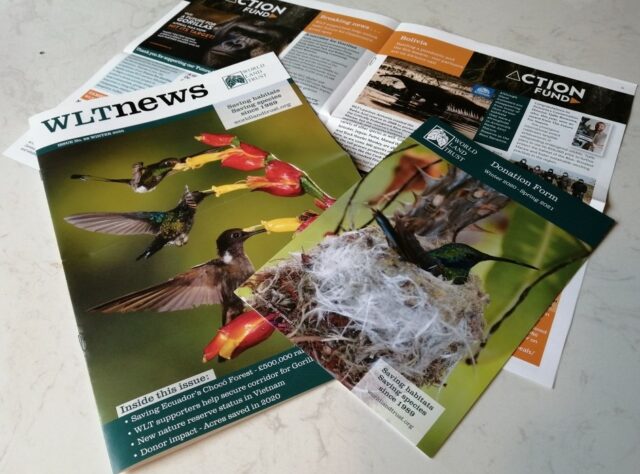 WLT News is the Trust's in-depth newsletter, available printed or online in PDF format. WLT News complements the eBulletin, featuring a wider variety of stories, project updates and current appeals.
The Winter issue, hot off the press, shares good news for our campaigns to save Ecuador's Chocó forests and the great apes of Cameroon. There are updates on the work that the WLT Action Fund has supported over recent months as well as the Carbon Balanced and Plant a Tree programmes. There's still time to Buy an Acre in Argentina too – a great Christmas gift!
WLT News is published four times a year: Winter, Spring, Summer and Autumn (and is sent to all supporters who request it). To become a WLT supporter, you can donate online, either for yourself or on behalf of somebody else as a gift. See here to discover all your options to support our work.
To read the latest issue, as well as back issues online, follow this link.
WLT publications are printed on recycled Carbon Balanced Paper supplied by Denmaur Paper Media, reducing the carbon impact of printed communications.
Carbon Balanced Paper is a simple way for organisations to curb the carbon impacts of their printed communications, reducing their environmental footprint and contribution to climate change.
Organisations using Carbon Balanced Paper are entitled to use the World Land Trust logo on their print, to communicate support and attention to Corporate Responsibility. The total amount of CO2 balanced and land area preserved is quantified on a unique certificate, which an organisation can use in its environmental reporting and marketing.
Ask your printer to quote on Carbon Balanced Paper (carbonbalancedpaper.com)