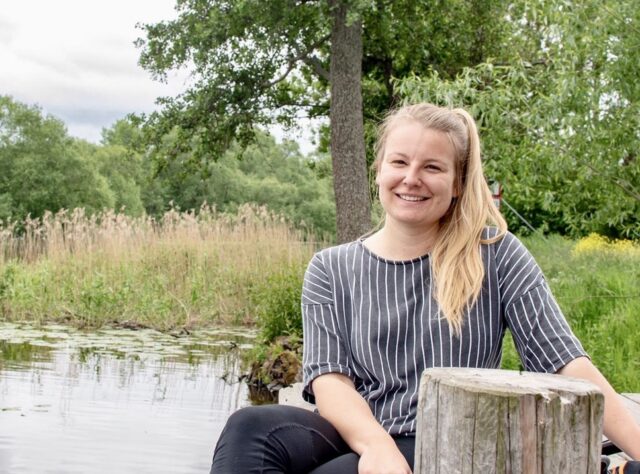 As part of our #OurReasonsForNature series, World Land Trust (WLT) Communications Officer Alice Wojcik talks about the magic of wandering Nordic forests brimming with Red Squirrel, and her resolve to work in conservation so that no other species has to endure the decline these tree dwellers have seen in countries such as the UK.
With their fluffy tails, russet coat and inquisitive long ears, the Eurasian Red Squirrel (Sciurus vulgaris) have long captivated the hearts and minds of nature enthusiasts across Europe, Alice Wojcik among them.
Alice, who joined WLT's communications ranks in June 2020, first spotted a Red Squirrel as she visited family at the UK's Lake District National Park a few years ago. "I would be constantly keeping an eye out to catch a glimpse of their red fur whilst on a walk," she explains. "They are quite rare to come across in the UK, making them even more special to me."
Alice's own studies and career took her abroad, allowing her to live through an experiment of sorts: How would it feel to live in a country where, unlike the UK, Red Squirrel are a thriving resident rather than an elusive rarity? Having wrapped up her BA in Journalism at London's Kingston University, Alice found out as she left the UK behind and relocated to Sweden's vast great outdoors for two years.
"Between 2018 and 2020, while I studied Environmental Communication and Management for a Masters in Uppsala, Red Squirrels were not such an uncommon sight in the forest as their populations are much more stable in Scandinavia," Alice remembers. "They'd often appear on my walk through the forest from the university to my flat, and it made me fall in love with them even more."
Making a difference for a world that never loses Red Squirrels
On a planet of fast exacerbating environmental degradation, no species is ever fully safe from population losses.
The Eurasian Red Squirrel might be classified as a Least Concern species by the IUCN, but in the UK the introduction of Grey Squirrel rivals in the 1800s has pushed their red counterparts to a point they can now only be found across limited ranges of Wales, northern England and Scotland, with small populations in southern England restricted to islands such as Brownsea, Mersea and the Isle of Wight. If conservation action does not come, campaigners believe Red Squirrels could become extinct in England within a decade.
Alice herself found it "disheartening" to return to the UK from Sweden and realise she would not get to spy the russet fur of Red Squirrels as often during forest hikes. "But being in Sweden gave me a taste of what it would be like to live in a country with a thriving Red Squirrel population, and it is my hope that conservation efforts will eventually lead us down this path," she adds.
Months spent communicating conservation victories for WLT have, Alice says, offered a glimpse of the difference committed individuals and organisations can make for nature. "We can protect the forests still standing by saving land across the world and restore ecosystems by planting native trees, extending the homes of the wildlife that really needs it – just like the Red Squirrel," she adds.
These times are tricky for people and planet and yet at WLT, we are inspired by the conservation wins our supporters have continued to deliver despite the chaos of 2020. Nature is the reason for all those who work at WLT and for the next few months we will be sharing with you what brought us to conservation, and what keeps us going as we save land to save species.
We'd love to hear from our supporters – about your own reasons for nature, the wildlife that inspired you to care for the natural world. Share your stories and pictures with us on social media under the #OurReasonsForNature hashtag!