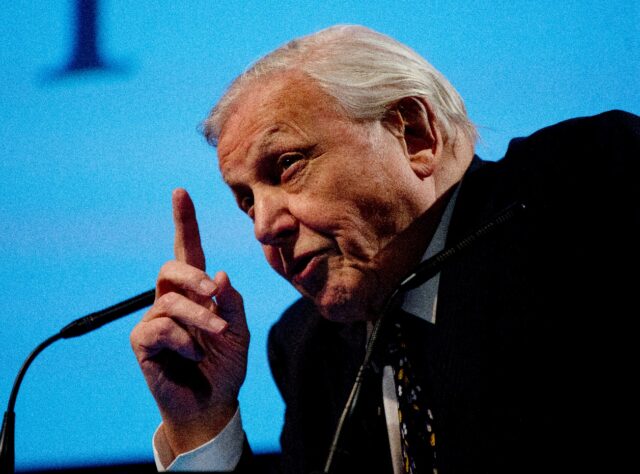 "This film is my witness statement and my vision of the future.
The story of how we came to make this, our greatest mistake.
And how if we act now, we can yet put it right"
Sir David Attenborough's momentous 'A Life on Our Planet' documentary is many things but above all, it is a call to action to protect the planet we want, indeed the planet we need, to leave for our children and their children to thrive. Released yesterday, the WLT patron's new Netflix film would have made for a powerful account of natural destruction in any year, but it carries special weight in 2020: the year when humankind understood like never before that to attack the natural world is to attack ourselves.
The 80-minute documentary charts Sir David's journey in his over sixty years of career: today's 94-year-old veteran of broadcasting admits that the younger self who sat alongside Gorillas in Rwanda for 1979's 'Life on Earth' did not know the extent of the damage the natural world was being subjected to, already back then. Fast-forward four decades and that innocence is gone, replaced by a resolve to do what Sir David does best: inspire us all into protecting the natural life we still have before it is too late.
What can I, as an individual, do? Sir David Attenborough discusses why he supports World Land Trust and how you can take action to protect the natural wonders of the world.
Sir David's passionate showcasing of bitter truths is one that those who work in the conservation field, myself included, can readily relate to. To know as much as we know today about biodiversity loss can be hard, particularly in a year when we learned that decade-long efforts to reverse global extinctions have fallen short of the mark yet again. For everyone who supports conservation through WLT, we know that we must turn the distress about biodiversity loss into the energy and the action to fight back against it.
As Sir David's 'A Life on Our Planet' film points out, the answer is simpler than we might think: we get over the sense of loss by remembering that there's still time to act, and realising that our actions, no matter how small, make a difference.
This is a fact science tells us, such as the recent findings that conservation action has prevented the extinction of 28 bird and mammal species since 1993. It is also, however, a fact we learn when we look at WLT's direct experience with the projects we have sponsored throughout the decades; the confirmation, year after year, that conservation works. This is something that I have seen myself, first-hand, in many countries over many years: we can – and do – make a difference, if we only put our minds to it.
Sir David's plea for action as WLT moves to #SaveTheChocó
And put our minds and energy to it we must, because there is plenty to do.
Much as 1979's Sir David was unaware of the extent of natural destruction at the time, many of today's conservation supporters may not have heard of the forest WLT is trying to save this month. With support from our £500,000 new appeal, our partner Fundación Jocotoco will try and purchase and protect the largest remaining tract of Ecuador's Chocó rainforests – a place so threatened that 98% of its original cover has already disappeared to logging.
Our partner describes the last 2% of these forests as the most important place you've never heard of and there are good reasons why: as many reptile and amphibian species as the Amazon; more bird species in a 100 square mile radius than in the whole of Europe and more plant diversity than anywhere else in the Americas; the last viable home west of Ecuador's Andes for Jaguar and Brown-headed Spider Monkey. This really is a natural wonder we didn't know we had – a natural wonder we cannot and will not lose, with your help.
Today, I think back to Sir David's landmark series 'Life on Earth' in 1979; the documentary series that inspired me to become a conservationist. I think of the long path he followed until becoming a WLT patron in 2003 and of the path I took before I joined WLT last year. We have both been fortunate to see incredible spectacles of nature, and we understand how important it is that the Earth continues to provide a home that nurtures and protects us – to allow others to tell their "life on our planet" stories in the future.
This message is clear in his new Netflix documentary: the hard but necessary truth about what we humans have done to nature – "our greatest mistake", as he rightfully calls it – but also the vision, which he presents, to guide our journey back to a healthier planet.
This has to be a call to action. We know that if we act now we can protect nature, and help countless other lives on our planet. We would be delighted if you joined us on that journey by supporting our appeals or regular campaigns, or signing up as a WLT Friend. Together, we can give our children a healthier planet where we can all thrive.
Dr Catherine Barnard
CEO of World Land Trust
This year you can make history for nature. You can help save the most important rainforest many have never heard of, the home of Jaguar, Harpy Eagle, Horned Marsupial Frog and one of the most biodiverse places on the planet.
Logging for oil palm plantations could destroy the last 2% of this natural wonder.
By supporting our £500,000 'Saving Ecuador's Chocó Forest' appeal, you can help it last forever.
Donate between 1-14 October, make double the difference under our Big Match Fortnight!