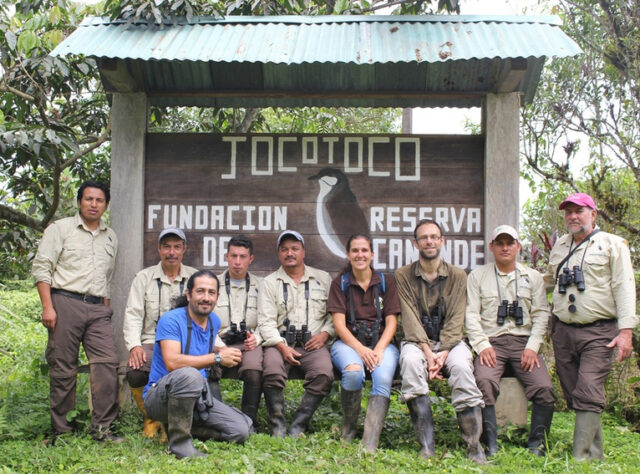 Two weeks on, the fact that our 'Saving Ecuador's Chocó Forest' appeal took just a fortnight to reach its initial target continues to amaze those of us at World Land Trust (WLT) and our partner Fundación Jocotoco, who this week took part in a video to thank WLT supporters for their generosity.
An outpouring of support from our donors made it possible to raise £500,000 between 1 and 14 October 2020 for one of the most threatened forests on Earth, a biodiversity hotspot in Ecuador's west that has been devastated by logging to such an extent that only 2% of its original cover remains.
Through their commitment to saving the Chocó, our supporters have linked arms with Fundación Jocotoco's rangers; the people working to safeguard Jaguar, Brown-headed Spider Monkey and other endangered species in these forests. WLT has extended its appeal – donations are still being accepted beyond our initial £500,000 target – which means Jocotoco can go even further as they purchase and protect more tracts of Chocó wilderness.
Speaking as Fundación Jocotoco rangers thanked WLT supporters in a new video (see below), Martin Schaefer, CEO of our Ecuadorian partner, said: "Being on the frontlines of conservation like we are means fighting large-scale challenges and it can feel lonely, so to me and all others in the team, to see such support in a year like this has been so moving. We're a long-time WLT partner so some donors may have heard of us before but some haven't, and I am so grateful for the faith they have placed in us."
"In times like these it's becoming very evident that we can no longer ignore the very serious environmental problems faced by humankind," Jocotoco's CEO added. "To see so many in the UK and beyond act to save the Ecuadorian Chocó, a little-known region so far away from what they know, brings me such hope – it shows that civil society understands that to protect a natural wonder like these forests is to protect the natural resources our planet and our own survival depends on."
"Our promise to WLT supporters is this: we will not only maintain but also improve our commitment to nature despite these hard times of lockdown measures and economic crisis," Martin went on to say. "Our approach to employ rangers who live near our reserves and become local ambassadors means that our people are deeply committed, and can maintain the protection of critical ecosystems even as transport freezes and international tourists no longer visit."
"Jocotoco on average maintains ten times as many rangers as in government reserves and we've seen the difference, the healing this has brought to our existing reserves – the increases in population of species including large predators like Jaguar and Harpy Eagle," Jocotoco's CEO said, adding: "This is a sign that our model is working, and the donors who contributed to WLT's appeal can be confident that we will be replicating it with the new reserves we will now purchase with your support."
The astonishing generosity of our supporters in just a fortnight has created a chance to make even more of a difference for Ecuador's Chocó forests than we thought possible. Our extended 'Saving Ecuador's Chocó Forest' appeal will continue accepting donations for the foreseeable future; a chance to see how much we can raise together for this incredible forest.
Make history with us today, help us and Fundación Jocotoco save endangered species from an extinction cliff