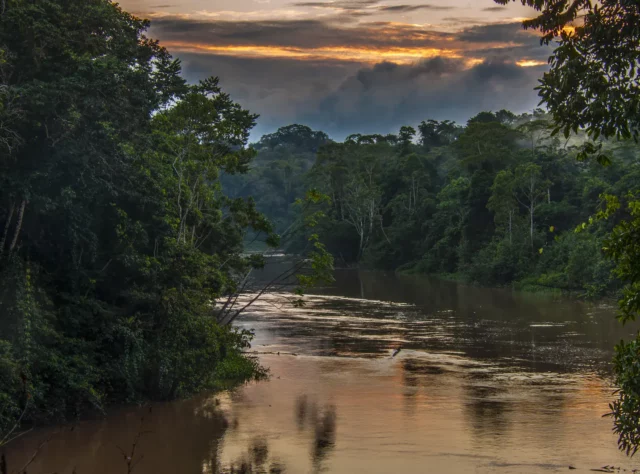 A referendum took place in Ecuador on Sunday, leading to a majority vote against future oil drilling in the Yasuní territory of Ecuador's Amazon.
An unprecedented opportunity for the public to determine the future of Ecuador's Amazon, the answer was resounding: 59% of voters chose to halt the exploitation of oil in the Yasuní National Park. This is a symbol of hope for all those who want to see action taken on the ecological and climate crises.
A long-fought victory
This vote is significant not just for the future of the rainforest but for the people living in Yasuní who have been struggling against oil for a decade. This includes indigenous communities such as the Waorani (Huaroani) indigenous peoples who live in the Biosphere Reserve. The Park also contains an area designated specifically to protect the Tagaeri-Taromenane tribes who live in voluntary isolation.
Alongside the vote on oil drilling, another referendum took place to determine the future of mining in the Andean Chocó Biosphere Reserve. After taking to the ballots, 68% of people voted to see an end to gold mining in this sensitive highland biosphere, securing a future for the Spectacled Bear, and 30 other large species including Ocelot, and Olingo. Around 1,960 plant species also depend on this ecosystem.
These outcomes testify the power of grassroots environmental democracy. When given the opportunity to, citizens can have a say in the future of vital ecosystems like the Amazon and Chocó.
"This is a new way of seeing the relationship between Ecuadorians and sustainability, also protected by a constitutional conscience that respects the rights of Nature… The results of this Yasuní referendum are fundamental in restoring the rights of nature and the rights of citizen participation", says Fransisco Robayo, Executive Director of Fundación EcoMinga which is one of World Land Trust's (WLT) Ecuadorian partners.
A race against time for the Amazon
Already, the Amazon has lost 17% of its biological diversity across the entire biome which spans 8 countries. Oil extraction is a key driver of this loss. Since 2016, oil drilling in the Yasuní National Park has threatened the health of Ecuadorian Amazon, a region with the highest rate of biodiversity in the Amazon biome. Whilst the referendum benefits people living in these ecosystems, the Yasuní National Park also supports the coexistence of hundreds of other species. It has incredible species richness, notably in tree, amphibian, and bat species.
Lou Jost, Founder of EcoMinga, notes that "Ecuador voted almost two to one to stop oil production in an important part of Yasuni National Park, which is the most diverse lowland rainforest in the world according to some measures". More insect species are found in Yasuní than any other forest and in just a single hectare you can find around 2,942 species of vascular plants. Around 176 species of mammals live here too, as well as 153 species of amphibians; 121 species of reptiles, and 597 species of birds. The sheer scale of life that this ecosystem houses is why many environmental campaigners adopted the motto, say 'Yes To Life'.
David Parra, the Conservation Director of Fundación Jocotoco – also a WLT partner – made the following statement: "The people of Ecuador said yes to protecting two high diversity spots, Yasuní National Park and the Andean Chocó Biosphere Reserve. Both referenda, national and local, are the result of more than 10 years of struggle and set a significant milestone towards reinforcing the rights of nature, [and] the right of people to inhabit healthy ecosystems."
A gift to the world
This news is a victory for indigenous people everywhere who have repeatedly shown to be stewards of biodiversity and pivotal allies in the fight against climate change. This result "means the citizens of Ecuador are standing up to their government and taking environmental protection into their own hands", remarks Lou Jost. The tireless work of campaign groups like Yasunidos and many others galvanised widespread support across the nation. This week's verdict is also a win for nature conservationists who have, for a long time, been campaigning alongside local Ecuadorians to protect these fragile ecosystems.
David Parra also notes that the outcomes of these referenda show that "The supposed dilemma between conservation and human well-being has been challenged by a bottom-up process that considers the tight relationship between ecology and social justice." This is a sentement echoed Felipe Serrano, Executive Director of WLT partner Naturaleza y Cultura Internacional Ecuador, who commented: "this momentous display of democratic engagement sends a compelling global message: every nation must promptly curtail their dependence on fossil fuels and honor the sacred territories of the Amazon's Indigenous communities, in a united endeavor to safeguard the vitality of our planet".
Oil drilling, and all future extraction, will cease in the Ishpingo-Tambococha-Tiputini area of Yasuní. Following this, conservations hope that active conservation and restoration of areas of high ecological fragility can begin.
Many Ecuadorians, including Javier Robayo, note that these outcomes mark a move towards a sustainable development model central to tackling the global climate crisis. The referendum results indicate the desires of the public to move towards a "post-extractivist process, which generates new ways of linking ourselves to sustainable production".
The referendum has opened a national and international debate on the importance of participation to protect nature, and for future energy transitions. Humans are a part of nature. In an era of ecological and climate crises, protecting ecosystems like the Amazon concerns us all.