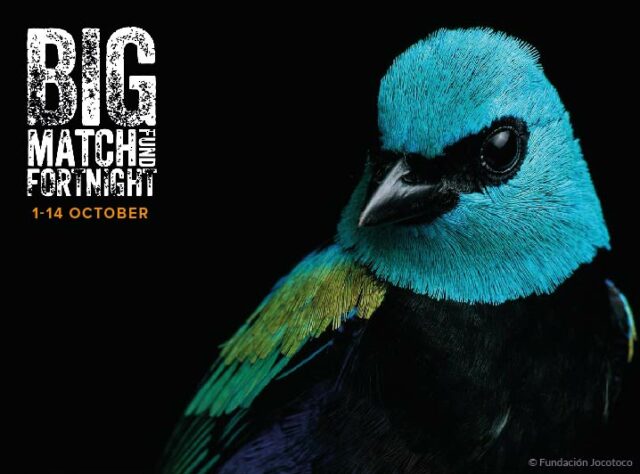 Even for an organisation fully aware of people's love for nature, the reaction to our 'Saving Ecuador's Chocó Forest' appeal has so far been astounding.
Decades witnessing global action to protect land could not have prepared the World Land Trust (WLT) for the response to our campaign for this natural wonder in South America; the last 2% of these life-packed forests between Ecuador's Pacific coast and the Andes.
Since our appeal launched on 1 October, our Big Match Fortnight has once again proved its power to make history. Aware that their donations would be fully matched, a multitude of supporters worldwide have thrown their weight behind the plan of WLT partner Fundación Jocotoco – and delivered a surge of contributions that takes WLT's appeal to 56% of its target at the time of writing.
As Big Match Fortnight enters its final countdown, the stakes remain impossibly high for the Ecuadorian Chocó. Two scenarios are now possible for the last 2% of these forests: an "extinction cliff" if deforestation is allowed to continue unchecked, or the protection of the largest remaining tract of forest – and the subsequent creation of a Yosemite-sized climate corridor – if Fundación Jocotoco succeeds. Thanks to the unprecedented wave of support seen so far, the second of the two possible futures is within reach this very week if we keep the momentum going. For the following three days, our Big Match Fortnight will make sure every donation is matched penny by penny, pound by pound – double the impact for a forest that desperately needs it.
"Our appeal asked you to make history and that's exactly what has happened this month. In a difficult year like this, to watch donations reach 56% in just over a week is to be amazed at the generosity, the commitment for nature at the time it needs it most. The three days we've now got left of Big Match Fortnight might seem like a short time but it is long enough to save the last 2% of a natural wonder, if we all come together – a conservation win that will be heard loud and clear in a year when we all sorely need good news."
Dr Jonathan Barnard, CEO of WLT

"It has been amazing to witness such levels of support to WLT's campaign and we are incredibly grateful to all who have chosen to back our plan to save the Chocó in Ecuador – the best chance for the wildlife and communities of the area to break free from decades of industrial-scale exploitation. We're not there yet but we could be if we seize the chance that Big Match Fortnight offers. For us in Ecuador, a speedy victory through this appeal will trigger a domino effect, it will allow us to quickly secure a big tract of Chocó forest before other buyers can act."
Martin Schaefer, CEO of Fundación Jocotoco
Donate before 15 October, make double the difference with our Big Match Fortnight!