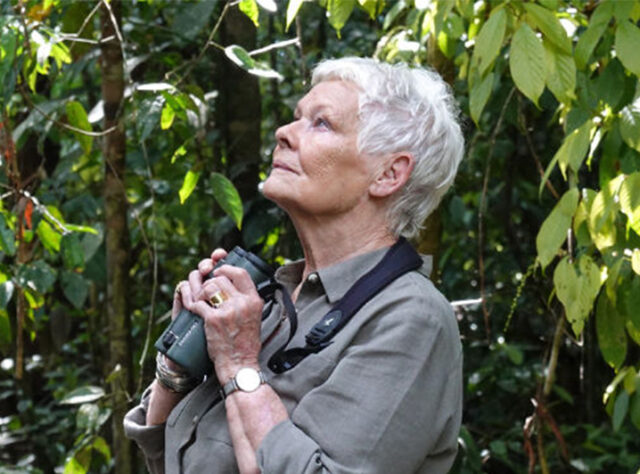 Dame Judi Dench admits she isn't often left speechless but words did fail her during her trip to the rainforests of Borneo, where she went last year to make a two-part ITV documentary. The country and its wildlife had a profound effect on her and she described the rainforests as "taking her breath away".
While in Borneo, Dame Judi was able to visit World Land Trust (WLT) partner Hutan and see for herself some of the orangutans being protected. During her trip, she was introduced to the research team, who shared stories and insights they had witnessed – the highlights of 21 years of field study into how these great apes adapt to live in the mixed forest-agricultural landscape of the Kinabatangan floodplain.
International Orangutan Day: Let's celebrate the similarities!
Orangutans share nearly 97 per cent of the same DNA with humans, making them one of our closest relatives. Their name comes from the Malay language; 'orang' means human and 'utan' is derived from 'hutan' which means forest, making these great apes the literal 'humans of the forest'.
Although we share a lot of the same DNA, orangutans aren't as sociable as humans. They spend much of their time on their own and after mating, the male is abandoned by the female and later plays no part in the rearing of the baby orangutans. They certainly eat their 'five-a-day' however as their diet consists mainly of fruit and vegetation, with termites scooped out of holes for a quick bite on the side.
Leading primatologist Frans de Waal suggests that perhaps the most humanlike behaviour is the laughing by apes when they are being tickled. He describes it as "lower and more rumbling than human laughter, but the facial expression and the waxing and waning of the laughter sounding eerily human to the point that with these vocalisations we cannot stop ourselves from laughing too."
Since 2008, World Land Trust (WLT) has been working with partner Hutan in Malaysian Borneo to fund the management and protection of forest reserves in the Kinabatangan floodplain. As well as providing funds for tree planting and protection, WLT continues to support land purchase all along the floodplain. It is estimated that less than 35 per cent of Borneo's forests remain – linking together isolated areas of forest to create continuous habitat is the best way to secure their long-term survival in the region.
On International Orangutan Day you have a chance to support these amazing great apes, our close relatives of the forest. By donating to the WLT Action Fund, you can save vital habitat for the orangutans of the Kinabatangan floodplain – the very forests that left Dame Judi "speechless"!

If you would like to donate to the Action Fund and support vulnerable species such as the Orangutan, please click on the button below.