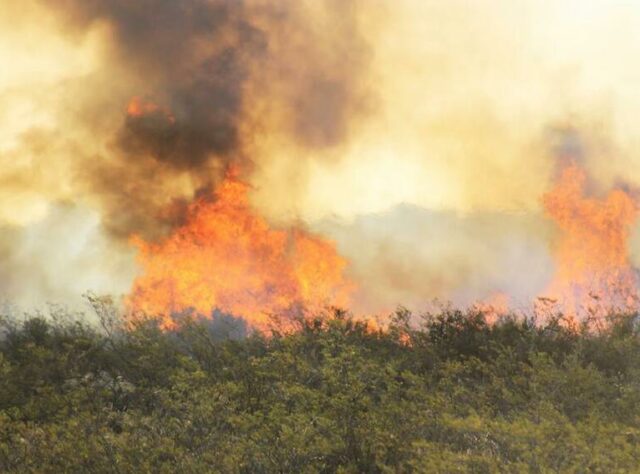 A wildfire burns at Fundacion Patagonia Natural reserve Estancia la Esperanza (Ranch of Hopes), Patagonia. Image credit: José Maria Musmeci.
By World Land Trust CEO, Jonathan Barnard.
This is an unusual year in many ways, with all our lives being affected in some way by the coronavirus pandemic. We all know there are enough problems and trouble in the world, which seem to fill our newsfeeds on a daily basis. But there are also lots of wonderful things, such as the solace and calm that people have found in nature during the coronavirus lockdown.
But in other ways 2020 isn't so unusual, and we are seeing many of the usual annual and seasonal trends return, albeit perhaps in different ways. The return of the annual fire season in many countries is one of these trends.
In the early-2000's I remember seeing the ravages of fires in Siberia that extended for tens of kilometres, devastating wide swathes of these vast forests. This year those fires are already ten times larger than last year, which was as bad as those I saw nearly 20 years ago, releasing countless tons of carbon dioxide into the atmosphere contributing yet further to the climate crisis which is fuelling the conditions leading to worse fires.
It's not just the global impacts; fires also have much more local impact on people and wildlife, such as those in Sumatra, Indonesia where the skies turned red in 2019 with soot particles. This caused thousands of deaths in the local communities, and led to the closure of schools and widespread health issues in neighbouring countries such as Singapore and Malaysia due to the spreading haze plumes. Or the images I saw last year from our partners in Bolivia and Paraguay of charred wildlife that couldn't escape the flames.
Indications so far in 2020 are that the fires in the coming three months will be as bad as the fires we saw in 2019, from the Amazon to California to Siberia, and later Australia. Indeed, some of our partners have already had to grapple with some early damaging fires to their reserves.
This year there could be a double impact on people, with particles from the fires causing severe respiratory problems, or exacerbating existing conditions. This could be catastrophic in Latin American countries that are currently struggling to cope with high numbers of coronavirus cases.
But we at the World Land Trust like to focus on what we can do to create a positive outcome, rather that dwell on those things we can't do or influence. This is why we have launched our Wildfire Appeal to help our partners stay ahead of the flames, and enable them to prepare and react quickly to prevent fires taking hold and creating untold damage.
Fires are inevitable; but their impacts are not. Help us to stay ahead of the flames.
A donation to the WLT Wildfire Appeal will enable our partners to provide training for rangers and essential equipment to provide a better outcome for nature reserves around the world.
Support us on our mission to fight forest fires around the world by donating to our Wildfire Appeal today.