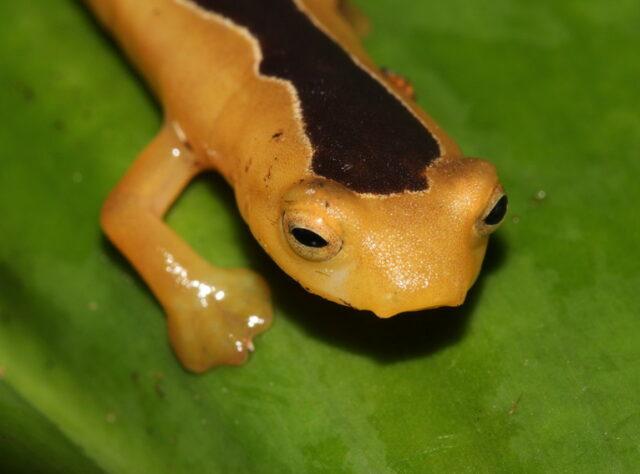 First discovered in 1975, the salamander, known as the 'golden wonder' was feared extinct until 2017.
The sighting in March 2020 marks the third time that Jackson's Climbing Salamander has been seen in Guatemala since 2017, after its 42-year absence – each time spotted by experienced ranger, Tomas Ramos Leon, from FUNDAECO, World Land Trust's partner in Guatemala.
Despite its striking yellow and black colouring, the salamander had evaded human eyes for over four decades. With dramatic population declines recorded in Guatemala's many salamander species, Carlos Vasquez, a herpetologist who works with FUNDAECO, had feared the worst. However, with Tomas' three sightings confirming the presence of the species, the conservation importance of the region is undeniable. All of these sightings occurred within Northern Huehuetango, where World Land Trust donations have secured more than 800 acres at Yal Unim Yul Witz, which FUNDAECO manage with input from indigenous communities. The reserve's name translates from the local language, Q'anjob'al, to 'sleeping child between mountains' referencing the regions' incredible amphibian diversity – in particular salamanders – known locally as 'sleeping child.' Carlos believes that Jackson's Climbing Salamander is likely to also be present at Finca La Soledad Reserve, which was also supported by World Land Trust, and is planning to survey the reserve for the species in the future.
Jackson's Climbing Salamander was originally found by students Paul Elias and Jeremy Jackson high in Guatemala's cloud forests of the Cuchumatanes mountain range, along with Finca Chiblac Salamander and Long-limbed Salamander. All three species remained unseen for many years but, based on his extensive expertise and knowledge of the region, that did not stop Carlos in his search, sharing his knowledge with others, such as Tomas who were most likely to find the mysterious amphibian. The presence of salamander species is a good indicator for the health of an ecosystem, as they are very vulnerable to threats and pollution. Tomas' encounters with Jackson's Climbing Salamander show that at present they are surviving in the humid forests of Guatemala where FUNDAECO's continued conservation management and protection is safeguarding the future of the region.
Our Action Fund helps us to continue supporting our partner's work as they protect threatened species in vulnerable habitats.
If you would like to donate to the Action Fund, please click on the button below